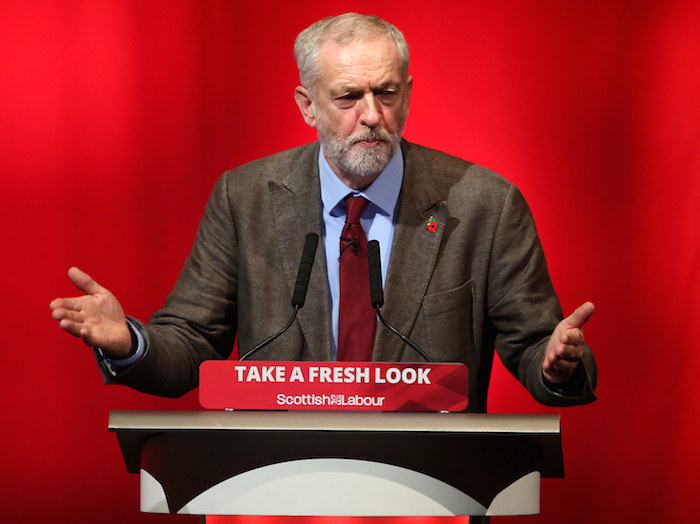 Labour MPs who oppose Jeremy Corbyn are attempting to force out one of the party leader's closest aides over claims he encouraged voters to back an anarchist group at the last election.

Andrew Fisher, Corbyn's policy adviser, had his party membership suspended on Friday as part of an increasingly public battle for control of the party between backbench Labour MPs and the party leader.
Fisher was suspended for a series of tweets Fisher sent before taking the job. In one he celebrated the defeat of former shadow chancellor Ed Balls and apparently urged the electorate in one constituency to vote for anarchist group Class War rather than Labour at the last election.
He also described Labour's frontbench under Ed Miliband as "the most abject collection of complete shite" and once appeared to tweet support for Green MP Caroline Lucas to beat a Labour candidate.
The Labour rulebook states that anyone who supports a rival party "shall automatically be ineligible to be or remain a party member," and as a result Fisher has had his membership suspended pending an investigation by Labour HQ following complaints from Labour MPs and a former candidate.
But although it might appear that this is a battle over how the party's arcane rulebook is interpreted in relation to one member of Corbyn's staff, the case is being used as a test case by the leader's internal Labour opponents to see how much power they can exert over the leader using existing party structures.
Essentially, they want to find out who is actually in control of the party: Corbyn and his hundreds of thousands of supporters among the ordinary Labour party membership, or the predominantly anti-Corbyn MPs and party staff.
As a result, when Labour HQ announced the suspension, Corbyn took the unusual move of issuing a statement alongside the announcement, giving his full backing to Fisher. He also said Fisher would continue to work in his office and set Labour policy, even while suspended from the party.
"I have full confidence in Andrew Fisher and his work," said Corbyn, putting substantial pressure on Labour HQ and the party's national executive committee to clear his policy chief of any wrongdoing. "I respect the integrity of the general secretary's office and trust that this matter will be settled as quickly as possible."
In a tit-for-tat war fought largely through the medium of screengrabs of social media posts, Fisher's supporters have responded by highlighting a Facebook post by one of his accusers: former Labour candidate Emily Benn. In it she suggests people may wish to back the Women's Equality Party, which intends to stand candidates against Labour but has yet to do so.

Fisher, who is close to Corbyn ideologically and advocates the nationalisation without cash compensation of some large businesses, had initially attempted to draw a line under the story with a formal apology for his errant tweet issued last Friday. Although this could have killed the story, it is understood that general secretary Iain McNicol was happy to allow the complaint to be elevated to the status of a formal investigation.
Labour MPs, who mainly oppose Corbyn's leadership, have also repeatedly asked about Fisher's tweets at the weekly meeting of the parliamentary Labour party as part of the campaign against him – which in some respects is acting a proxy for the battle against Labour leader himself.
Two of them, Caroline Flint and Siobhain McDonagh, issued a statement celebrating Fisher's suspension as proof the party will not allow the group of activists around Corbyn to be held to a different standard as the rest of the membership.
"We are pleased that without fear of favour the Labour party is enforcing its rules," they said. "These rules must apply equally to all members whether they deliver leaflets, are elected representatives or are staff in the leader's office. On behalf of those hard working members who were offended by Mr Fisher's activities which included supporting a candidate against Labour in May, it is only right that the general secretary has initiated an inquiry."
Ken Livingstone, the former mayor of London and a Corbyn ally, replied by calling on Labour HQ to suspend Labour MPs on the right wing of the party.
The battle is another sign Labour moderates are organising against Corbyn within the party organisation. A similar press briefing operation by individuals within the party managed to block last week's planned appointment of James Meadway, another left-wing economist, as an economic adviser to the Labour leadership.
By leaking the proposed appointment in advance and highlighting his tweets apparently backing anti-Labour candidates in the London borough of Tower Hamlets, Corbyn's opponents deprived him of one adviser. They now hope to take another.