A UKIP parliamentary candidate has released a cover of the Baddiel & Skinner/Lightning Seeds classic "Three Lions" to mark the forthcoming EU referendum in an attempt to raise awareness of how Britain's sovereignty and fish supplies are under threat from Brussels.
Mandy Boylett, 51, who stood for UKIP in the Stockton North constituency at the general election, told BuzzFeed News she hoped to inspire and inform the public: "I wanted a song that was going to inspire patriotism. 'Three Lions' is a very patriotic song and I thought I wanted to parody it.
"Someone originally suggested a different song to me and I said, '"Three Lions"?' They said no. But I thought, 'Three Lions'!"

The video, was filmed in the basement of her home in Yarm near Stockton-on-Tees with a green screen and lighting bought off eBay for "under £100".
While it appears as if there are two women performing in the video, Boylett said there is actually only one person in the clip: "The blonde lady, that's me too – some people have said 'Who are those two babes?' – but they are actually both me."
An early version of the song had to be scrapped after the Electoral Commission's decision to change the wording of the referendum question forced the anti-EU campaign to campaign for a No vote to a Leave vote, she said.

"The lyrics probably took about a week," she said. "The first lot of lyrics were 'we're voting No' but then the campaign changed to Leave so I had to take all the Nos out and put in Leaves. It's been sitting around but I had to do the video."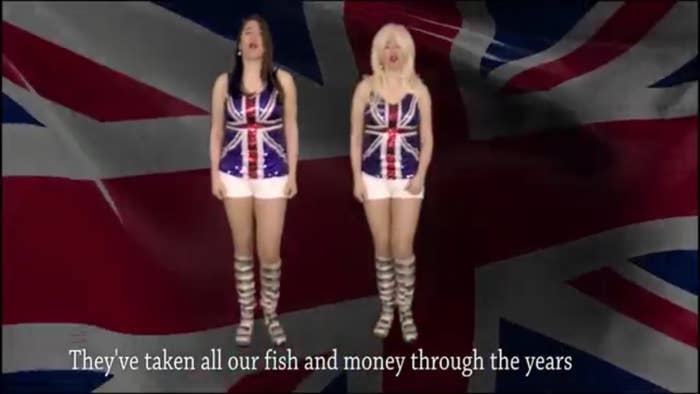 One line of the England football anthem been rewritten to become a searing critique of Brussels and the EU's common fisheries policy: "They want prisoners to vote / They've taken all our fish and money through the years / There's regulations, red tape / It seems there's no escape / Till the Leave vote takes shape."
Boylett said she hoped it would please the UK's remaining trawlermen: "Well, I know it sounds a bit naff and it's not the sort of lyric you'd find in many songs. But it's true! We have lost the fishing industry because of the EU. The two fishermen who are left in Grimsby probably appreciate that line."
She said she had been overwhelmed by the online response to the song since she uploaded it on Monday night, especially since she had the shared an early recording with a few people "but no one really said anything".

"My husband's very supportive. He just says go for it. My sons find me a bit of embarrassment. One of them said to me, 'Oh god, Mother, I'm so glad I'm not at school any more.'"
David Baddiel has already tweeted his approval, which Boylett said was a better response than when she covered ABBA's "Chiquitita" to criticise David Cameron.
"ABBA were not as much fun as David Baddiel," said Boylett. "ABBA's company submitted a copyright claim to YouTube and it was removed."

With Leave.EU promising to organise a 20,000 strong anti-EU rally in Birmingham featuring "top bands", Boylett has said she is happy to sing the song live for the masses: "If anybody asks me to go and perform it then I would happily perform it."

She also dismissed a suggestion by BuzzFeed News that it may be inauspicious to cover "Three Lions", a song which deals with how England's continual hope for success on the world stage always ultimately results in plucky failure and a loss to the Germans.
"I think that's looking a little bit too deep really," she said. "It's not a masterpiece with a hidden meaning."