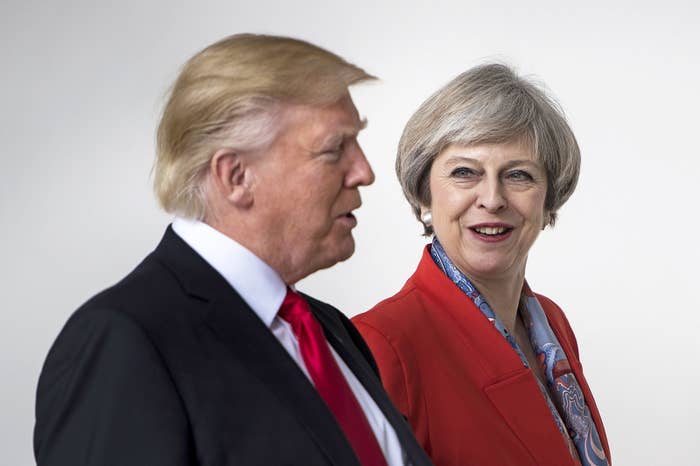 WASHINGTON DC – At the end of Donald Trump's lunch with Theresa May he stood up, pleased with how their first face-to-face meeting had gone. They had spent an hour on Friday afternoon discussing Brexit, trade deals, and their shared political missions over dishes of iceberg salad, braised beef short ribs, and salted caramel creme brûlée cooked by the White House chef.

According to one person briefed on the discussion in the state dining room, the pair went into detail on how they admired the transatlantic relationship between Margaret Thatcher and Ronald Reagan. Trump declared he wanted his relationship with May to be "even better" than that enjoyed by those leaders in the 1980s.
There had been an awkward moment when Trump raised Nigel Farage's name as someone who had informed his understanding of Brexit – but the current occupant of the White House remembered who he was with and asked May to put forward her own view on the UK leaving the EU. The conversation was described, perhaps reflecting the president's verbal style, as "warm, free-flowing, and unscripted".

"When I come to the UK I want to see you first," he told May at one point, raising the prospect of the prime minister meeting Trump when he steps off Air Force One in Britain for a state visit later this year.

The president then decided he would bestow his highest personal endorsement of a meal on the lunch with British prime minister.

"Trump said he always keeps menu cards to remember significant moments," said one individual with knowledge of the lunch. "He gave the menu card to one of his aides and said, 'Keep that safe, I had lunch with the British prime minister.'"
Somewhere that menu card is filed away, with the British contingent hoping it will be memorable enough to help a post-Brexit UK–US trade deal become a priority for a White House that is already busy ripping up decades of consensus on the economy and immigration. And already, the PM is discovering that she could be caught in the backlash against those Trump policies.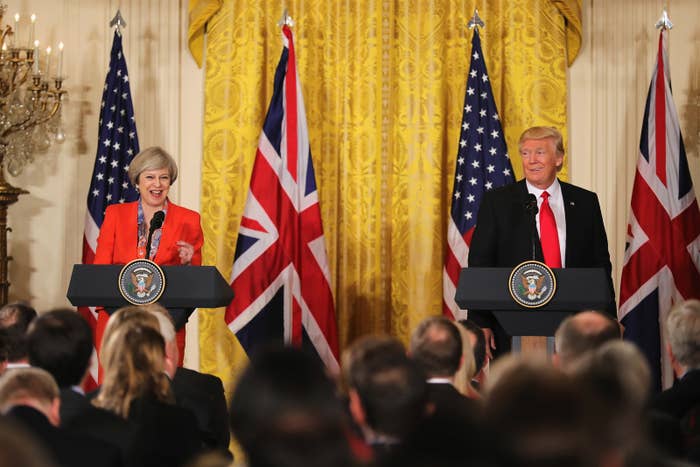 This is where the enormous risk for May lies: Just hours after the pudding had been finished, while she was on a flight to meet the Turkish president Recep Tayyip Erdogan in Ankara, Trump signed an executive order severely restricting immigration from Muslim countries, and suspended the country's refugee programme.

While Air Force One has a powerful communications suite, May's equivalent aircraft is understood to have only one telephone line connecting her to the ground, meaning she can be left with relatively limited info on what is going on in the news while mid-flight.

When asked by BuzzFeed News, May's spokesperson did not criticise the policy, only saying that "we will often have different domestic policies and perspectives" from the US.
This was the line May herself took at a joint press conference with her Turkish counterpart in Ankara, where she declined to take up several opportunities offered her by British journalists – who at one point were reduced to shouting "What about the US?" – to criticise Trump.

"The United States is responsible for the United States' policy on refugees," was all she said. "The United Kingdom is responsible for the United Kingdom's policy on refugees."

Standing next to her, Turkish prime minister Binali Yildirim said helping refugees was "the most important humanitarian duty that we have". May was left further isolated by her refusal to condemn – or even disagree with – Trump's order when European foreign ministers, French president François Hollande, and Canadian prime minister Justin Trudeau all either expressed concern at the White House's move or reinforced their commitment to welcoming refugees.
Reports that Trump's ban will also apply to British citizens who have dual nationality with any of the seven countries listed in the order will also ratchet up pressure on May.
For many in the UK, May's decision to ally herself closely, both personally and politically, with the new US president could end badly. European governments have already expressed fears about a new transatlantic alliance ahead of Brexit trade talks, while back home the likes of former Labour leader Ed Miliband suggested it could leave May looking like an "endorser or apologist".
Still, there was no way Downing Street could have predicted the photo of the pair briefly holding hands on their way to their joint press conference that has already come to define their relationship.
"If you watch the video they are walking along, there is an unseen ramp, he offered his hand, which she took as they stepped down the ramp," a Downing Street spokesperson explained patiently as they reflected on the press coverage. "We all thought today's front pages were very positive."

What really mattered for May's team at the outset of the trip was building positive relations with Trump's people. The list of the 18 people around that lunch table reveals who holds the power in the UK and US governments, as well as highlighting which people will need to get on if there is to be a good trade deal for both countries.
Trump was joined by vice-president Mike Pence, chief of staff Reince Priebus, son-in-law Jared Kushner, and White House chief strategist Steve Bannon. Also present were national security adviser Michael Flynn, acting secretary of state Tom Shannon, economic adviser Gary Cohn, and press officer Hope Hicks.
The British cohort consisted of May, four strategy advisers from her personal office, her communications chief Katie Perrior, the British ambassador to the United States Kim Darroch, and joint chiefs of staff Nick Timothy and Fiona Hill.
The real relationship that matters could be whether Timothy and Hill – who both expressed public doubts about Trump before his election – can work with Bannon.
The former Breitbart editor charged over to them at the start of the joint press conference at the White House on Friday and made a point of ostentatiously greeting them both in front of the media. He is also understood to have played a key role in ensuring May was the first foreign leader to meet Trump after his inauguration.
But in reality this trip was mainly about May creating the perception of closeness with Trump: first in person, then again on the evening's TV news bulletins.
On the flight from Heathrow, surrounded by journalists in the business class section of her private aircraft – which doubles up as a RAF refuelling aircraft – the prime minister had coquettishly suggested that "opposites attract", sparking dozens of headlines about her desire for a close relationship.
Every step of the way of a visit such as May's to Washington is laced with symbolism, packaged up for and spelled out for journalists. Along the way there was the gift of a Scottish friendship cup for the president, carefully explained by Downing Street. There was the safe choice of food for a hamper for the first lady. Then there was the ritual photo op with the bust of Winston Churchill in the Oval Office.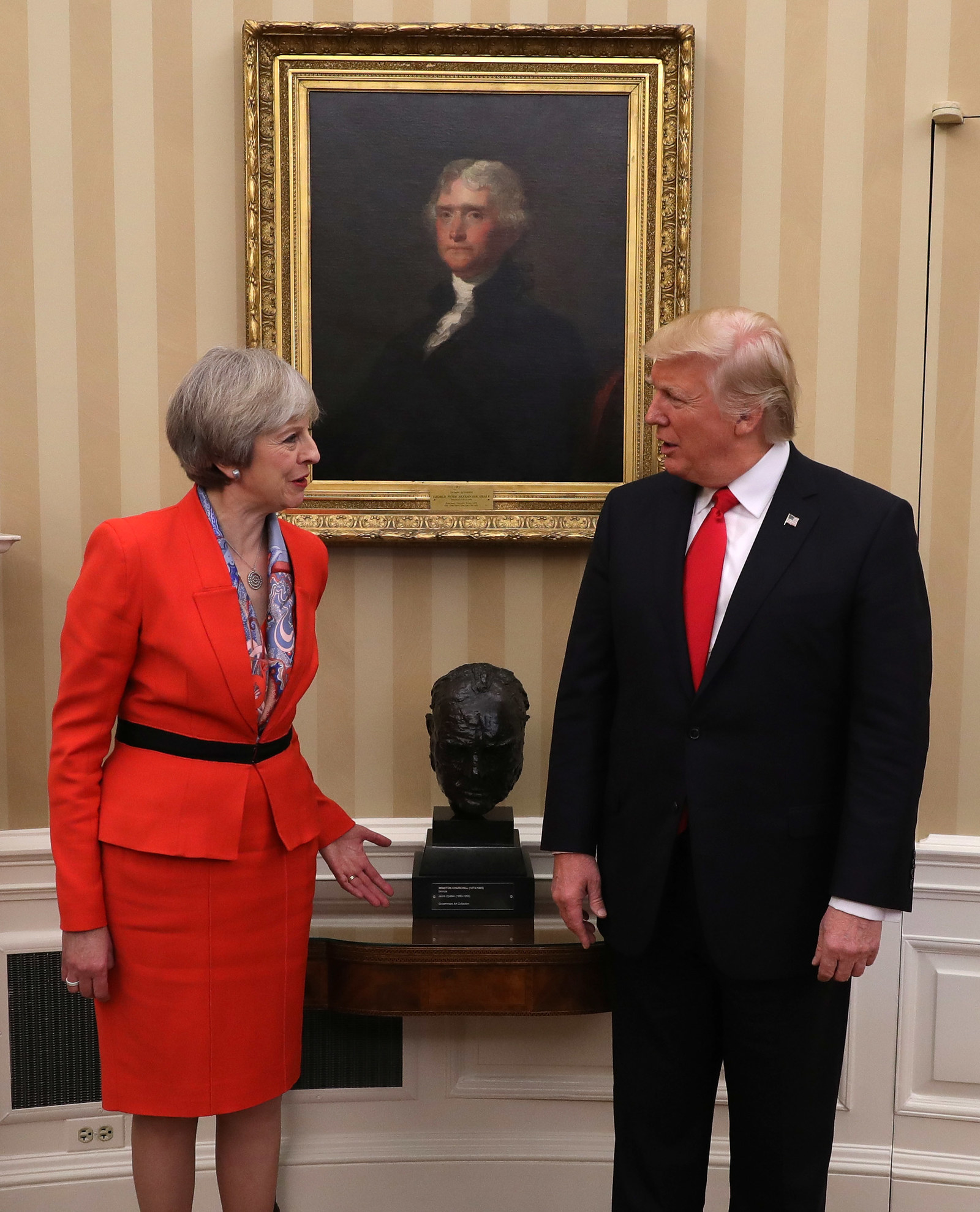 And if you've ever wondered how the much-mocked coverage of May's clothes appears in the media, it's not through the fashion awareness of political reporters who can recognise designer labels – it's because the prime minister's team feel obliged to tell the media in advance. And since they feel obliged to tell the press, the choice has to be explained as being made for a symbolic reason.

This way we end up learning that the prime minister wore LK Bennett shoes, an Amanda Wakeley suit, and a jacket by Daniel Blake – no connection to the Ken Loach film – to her meeting with Trump in order to "promote British designers" on the world stage.
The symbolism continued when, hours later, in Philadelphia at a convention for Republican politicians, she explicitly tied herself to the agenda of Trump's party.
Whereas David Cameron and George Osborne had all but made clear their support for Hillary Clinton during the US presidential election, May told the Republican senators and representatives that she was "a fellow Conservative who believes in the same principles that underpin the agenda of your party", before listing their shared perspective on "the value of liberty, the dignity of work, the principles of nationhood, family, economic prudence, patriotism – and putting power in the hands of the people".
Republicans were largely smitten.
"From everything I've seen she's been a great leader," said Californian congressman David Valadao, who had previously met with May when she was home secretary. "I think she'll be a great leader."
"Anything we can do to strengthen our ties between the US and Britain serves both of our countries," added New Jersey representative Frank LoBiondo.
At the British embassy in Washington DC that night she again worked the crowd, which one source said included White House press secretary Sean Spicer, Pentagon chief James "Mad Dog" Mattis, and probable future commerce secretary Wilbur Ross.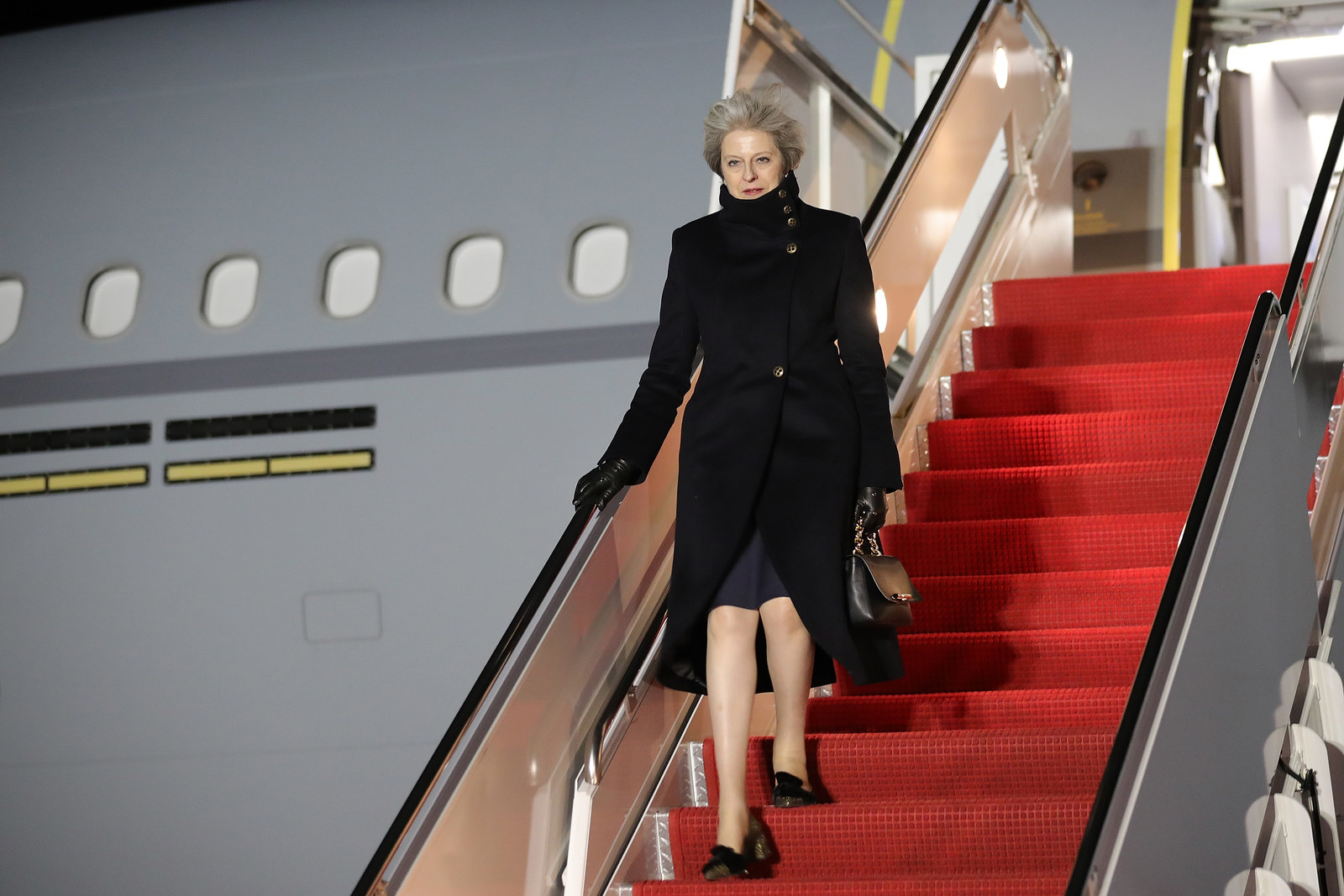 Still, May was far from the biggest story in town. "We've got quite a lot of other shit going down right now," said one White House correspondent, listing off the small matter of a wall on the border with Mexico, after being asked whether a UK–US trade deal was really at the top of the administration's agenda.

There was also little awareness of Theresa May's visit among the public on the streets of Washington DC. Most people BuzzFeed News spoke to were politely intrigued to learn about the visit, while others said there were more pertinent issues going on involving relations with Mexico. However, one high school teacher knew she was in town after seeing a segment on that morning's Fox News.

"I know that she wasn't a big Trump fan when she was running but she's interested in opening up the relationship between her at the US," said Josh Weller when asked whether he knows much of the visit. "It's hopeful."
Did he believe people were aware of the prime minister's visit? "I don't think many people know, unfortunately."
But in the Trump world there's only one media consumer who matters: POTUS himself. And the headlines on US cable news channels immediately afterwards, referencing the promise of a glitzy state visit to the UK to meet the Queen, were likely to have pleased him. The challenge for May is how her gamble is perceived not just on Fox News but back in the UK and elsewhere in the world, and whether Trump will make really make good on his pledge to build a strong relationship – or if he just keeps the menu card.