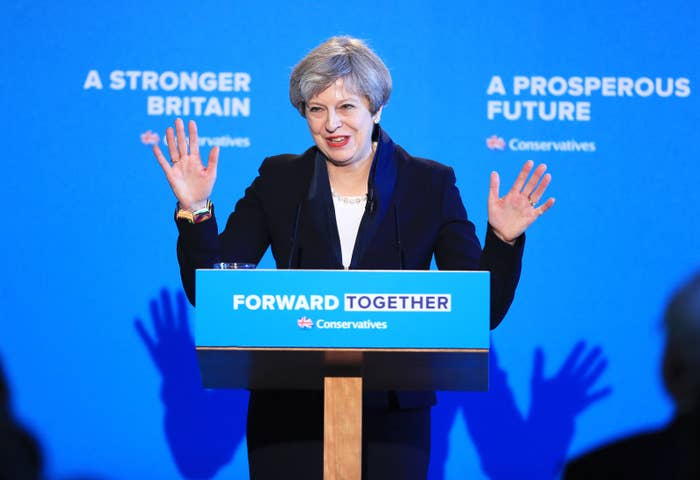 Buried at the very end of the Conservative election manifesto is a line of text that could have an enormous impact on how Britons use the internet in the future.

"Some people say that it is not for government to regulate when it comes to technology and the internet," it states. "We disagree."
When the manifesto was unveiled by Theresa May in Halifax on Thursday morning, news bulletins understandably focused on the party's taxation policy and Brexit plans rather than the technology section at the end.
But the relatively oblique language hides a major change that will affect the vast majority of Britons who spend hours of their day on the internet: May's party feels it's time to stop treating the internet as an anarchic free-for-all.
Tory aides at the launch event confirmed this is no accident but is instead part of an ambitious attempt by the party to impose some sort of decorum on the internet and social media.
In particular, Conservative advisers suggested to BuzzFeed News that a future Tory government would be keen to rein in the growing power of Google and Facebook, two companies that dominate the flow of information on the internet but have a habit of strongly resisting regulation – as the government found out when it attempted to force Facebook-owned WhatsApp to weaken its encryption after the Westminster terror attack.
Pull the various tech-related manifesto pledges together and – if the polls are correct and May wins a majority in next month's election – the Conservatives could have a mandate from the British public for a significant extension of internet regulation, all based on the idea that a government's duty to protect citizens exists just as much on the internet as it does in the real world.
The proposals – dotted around the manifesto document – are varied. There are many measures designed to make it easier to do business online but it's a different, more social conservative approach when it comes to social networks.
Legislation would be introduced to protect the public from abuse and offensive material online, while everyone would have the right to wipe material that was posted when they were under 18. Internet companies would also be asked to help promote counter-extremism narratives – potentially echoing the government's Prevent programme. There would be new rules requiring companies to make it ever harder for people to access pornography and violent images, with all content creators forced to justify their policies to the government.
Labour's manifesto covers some of the same ground – it pledges to keep children safe, tackles online abuse, and also allows content posted by under-18s to be wiped. But it stops short of setting out a comprehensive vision of how online culture should look and feel – and what role the government should have in enforcing these moral judgments. The Conservative manifesto has no such qualms.

Ultimately it all comes back to the idea that, after 20 years of widespread internet usage in the UK, the Conservative leadership feels the internet is having such an enormous effect on society that it cannot be left alone.
"Our starting point is that online rules should reflect those that govern our lives offline," the Conservative manifesto says, giving its justification for a new level of regulation.
"It should be as unacceptable to bully online as it is in the playground, as difficult to groom a young child on the internet as it is in a community, as hard for children to access violent and degrading pornography online as it is in the high street, and as difficult to commit a crime digitally as it is physically."
New laws will be introduced to implement these rules, forcing internet companies such as Facebook to abide by the rulings of a regulator or face sanctions: "We will introduce a sanctions regime to ensure compliance, giving regulators the ability to fine or prosecute those companies that fail in their legal duties, and to order the removal of content where it clearly breaches UK law."
A levy on tech companies – similar to that charged on gambling companies – would also be used to "support awareness and preventative activity to counter internet harms". The Conservatives even see this model going further, announcing their desire to work with other countries develop a global set of internet regulation standards similar to those "we have for so long benefited from in other areas like banking and trade".
May's manifesto also raises concerns about online news, warning it is willing to "take steps to protect the reliability and objectivity of information that is essential to our democracy", while pledging to "ensure content creators are appropriately rewarded for the content they make available online".

One Tory source told BuzzFeed News this final comment relates to Google and Facebook's growing dominance of the advertising market, which the newspaper industry believes is crushing its business model. The source suggested that if the web giants failed to act voluntarily then they could be forced by legislation to find ways to financially compensate traditional news producers.
Facebook declined to comment, while Google did not respond to a request for comment.
Jim Killock, who runs the UK-based Open Rights Group campaign, told BuzzFeed News he was concerned the plans could force social networks to deal with tens of thousands of frivolous complaints about supposedly offensive material.

He said the manifesto proposals represented a step towards forcing companies such as Facebook to take responsibility for what is published on their networks: "Platforms generally are much more restrictive than the law – they already censor more than the law requires. They're generally quite censorious as it is. It's hard to see what really is going to be added by this except enormous costs for little benefit."
Killock, a frequent critic of the prime minister's approach to technology regulation, warned that the proposals could force Facebook and Google to decide what counts as illegal material, rather than trusting the independent British courts system.

"They won't get it right – they'll behave in a risk-averse fashion," he said. "They'll censor more than they need to. I do not want Mark Zuckerberg to think of himself as judge and jury of what people can say in Britain."