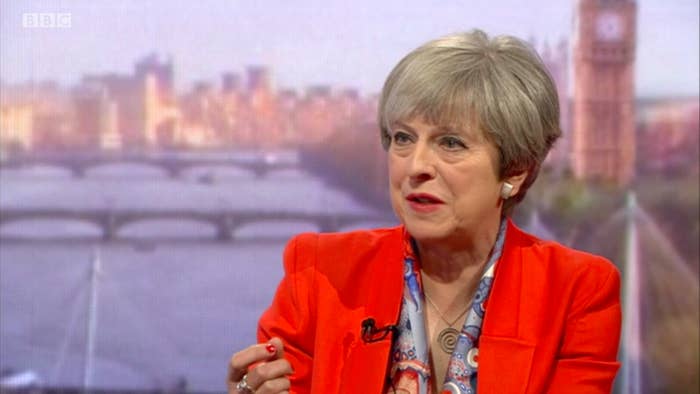 Theresa May has said there are "many complex reasons" why people use food banks, when asked about claims nurses are being forced to turn to charities in order to feed themselves.
The prime minister repeatedly declined to accept that the government's public sector pay freeze was responsible for forcing NHS staff to seek help from emergency provisions.
The BBC's Andrew Marr quoted figures from the Royal College of Nursing (RCN) that show most nurses have suffered an effective 14% pay cut since 2010.
"Lots of ordinary nurses, by the end of the week, are having to use food banks because they can't afford to pay for food," he said in an interview on Sunday morning. "That is not the sort of country you want to run, is it?"
The prime minister replied: "I want a country that works for everyone, not the privileged few."
Marr asked again: "We have nurses going to food banks, that must be wrong?"
May said it was a nuanced issue, replying: "There are many complex reasons why people go to food banks, and I want to develop an economy where, yes, we have a strong economy so we can pay for the public services that people need. But also we have an economy where we're creating secure jobs, and higher paid jobs for people."
Marr asked the question a third time: "The problem is they haven't got enough money to eat at the moment."
The prime minister once again stuck to her position: "You're only going to be able to do this if you have a government which understands the importance of that strength in the economy. If you look at the proposals the Labour party is coming forward with, they're nonsensical, simply don't add up, and would actually lead to less money being available for the NHS, less money for public sector pay, and higher taxes."
But Labour politicians immediately jumped on this issue, as evidence that the NHS was underfunded.
Commenting, RCN chief executive and general secretary Janet Davies, said May had failed to acknowledge it was wrong nurses were using food banks.
"Nurses should not have to fund the NHS deficit from their own pay packets. Too many are struggling to make ends meet, turning to food banks and hardship grants in desperation," she said.
"Every year that the government holds NHS pay below inflation, hundreds of thousands of nurses get another real-terms cut to their salary."
Davies said the pay cap was fuelling a "recruitment and retention crisis that is as damaging for patient care as it is for the nurses themselves.
"After the election, for the sake of patient safety, the government must scrap the pay cap and fill the tens of thousands of vacant jobs."
May also suggested the Tories would no longer guarantee the so-called "triple lock" on pensions, which ensures older people always see substantial annual rises in their pension income. Labour's shadow chancellor John McDonnell has insisted his party will maintain the pledge, despite criticism the policy is helping the elderly at a time when many pensioners have higher incomes than young people.

In a separate appearance on ITV's Peston on Sunday programme the prime minister ruled out rising the rate of VAT, the tax charged on the sales of most products.