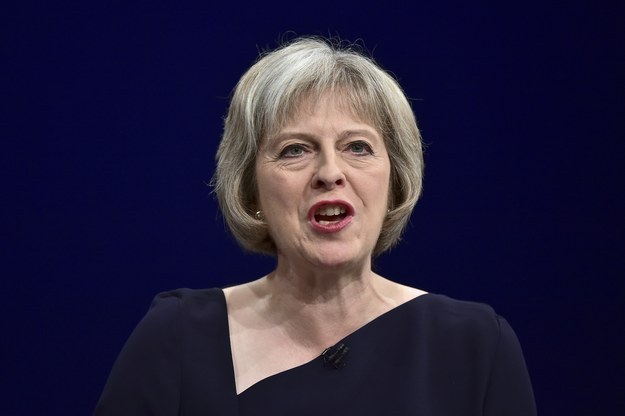 Theresa May has pledged to make it harder for people to claim asylum in the UK, in a speech to the Conservative party conference that involved commitments to cut immigration in almost every way possible.
The home secretary said she wanted a tougher approach to asylum applications, committed to increasing the number of refused asylum-seekers returning to their home countries, and said she would "not in a thousand years" accept a pan-EU asylum policy.
She also said high immigration stopped the UK being a "cohesive society" and warned people in favour of immigration that they would not be able to stop her making the changes: "My message to the immigration campaigners and human rights lawyers is this: You can play your part in making this happen – or you can try to frustrate it."
Instead, she suggested the legal definition of asylum and refugee status should be redefined: "There is a huge difference between a young Syrian family fleeing the tyranny of ISIL or [Bashar al-] Assad, and a student who claims asylum once he has been discovered overstaying his visa, or a foreign criminal about to be sent to a prison in his own country."
May, who is positioning herself to run for the leadership of the Conservative party when David Cameron steps down, reiterated her commitment to reducing net migration to the UK to under 100,000 people a year: "Even if we could manage all the consequences of mass immigration, Britain does not need net migration in the hundreds of thousands every year."
This is despite May, who once warned that voters perceived the Tories to be the "nasty party" because of their social policies, missing the target throughout her first five years as home secretary.
"We have to do this [reduce immigration] for the sake of our society and our public services – and for the sake of the people whose wages are cut, and where job security is reduced, when immigration is too high."
The speech was criticised by both the Institute of Directors, a pro-business group, and the Refugee Council.
"We are astonished by the irresponsible rhetoric and pandering to anti-immigration sentiment from the home secretary," said a spokesperson for the IoD. "It is yet another example of the home secretary turning away the world's best and brightest, putting internal party politics ahead of the country, and helping our competitor economies instead of our own."
Last year May's own department published a study which concluded "there is relatively little evidence that migration has caused statistically significant displacement of UK natives from the labour market in periods when the economy has been strong".