The BBC invited all the leaders of the major political parties to a live TV debate on Wednesday night – which then became a game of "Where's Theresa May?"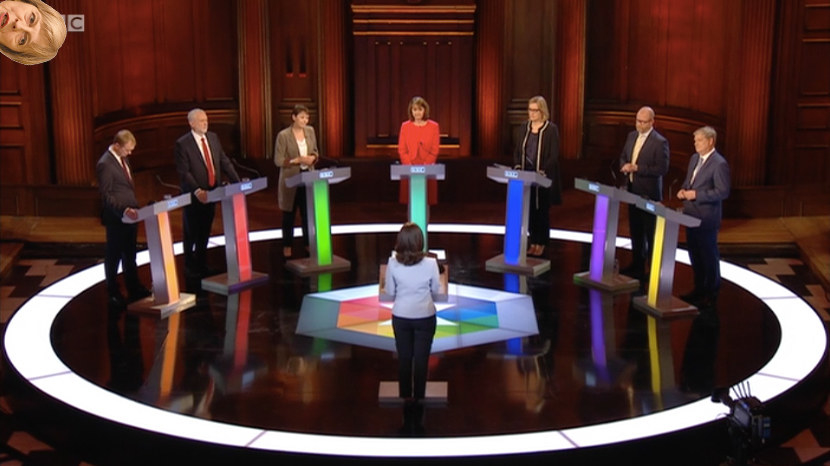 Which led to a lot of comments about Conservative home secretary Amber Rudd still being the stand-in for May.
UKIP prepared for the debate in a different way.
Even a social media intern promoting a Netflix show managed to have fun with the fact that Theresa May didn't turn up.
After the show it was revealed by The Sun that Amber Rudd had decided to turn up to the debate and represent Theresa May, despite the home secretary's elderly father dying on Monday.
Rudd kicked things off with repeated references to Jeremy Corbyn's "magic money tree", which was apparently going to pay for everything.
Conservative ministers on Twitter quickly picked up and attempted to join in on the "magic money tree" memes.
People were also quite confused when Rudd started talking about Jeremy Corbyn spending different colours of monopoly money nationalising different things.
The Greens' Caroline Lucas also had a go at Theresa May at various points throughout the evening.
"I think the first rule of leadership is to show up," she complained, pointing out that the Greens share the job with two co-leaders.
"You don't call a general election and say it's the most important election in a lifetime and then not even be bothered to debate the issues at stake."
The SNP's Angus Robertson had a good night, despite the fact that he was also there in place of his leader and it was unlikely many people in the room could vote for his party.
He too managed a dig at May.
Which could have been better.
The audience were lively. Amber Rudd asked them to judge the Conservative government on their record, which went down well.
The crowd, who asked the questions, were balanced by an independent polling company but still ended up laughing at the home secretary's comments. By this point all the other leaders were so busy piling in on Rudd they'd forgotten they were still supposed to be angry at Theresa May's no-show.
There was debate about Brexit, with Leanne Wood telling off Paul Nuttall for wanting to walk away from the European Union without paying anything.
Nuttall also came under fire from many of the rival leaders for making comments about radical Islam and its role in terror attacks.
One of the most direct attacks was by Jeremy Corbyn on the Conservatives' record in government.
It went down well, but Corbyn increasingly found it difficult to get a word in edgeways after that.
As is often the case when seven ego-filled politicians get in the same room and try to talk over each other, the debate was at times completely unlistenable.
Amber Rudd accused Corbyn of being soft on terror legislation.
Corbyn responded by pointing out that even May had opposed certain pieces of terror legislation while in opposition.
Tim Farron, whose Liberal Democrats rely heavily on the votes of the centre-left middle classes, decided to mildly diss the centre-left middle classes.
He also managed a vaguely passable attempt at a joke on a couple of occasions.
Leanne Wood made a final plea for votes.
But all the same everyone made it through alive.
In summary.