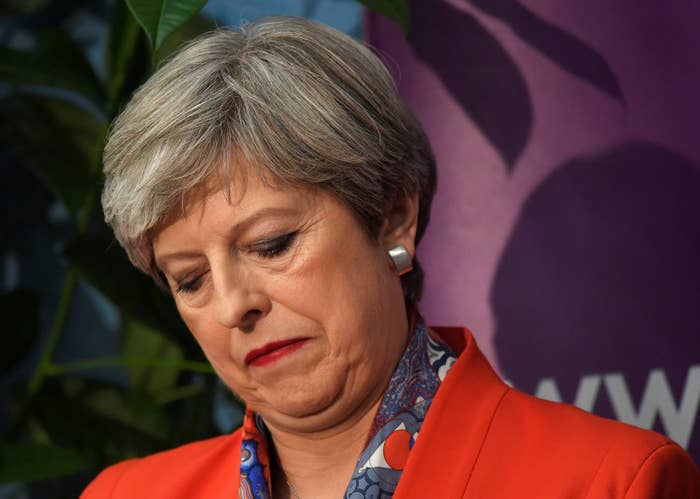 Theresa May's decision to call a snap general election has backfired spectacularly, with the Tories losing their majority in House of Commons to a Labour surge that saw Jeremy Corbyn stage one of the most astonishing comebacks ever seen in a UK election.
May went to the country in the belief she could take advantage of Corbyn's dire poll ratings to win an enormous parliamentary majority and secure her position as prime minister for the next five years. Instead, she appears to have committed one of the most unnecessarily self-destructive acts in British electoral history.
With 649/650 seats declared, the Tories are the largest party in parliament but short of the working majority of 17 seats they won under David Cameron in the 2015 general election. This throws their ability to form a new government into chaos, just days before Brexit negotiations are due to begin.
May visited Buckingham Palace today and upon her return to Downing Street said she would form a government, albeit with the help of "friends and allies" in Northern Ireland's Democratic Unionist Party.
"I will form a government," May said, "a government that can provide certainty and lead Britain forward at this uncertain time."

But her future as prime minister is now in severe doubt, with one Conservative MP claiming to BuzzFeed News that foreign secretary Boris Johnson, who dropped out of the leadership race after the Brexit vote, is already considering his options as a potential replacement. However, according to the BBC, May has no intention of resigning.

The prime minister first indicted she wanted to stay on to lead a minority Tory government, after being re-elected in Maidenhead, saying: "At this time, more than anything else, this country needs a period of stability. And if, as the indications have shown, if this is correct, that the Conservative party has won the most seats and probably the most votes, then it will be incumbent upon us to ensure that we have that period of stability, and that is exactly what we will do."

Anna Soubry, a pro-Remain Tory MP who only just held on to her seat, was the first Conservative to publicly say that May should go. Describing the Tory campaign as "pretty dreadful", Soubry told the BBC the result was "bad" and that May should "consider her position".
Labour and the Liberal Democrats said they would not be willing to form a coalition, leaving a Conservative minority administration as the most likely outcome of the election. However, this raises the prospect of another general election being called in the near future if no stable government can be formed.
Corbyn called for May to resign and "make way for a government that's truly representative" and that rejects austerity politics.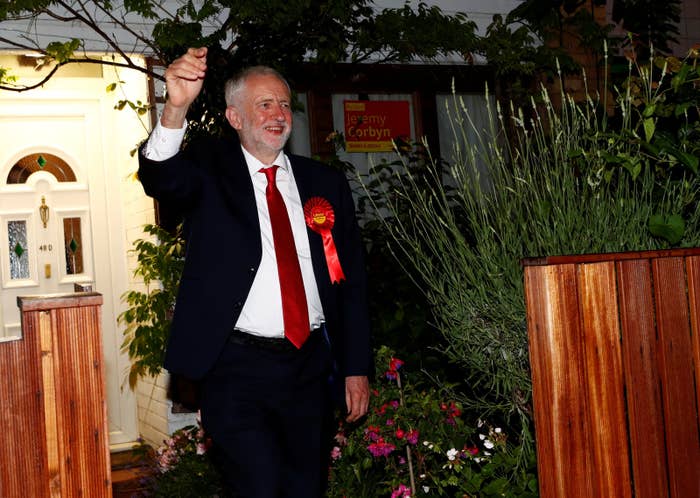 "This election was called in order for the prime minister to gain a larger majority in order to assert her authority," said the Labour leader in his acceptance speech after winning in Islington North. "I've spoken at events and rallies all over the country: Politics has changed, and politics isn't going back into the box where it was before."
The Tories' entire election strategy – based on winning over Brexit-voting Labour seats in the north of England and the Midlands – largely failed. The party failed to take Halifax, which had been such a top target seat that May chose it as the place to launch her manifesto, a policy document that is being blamed for derailing her campaign. And its author, Ben Gummer, who had been tipped as a possible Brexit secretary in May's victory reshuffle, lost his Ipswich seat.

Labour also made substantial gains from the Conservatives in London and in towns across the south of England, but it fell short in the contest to be the single biggest party and the chances of Corbyn forming a government remain slim.
The Labour leader's polls ratings were at historic lows when the election was called, following two years of hostility from right-wing newspapers and his own party's politicians. However, his popularity surged in the polls over the following seven weeks, aided by the Tories' disastrous campaign and a popular manifesto launch, helping Labour win enormous majorities in inner-city constituencies and enormous support from young voters.
Dozens of Labour-held marginal seats that the Conservatives had assumed they would take – especially in outer London and suburban towns – instead returned Labour MPs with massively increased majorities.
The only English constituencies the Conservatives gained from Labour came in seats well down their target list, such as Mansfield in Nottinghamshire.
Even Corbyn's own team did not expect the poll surge to translate into so many gains from the Conservatives, with the party taking the previously rock-solid Tory seat of Canterbury, which has never previously elected a Labour MP.
The Conservatives believed they could rely on the support of the millions of pro-Brexit voters who voted for UKIP at the last election. In reality, many of these people seem to have backed Labour.
One of the few bright spots for the Conservatives was in Scotland, where the party made significant inroads at the expense of the SNP, winning the Gordon constituency that was previously held by former nationalist leader Alex Salmond and defeating current deputy leader Angus Robertson.
The Liberal Democrats failed to make significant inroads, with Nick Clegg losing his Sheffield Hallam seat to Labour and the party losing several seats, causing questions to be asked about Tim Farron's future leadership. He only just made it back into parliament with a majority of 777.