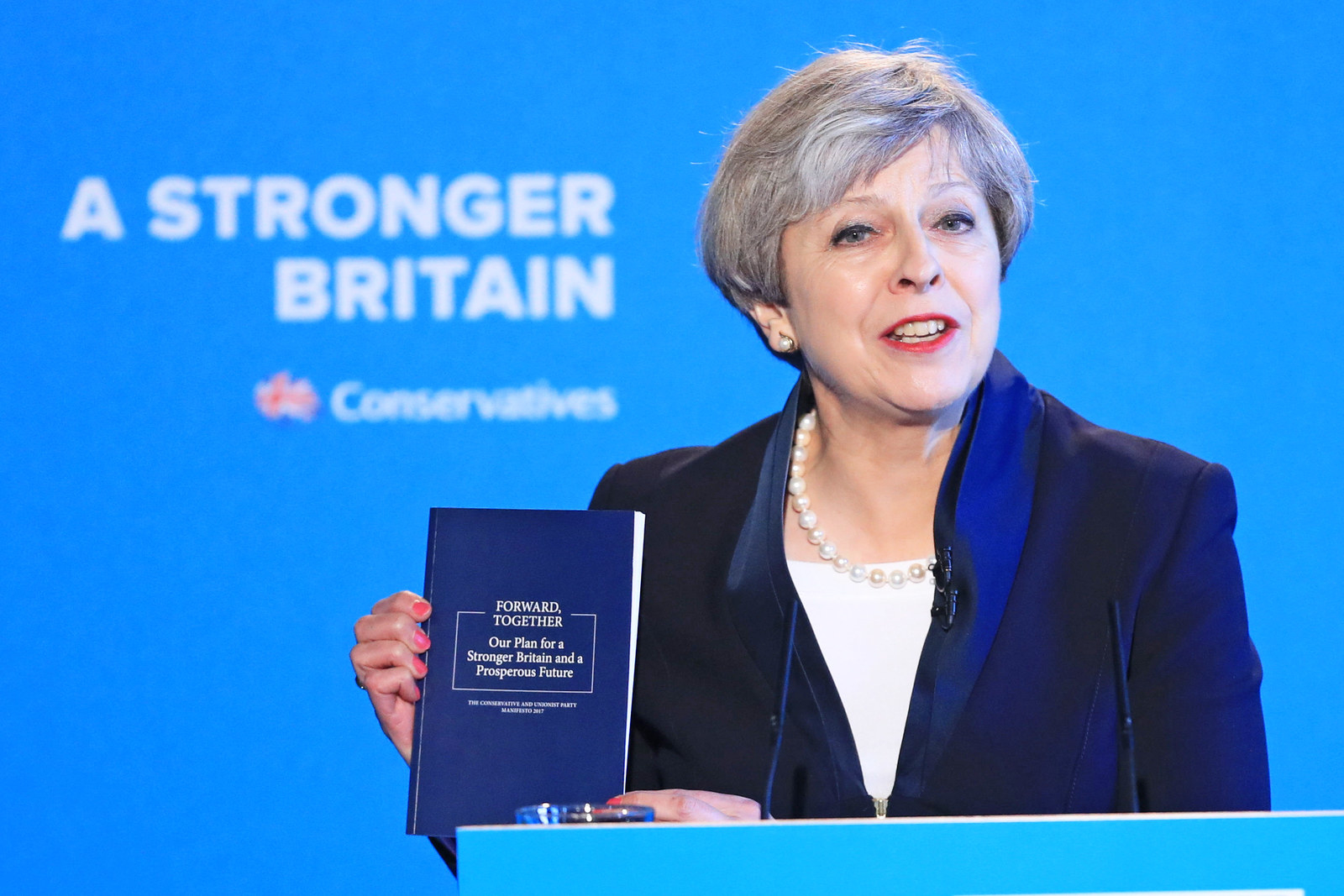 Theresa May's Conservative manifesto includes a pledge to do everything possible to reduce immigration levels, including making it more difficult for students to study in the UK and making it much tougher for people to bring a foreign husband or wife into the country.
The Tory policy document states immigration is currently "too high" and now needs to be reduced because "when immigration is too fast and too high, it is difficult to build a cohesive society".
May also confirmed she would stick by a long-held Conservative pledge to reduce net migration to the UK to under 100,000 people a year. Net migration – the difference between the number of people leaving Britain and those immigrating to the country – currently stands at 273,000 people a year.
Policies designed to reduce immigration include:

Tighter visa regulations for students who want to study in the UK.
Increased taxes on businesses that hire immigrants. Companies that employ skilled foreign workers will be made to pay a levy of £2,000 per employee a year, in a bid to encourage companies to instead train British workers.

Greater restrictions on people's ability to bring a foreign spouse to the UK. At the moment Britons need to be earning at least £18,600 a year in order to sponsor the visa of their non-EU foreign husband or wife. The Conservative manifesto pledges to increase this threshold even further.
A pledge to reduce immigration from the EU after Brexit is completed and the UK has greater ability to restrict the number of immigrants from Europe.

Immigrants having to pay more to use the NHS, with a charge of £600 for migrant workers and £450 for international students.
The commitment to reducing immigration to under 100,000 people a year, which has been government policy since 2010, has never been met by the Conservatives and became a source of embarrassment for former prime minister David Cameron.

Former UKIP leader Nigel Farage repeatedly taunted the Tories over the matter and emphasised that it is impossible to restrict freedom of movement across Europe while Britain remains a member of the EU.
Former chancellor George Osborne, who now edits the Evening Standard, used an editorial on Wednesday to call the policy of reducing immigration to under 100,000 a year a "politically rash and economically illiterate move" and insisted a majority of cabinet ministers do not believe in the policy.
"None of its senior members supports the pledge in private and all would be glad to see the back of something that has caused the Conservative Party such public grief," the newspaper said. "But no. Ms May has kept digging."
However, as a former home secretary, May is personally invested in reducing immigration and meeting the target. She gave no date for when the numbers would be reduced to this level. The policies were not well received by the Confederation of British Industry.
Answering questions from journalists after the campaign launch, the prime minister said "uncontrolled immigration" had been "depressing wages" for those on low incomes and she would oversee a reduction in immigration.