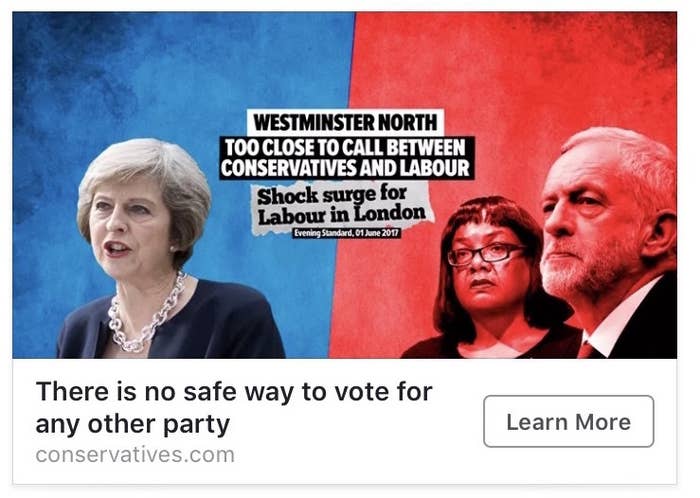 The Conservatives have launched a barrage of targeted Facebook adverts ahead of tomorrow's general election that make the most of a previously unnoticed loophole in electoral law to enable the party to spend a near-unlimited amount on localised messages in key target constituencies, BuzzFeed News has learned.
The party's superior online advertising efforts have already attracted substantial attention in recent weeks, with hundreds of thousands of pounds being spent pushing anti-Labour attack adverts into Facebook feeds. The majority have focused on the supposed deficiencies in Jeremy Corbyn's policies and his team.
Localised online political advertising has previously been constrained by a UK law that requires any material mentioning a local party candidate to be counted as part of strict local campaign spending limits, which can be as low as £12,000 per candidate per constituency.
However, the Conservatives have now spotted a previously underused loophole that means even adverts that mention a specific constituency – but not the local candidate or local policies – can be paid out of the national campaign budget, which can be up to £19 million.
"If it's promoting the national party and national policies, then regardless of whether it mentions the constituency name or not then it's national spend," an Electoral Commission spokesperson told BuzzFeed News, adding that the situation is different if it talks "about a candidate's views and a candidate's policies".

The end result is that Conservative paid-for Facebook ads that only appear to voters in a single targeted constituency and look remarkably like localised adverts can be legally counted as national spending.

In one example from Westminster North, obtained by BuzzFeed News, the advert repeatedly mentions "your constituency", features the words "Westminster North" in the graphic, and emphasises that local voters in the constituency could determine who gets into Downing Street.
Underlining the extent to which the advert is specifically targeted at local voters in that constituency, it also quotes an Evening Standard headline that reads "Shock surge for Labour in London".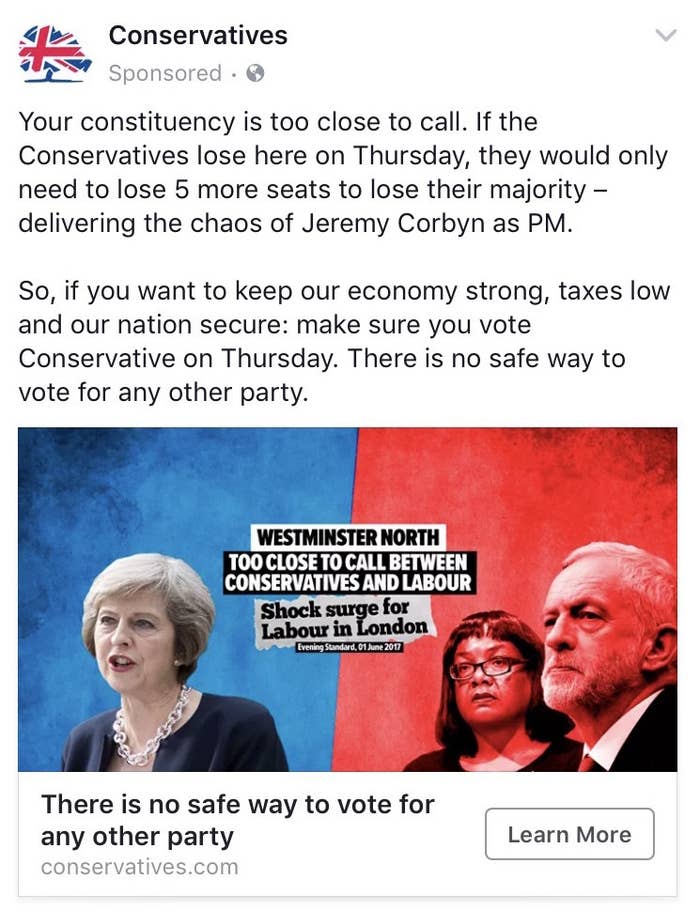 However, because the advert does not mention the local candidate or their policies, legally it does not have to be counted under the £12,000-per-candidate spending limit. In effect, this essentially enables the Conservatives to legally spend an unlimited amount paying for the advert to be shown to every Facebook user in the constituency and in the process completely circumvent existing spending restrictions.

Localised Conservative Facebook adverts that can legally be paid out of national campaign funds are being spotted across the country and could prove to be crucial in driving turnout in key marginal seats, especially in areas where the party is lacking sufficient volunteers.

In a separate example, shared with BuzzFeed News by the Bureau of Investigative Journalism working in conjunction with the political tracking site Who Targets Me, the Conservatives are paying to promote localised versions of attacks on the so-called garden tax, featuring the name of a local constituency and the amount of tax that would allegedly be levied.
Again, this can legally be paid out of Conservatives' national campaign budget, since it fails to mention any local candidate or local policy, despite being highly targeted to an individual constituency.
Many local candidates from all political parties are experimenting with targeted Facebook advertising during this election. However, most of them are limited in the amount they can spend on the social network since their adverts are often explicitly about the local candidate or local issues and therefore must come out of their comparatively tiny local campaign budget.

The Conservatives have also – largely unnoticed by the media – spent substantial sums during this election on YouTube advertising, block-booking ad slots with promotional material for Theresa May, as well as experimenting with advertising on Snapchat and Instagram. The majority of their adverts are negative, with a particular focus on security issues and shadow home secretary Diane Abbott in recent days, according to analysis by Who Targets Me.
The Tories, who pioneered this form of online political advertising in the UK ahead of the 2015 general election, have more experience than Labour at running such online advertising campaigns. Corbyn's party has largely shied away from running large scale online paid-for attack adverts, instead promoting positive videos about policies.