Secret Document Suggests Channel 4 May Be Privatised
Someone walked out of Downing Street with a sensitive document in their hand – unfortunately a photographer took a picture of it.
The government appears to be actively considering the privatisation of Channel 4, according to this document photographed in the hands of an individual walking out of Downing Street on Thursday afternoon.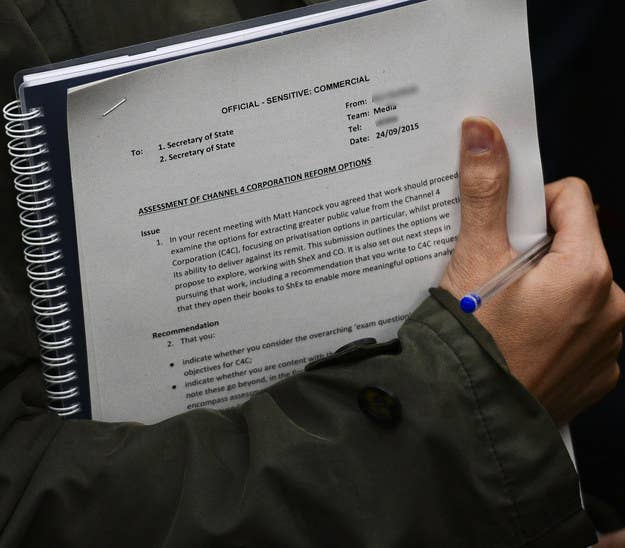 The memo – marked "Sensitive: Commercial" – is addressed to two secretaries of state. The documents suggest the unnamed cabinet ministers had a recent meeting regarding the privatisation of Channel 4 with Matt Hancock, a cabinet office minister and key associate of chancellor George Osborne.
It suggests the ministers had "agreed that work should proceed" to examine opportunities to privatise the state-owned public service broadcaster.
The document also suggests that the secretaries of state should write to Channel 4 and request the broadcaster provides key financial details to "ShEx" – government shorthand for the Shareholder Executive – so the agency can assess the options for "extracting greater public value" from the channel.
The Shareholder Executive is the government agency which owns Channel 4's holding company and has been responsible for recent privatisations such as Royal Mail.
The Financial Times has previously reported that the government believes the not-for-profit broadcaster could be worth £1 billion. Channel 4 itself believes it could have to substantially reduce its programming budget if it is privatised, threatening some of its less profitable output.
The picture was taken by Steve Back, a Downing Street-based photographer who tweets as @PoliticalPics and who has repeatedly captured secret documents being carried into the centre of the UK government. He told BuzzFeed News he did not know who was carrying the document, which carried today's date.
In July the department of culture, media, and sport said there were "no plans" to privatise the channel.
But in response to today's document a spokesperson appeared to soften their stance: "The government has made no decisions regarding reform of Channel 4. Channel 4 has an important remit and we are looking at a range of options as to how to continue to deliver this, including options put forward by Channel 4."
This is the full text of what was visible from the memo to the cabinet ministers:
In your recent meeting with Matt Hancock you agreed that work should proceed [....] examine the options for extracting greater public value from the Channel 4 Corporation (C4C), focusing on privatisation options in particular, whilst protect [...] its ability to deliver against its remit. This submission outlines the options we propose to explore, working with SheX and CO. It is also [sic] set out next steps in pursuing that work, including a recommendation you write to C4C reques[...] that they open their books to ShEx to enable more meaningful options analys[...]