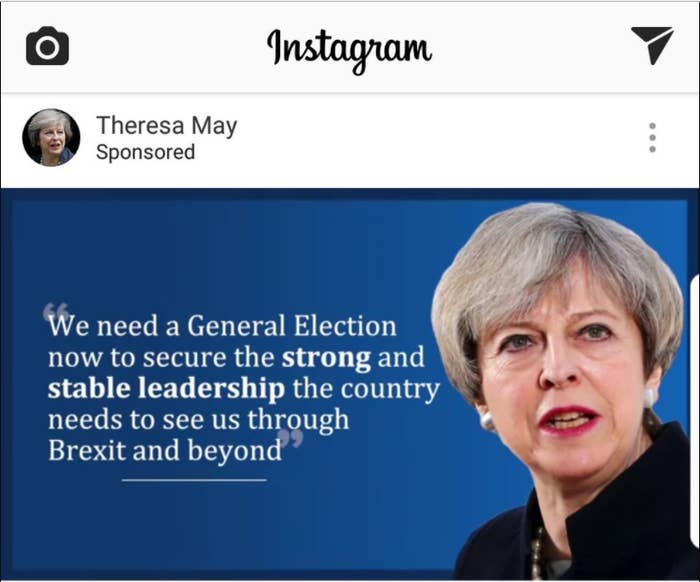 The Conservatives are investing in Instagram advertising for the general election, BuzzFeed News has learned, paying to push images and videos of Theresa May calling for "strong and stable leadership" into the feeds of tens of thousands of potential voters.
The adverts, which have been running for the last week, show the prime minister repeating her core election slogans. They appear in feeds alongside normal Instagram posts – and have received a mixed reaction from users.
The adverts so far have relatively low numbers of views, suggesting the party may simply be testing the waters to see how the public respond before committing more funds as the election progresses.

Instagram advertising represents the next stage in online election campaign tactics, with political parties increasingly relying on buying targeted web advertising to broadcast a message directly to voters – circumventing journalists and escaping the traditional restrictions on political TV and radio advertising.
May does not have her own Instagram feed, other than a Downing Street account run by civil servants that cannot be used for party-political purposes. She has also been relatively quiet on social media, rarely posting and not even following anyone on Twitter.
As a result her Instagram presence only exists as adverts – although that has not stopped them from attracting overwhelmingly negative comments.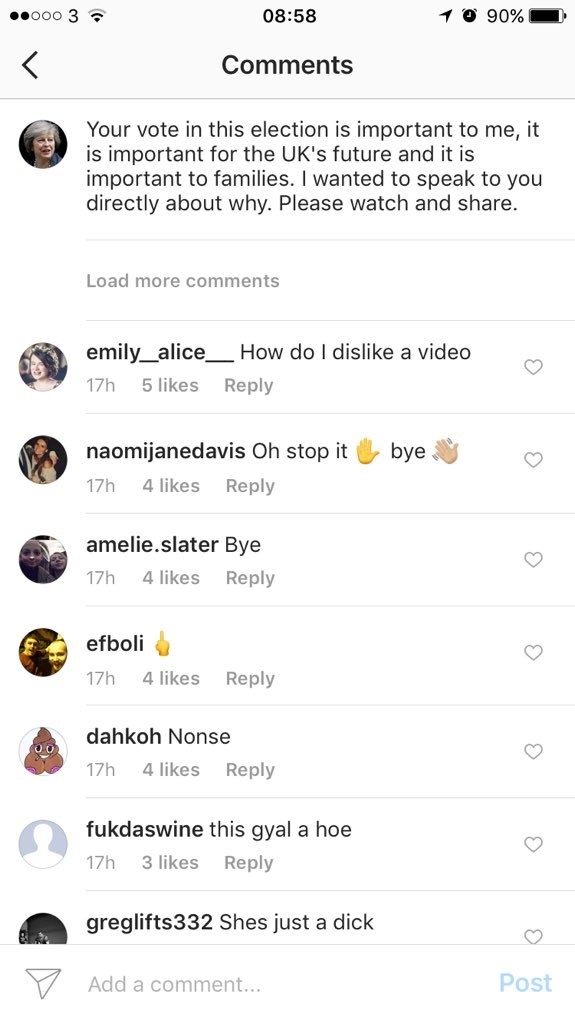 Despite the negative response from people who have taken the time to comment, the tactic could work if the aim is simply to raise awareness of the Conservatives' slogan as people scroll through their Instagram feed.
Online advertising was used to significant effect by the Tories during the 2015 general election, where they massively outspent Labour by investing at least £1.2 million in Facebook adverts, especially in marginal constituencies.
The two Conservative staffers responsible for that strategy – who later formed the EdmondsElder consultancy – also ran digital campaigning for the Stronger In campaign in the EU referendum, where they spent heavily on Instagram. They have now returned to the Conservatives to run the digital campaign for the 2017 general election and appear to have taken the tactic with them.

Unlike newspaper adverts or billboards, targeted online advertising is not readily visible to the general public, making it difficult for journalists and opposition politicians to scrutinise and respond to claims – or even be aware which targeted adverts are being used in which constituencies.
In an attempt to remedy this, a group called Who Targets Me? is encouraging voters to help them track which targeted political adverts are being shown in users' newsfeeds by installing a plug-in for the Chrome browser.

Although Labour has a substantially more active online supporter base than the Conservatives, it is increasingly difficult to reach swing voters with core messages without paying for adverts – usually to Facebook (which also owns Instagram) and sometimes Google.
Recent emails from Labour to party members have seen the opposition party begging supporters to donate cash to pay for Facebook advertising so they can compete with the Tories' superior financial muscle power for their online operation.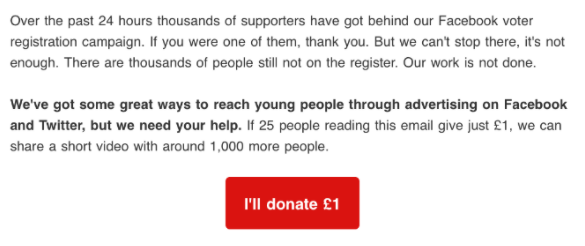 One Labour source told the Mirror the party is aiming to spend £1 million on Facebook during the general election, although so far it seems to have focused on encouraging people to like its main Facebook page rather than pushing out messages directly to voters.
Are you receiving targeted online adverts from any political parties in this election? If so, please take a screengrab and email them to jim.waterson@buzzfeed.com