News organisations around the world, including the BBC, are relying on a deeply dubious Twitter account for their coverage of an ongoing military intervention in Zimbabwe.
There's no doubt that there is some form of military action underway in Zimbabwe, as confirmed by the appearances of military spokespeople on national TV.
Foreign news organisations, struggling to report accurately, are relying heavily on @zanu_pf, a longstanding Twitter account run in the name and colours of Zanu-PF, the Zimbabwean governing party, led by president Robert Mugabe.
BBC Radio 4's flagship Today programme quoted the account repeatedly, and it appeared in push alerts sent to millions of people and in many news stories.
The problem is that the unverified account, which has 55,000 followers, has been regularly dismissed as a parody due to its bizarre and often inaccurate tweets.

As long ago as 2012 it was dismissed as fake when it commented on claims Mugabe was dying, while in 2013, Zimbabwe's Southern Eye website claimed the real Zanu-PF was "hunting for whoever uses the popular Twitter parody account".
At the very least it's unclear who controls the account and whether they represent anyone in the party.

A BBC spokesperson defended the use of the tweets: "It may be unclear who is operating the two accounts identifying themselves as Zanu-PF but it is not the case that they are clearly parody accounts. BBC is including appropriate health warnings when citing them. It's a developing story so we are also using information from our correspondents and other trusted news sources."

The BBC News World account later tweeted to apologise for describing @zanu_pf as the party's official account.
The account has been notorious for several years due to its bizarre tweets on various topics.

It feels very strongly about the impact of having eggs Benedict for breakfast.
But most of all it has a strong hatred of "hipsters" and regularly threatens them.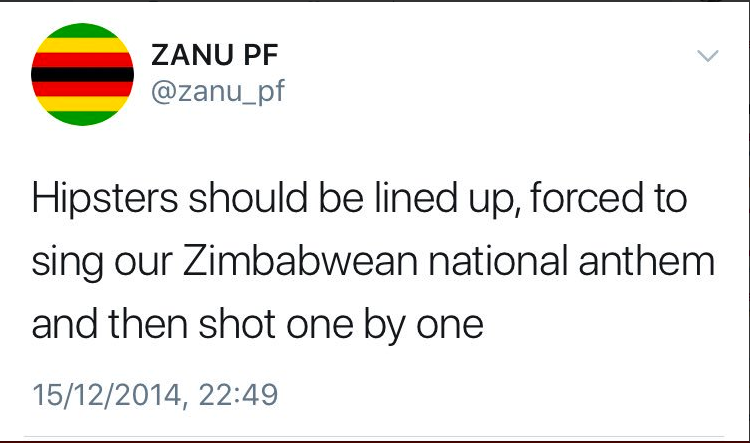 In fact, the account really hates hipsters.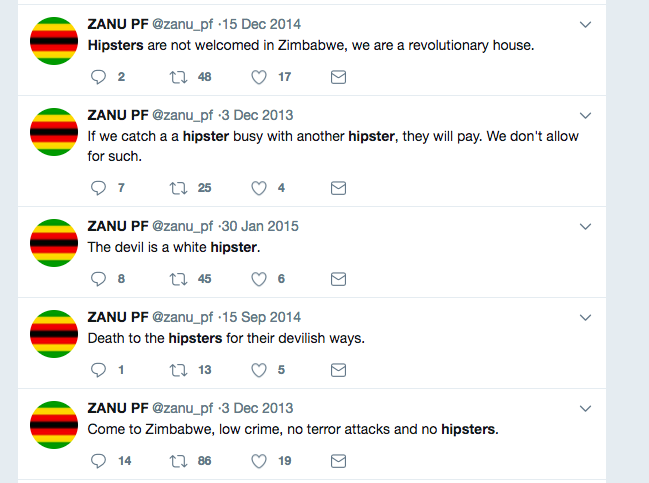 As pointed out by the journalist Sally Hayden, this has gone on for some time, and the account has been dismissed as unreliable by many journalists in Africa.
Despite this, its influence is substantial. The top results for "Robert Mugabe" on Google all reference the account on some level.
Meanwhile, there is another, much less popular account called @ZANUPF_Official claiming to speak on behalf of the faction-riven political party.
But even that account is unverified and it's unclear who is currently running it.

Just to confuse matters, the unverified and potentially fake @zanu_pf Twitter account is now begging for improved standards in journalism.
Whoever controls the account has spent Wednesday morning going back through their old tweets, deleting some of the more embarrassing ones about porn and hipsters.
In short, be careful about relying on unverified Twitter accounts during an apparent coup.