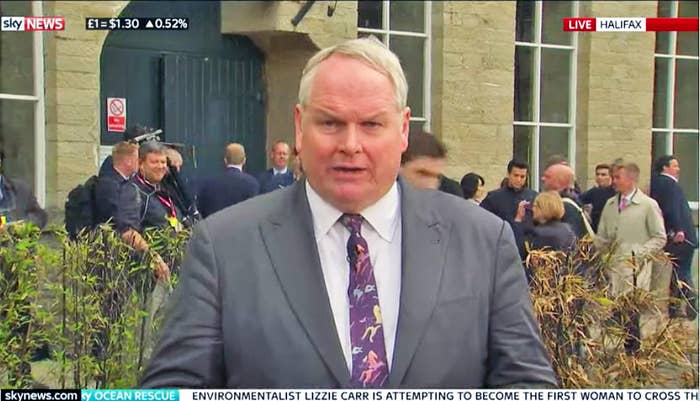 Sky News has said it is being cut out of coverage of the Conservative election campaign because of its reporting on Theresa May's campaign and issued a public complaint.

A spokesperson for the broadcaster took the unusual step of going public with their concerns and told BuzzFeed News that Conservative ministers were avoiding having their policies being scrutinised on air by Sky's presenters. They also said the news channel had struggled to gain access to the prime minister's events – with the blame directed at individuals at the heart of the Downing Street operation.
"Since early in the election campaign, Sky News has not been getting live interviews on election issues with Conservative ministers," a spokesperson told BuzzFeed News. "Also, we weren't initially invited to follow the leader's tour. We understand this to be because members of the prime minister's team are unhappy with aspects of our political coverage. Sky News stands by its journalism and is committed to fair, impartial, and accurate reporting of all the political parties."
One source also claimed Sky News did not receive advance briefing of the Conservatives' manifesto launch on Thursday, despite some friendly newspapers being given previews of some policies.
The highly unusual intervention comes after a number of confrontations between the channel and Theresa May's team. On the first day of the snap election campaign, when at short notice the prime minister announced a public statement on an unknown topic in Downing Street, veteran presenter Adam Boulton speculated on air that one possible explanation could be her health.

Moments later Boulton – who is nicknamed Bunter – received a text message from Downing Street chief of staff Fiona Hill, saying: "You might want to tell Bunter that he should watch what he is saying about my boss's health, utterly unfounded and untrue." He immediately read the message out on air.
Sky News also infuriated Downing Street with an exclusive story from senior political correspondent Beth Rigby claiming foreign secretary Boris Johnson was being kept out of the spotlight on the campaign trail because he was considered a liability.
Alleged media bias and the extent to which election campaigns are stage-managed has become one of the bigger stories of this election. The Conservatives are very sensitive to claims May is being kept away from members of the public, while Labour has purposefully decided to largely avoid taking newspapers on the road with Jeremy Corbyn and has had its own issues with some media outlets.
The Conservatives have been approached for comment and acknowledged the request, although they did not respond by the time of publication.