Same-Sex Marriage Could Finally Become Legal In Northern Ireland
LGBT campaigners are preparing a legal challenge based on equality legislation, BuzzFeed News understands.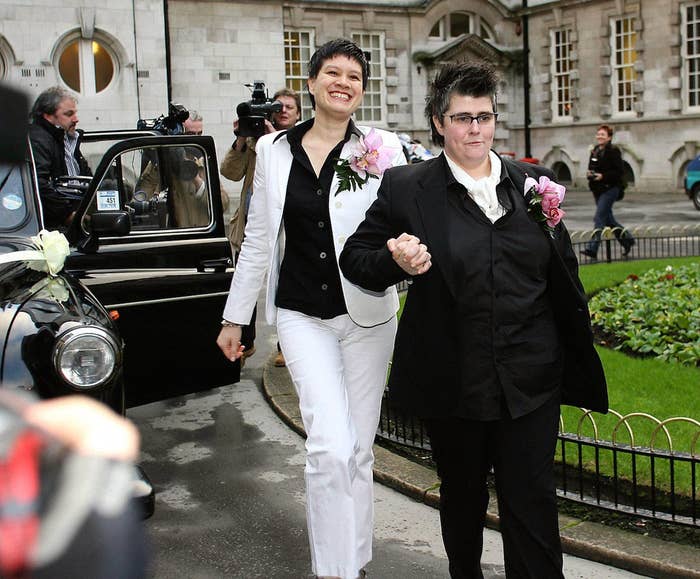 Same-sex marriage could become legal in Northern Ireland if a forthcoming test case is successful.
LGBT campaigners are preparing a test case using human rights legislation to challenge the legitimacy of Northern Ireland's continued ban on same-sex marriage, BuzzFeed News understands.
"Preparations are underway to advance a claim of discrimination," said Gavin Boyd of the Rainbow Project, an LGBT campaign group based in Northern Ireland. "There is a couple that is interested in a test case."
Northern Ireland is the only part of the UK yet to pass legislation enabling gay couples to get married. The first same-sex marriage ceremonies took place in England and Wales earlier this year, with Scotland due to follow suit before the end of the year.
Boyd said the test case will involve a same-sex couple challenging the existing legal anomaly, which means same-sex couples who marry elsewhere in the UK are not considered to be married when they travel to Northern Ireland.
"The legal challenge as it is planned involves two people who were lawfully married in England returning home to Northern Ireland, where they are no longer considered to be married," he explained. "We consider that to be unlawful, unjust, and unjustifiable. "
Any legal challenge is still at an early stage but similar cases based on human rights legislation have previously led to the legalisation of same-sex adoption in Northern Ireland.
Politicians at the Northern Irish Assembly have rejected motions calling for same-sex marriage on three occasions, most recently in April.
In part this is due to the willingness of the Democratic Unionist party (DUP), which holds the majority of unionist seats in the assembly, to use an obscure procedure called the "petition of concern" to effectively veto any vote on the issue.
Petitions of concern were designed as part of the 1998 Good Friday Agreement to ensure no laws were passed exclusively by politicians representing either the nationalist or unionist communities. But LGBT campaigners argue that using such a procedure on a matter that affects individuals in both communities is inappropriate.
Northern Ireland has historically lagged behind the rest of the UK when it comes to LGBT rights.
While England and Wales decriminalised sex between men in 1967, Northern Ireland only followed suit in 1983.
The DUP remains opposed to same-sex marriage, but its nationalist rival, Sinn Féin, is in favour of allowing same-sex couples to marry. The Republic of Ireland is holding a referendum on same-sex marriage next year and opinion polls suggest voters will be in favour.