Broadcaster RT could face sanctions from the UK broadcasting regulator over its coverage of the crisis in Ukraine during early 2014.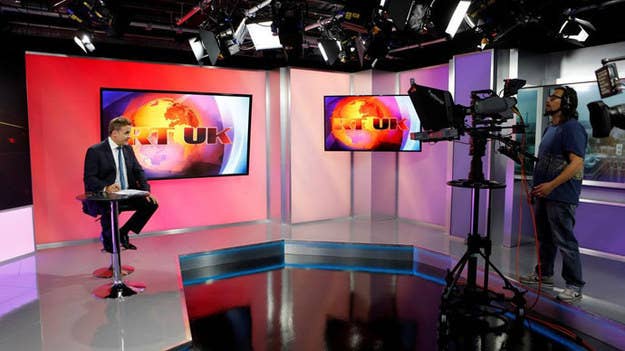 RT, which was formerly known as Russia Today, has been told it could face sanctions if it continues to broadcast biased news reports in the UK.
Ofcom, which ensures British TV news broadcasts meet impartiality standards, said the channel failed to give "an appropriately wide range of significant views and give those views due weight" during four news reports about Ukraine made during March 2014.
Potential sanctions could involve fines or, in extreme cases, the loss of a broadcast licence. The station also has to attend meetings with Ofcom to ensure its news output is impartial in the future.
Complaints centred on RT's failure to give airtime to the views of the Ukrainian government in the run-up to Russia's annexation of Crimea during four broadcasts.
RT argued that many of the complaints were not valid, since the news reports dealt with given facts that did not need to be presented alongside an alternative viewpoint.
These factual matters, according to RT, included saying the new Ukrainian Government "was of doubtful legitimacy", stating that "anti-Russian legislation was one of the first results of the overthrow of the preceding government", and stating how the Right Sector, "an extremist and violent group", was participating in the new Ukrainian government.
Ofcom published a a 40-page report into the matter on Monday, in which it accepted that RT would want to "present the news from a Russian perspective" but said all four broadcasts it investigated "failed to preserve due impartiality".
A spokesman for the regulator said: "Since RT started broadcasting in the UK nine years ago, Ofcom has recorded breaches of the rules on ten occasions covering various issues, ranging from the amount of advertising, to due impartiality and graphic images."
"We have put RT on notice as a result of this breach and if RT breaches our due impartiality rules again we will consider taking further regulatory action, such as imposing a sanction."
RT, which recently launched dedicated UK programming, came under scrutiny during the Ukraine crisis.
One presenter attacked the channel live on air and another resigned in disgust at the channel's coverage of the MH17 crash.
Sara Firth, a longstanding UK reporter with the channel, told BuzzFeed News in July that the channel reported the disaster with "disregard to the facts".
"Every single day we're lying and finding sexier ways to do it," she said at the time.
The channel receives substantial funding from the Kremlin and has the backing of President Vladimir Putin.
In its submission to Ofcom, RT said the complaints about its allegedly biased coverage were in part a sign that the station is doing its job well.
"Ofcom should be slow to assume that a complaint of bias in RT's reporting of international events reveals anything more than that an established view has been successfully challenged," RT said, positioning itself as the alternative voice challenging the establishment.
"It would not further the interests of citizens to inhibit broadcasters from seeking to challenge established Western views, particularly in the current climate, by excluding the Russian viewpoint."
In a statement following the ruling, RT said all other UK news broadcasters would now have to change their output in order to ensure there are no "double standards".
"We look forward to Ofcom applying today's ruling impartially to all broadcasters reporting on any government, irrespective of its political leaning," said a spokesperson for the channel.
"Broadcasters under UK jurisdiction do not always reflect the viewpoint of governments perceived as politically opposed to European and/or US political establishments. This ruling means that this will have to change, at least for those broadcasters regulated by Ofcom, if double standards are to be avoided."
The spokesperson went on to say: "Britain's own Express newspaper noted in March that RT 'has become a favoured destination for those seeking an alternative view' on the events in Ukraine."
This particular Express article quoted approvingly in the RT statement was actually a story about bias on Russia Today.