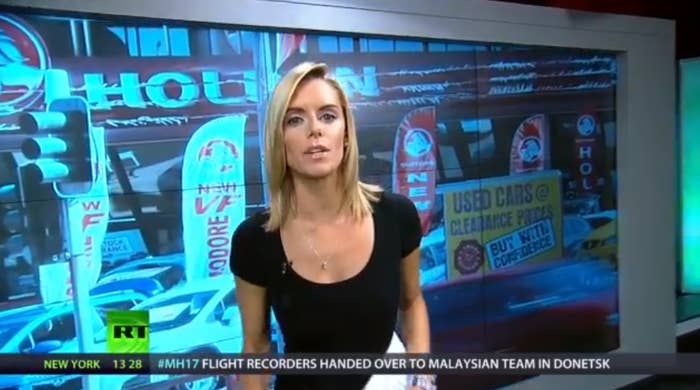 Russia Today, the Kremlin-backed news channel, has attacked the "impartiality and factuality of the mainstream media" after learning it could itself be investigated for breaking broadcasting regulations on accuracy and impartiality during its coverage of the MH17 air crash.
Ofcom, which ensures TV channels with a UK broadcasting licence provide broadly impartial news coverage, said it was considering whether to investigate Russia Today following complaints from viewers about the tone of its coverage of the Malaysia Airlines disaster.
Last week, presenter Sara Firth resigned from the channel, accusing it of covering the story with "total disregard to the facts".
But the channel has hit back against its detractors and the potential Ofcom investigation, telling BuzzFeed it is one of the few news outlets that is willing to stand up to the "party line" on what actually happened to the flight when it crashed in eastern Ukraine.
"While we would love to provide the details of our communication with Ofcom and the facts and arguments that RT had presented to the regulator in support of our position, we cannot do so as it would violate the regulator's rules," said Anna Belkina, head of communications at Russia Today.
"It is sad that the news media of the US and the UK, which has always prided itself on its commitment to asking hard questions of its own government when it comes to domestic politics, in this particular situation is readily swallowing up the 'party line' of the Department of State and the Foreign Office, demanding no proof of their claims."
"Why was the world so quick to blame Russia? Because that's what the president of the United States, the US Department of State, and their allies were doing. Did they have any proof? None that they have presented, beyond references to social media chatter."
"Do we have the results of the investigation? It had barely begun. What happened to impartiality and factuality of the mainstream media? Apparently it is MIA."
Russia Today has previously been found to have breached Ofcom's code on multiple occasions, including a breach of section 5.1, which demands that "news, in whatever form, must be reported with due accuracy and presented with due impartiality".