Rupert Murdoch has arrived in Scotland, sparking further speculation as to whether his Scottish Sun newspapers will publicly support independence.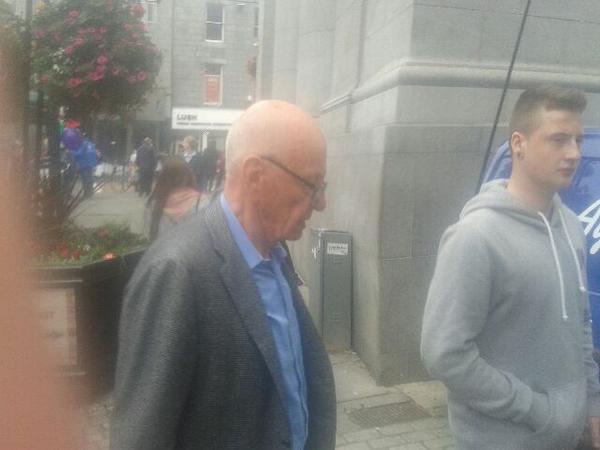 The 83-year-old businessman was photographed in central Aberdeen on Saturday after apparently having lunch in a local pub.
Murdoch has taken an active interest in the Scottish independence campaign, with occasionally cryptic tweets on the country's economic prospects and the early release of polling data commissioned by his newspaper.
His Scottish Sun newspaper, which backed Alex Salmond's Scottish National Party in the 2011 Holyrood elections, has yet to take an official line on independence but has adopted an increasingly pro-nationalist slant in some of its reporting.
A spokesman for the The Sun told BuzzFeed News earlier this week that a decision had yet to be taken on whether the newspaper would back either side, offering only: "You'll have to keep buying The Sun every day to find out".
His arrival was first reported by ITV News, who said he had also made visits to central Glasgow and Fife.
One Twitter user claimed Murdoch was seen at today's pro-independence rally in central Glasgow:
Yes Scotland said Murdoch had not visited the campaign headquarters but did confirm some pro-independence activists had reported seeing him at a Yes Scotland stall on Sauchiehall Street in central Glasgow.
UPDATE: Murdoch was also spotted in this central Glasgow bar, while STV is reporting the Scottish Sun may formally support independence.