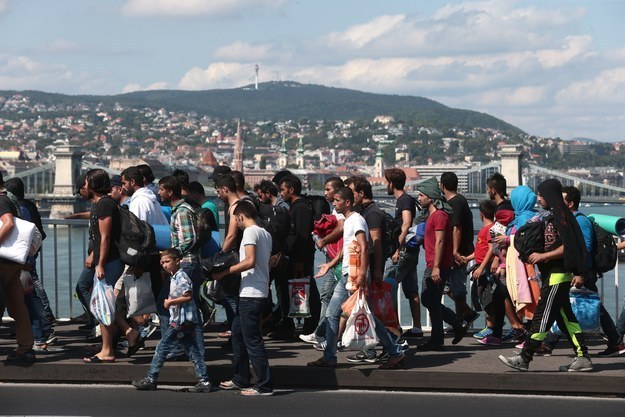 NEWCASTLE UPON TYNE — David Cameron's pledge that Britain will take in thousands more Syrian refugees has been welcomed by the media and MPs. But politicians are having to deal with the reality that while the move may be morally justifiable, it might not necessarily be popular with those Britons who have spent decades becoming increasingly concerned about levels of immigration.
"It's enough for England: It's a small country, everyone comes to this country just for benefits, no one wants to work," said one waiter at a restaurant on the eastern edge of Newcastle upon Tyne, where the local council has proudly offered to take in 50 people affected by Syria's humanitarian crisis. Perhaps surprisingly, the waiter, a 21-year-old called Mohammed Mouli, is himself Syrian, having fled the country for Britain in 2011.
"I think that's enough for the UK, it's too many now," added Mouli, who quit his homeland to avoid being conscripted into Bashar al-Assad's forces because he "would have died straightaway".
The young Syrian said he could not bear to look at the pictures of drowned child Aylan Kurdi on Facebook and that he's currently attempting to get visas that will enable his parents to leave Damascus for elsewhere in the world. But he felt that Britain had done its bit and that Germany's open offer of asylum meant any British efforts would now be relatively tokenistic: "Personally I want all [the Syrians], but Cameron, the government, they have done enough. Germany will take everybody."
On the streets of Newcastle, an unscientific sample of residents who had seen images of Syrian refugees expressed concern for their plight but were split on whether Britain should act and accept more refugees. These views aren't necessarily representative of the city as a whole – at the previous night's Labour leadership hustings across the river in Gateshead the local crowd was unanimously pro-migrant – but they show not everyone in Britain is delighted by the government's decision to provide a haven for more individuals fleeing Syria's civil war.
"I'm on the fence," said Emma Stephenson, who was working at a sandwich shop on Shields Road, when asked whether Britain should take in more refugees. "There isn't the jobs around here for most people to start with. I am sympathetic but I don't think we've got the space or the funding. I watch the news and it's awful to see the people getting hurt trying to get over, but we're only a small island – there should be other countries sharing responsibility."
Stephen Warwick, working nearby, agreed: "I'm not a racist, but with everything this country's going through, probably not. Send them somewhere else. I know that sounds harsh, but there's lots of other places."
Ismat Khattak, a mother of two young children whose family live in Pakistan, said she would welcome Syrians in an emergency but was worried about refugees staying in Newcastle for the long term because it was putting pressure on local services that had already been cut due to government austerity measures. "I'm not in favour of bringing more people to this country," she said.
Conservative MPs who are personally in favour of allowing more Syrians into the country have told BuzzFeed News that the reaction from constituents to their government's decision to do so has not been nearly as clear-cut as supportive media coverage might suggest. They also say that while Twitter reaction was largely pro-migrant, the views on their personal Facebook groups were more mixed. Many of these politicians agree that it's a humanitarian disaster that calls for extraordinary measures – but they are having to try to explain this to constituents who don't distinguish between longstanding concerns about levels of immigration and the current crisis.
"My personal view is that the government needs to do what is morally right in the face of very split public opinion but that kneejerk reactions could unintentionally make matters even worse," said Dr James Davies, Conservative MP for Vale of Clwyd, who wants Britain to take a "fair share" of refugees. He said he only recently received any substantial amount of correspondence calling for Britain to take in more Syrian refugees and even then it was "almost exclusively via campaign template emails" from petition websites.
In comparison, the anti-immigration stance among chunks of his constituency remains strong: "I have also received some personally written messages opposing the admission of further migrants – a view which is reflected more strongly in some local social media discussions I have seen and a view which was also heard loud and clear on the doorsteps prior to the election."
It's concerns like this that are informing the government's reluctance to substantially raise the levels of refugees allowed into the country or encourage people who have already made it to the European mainland to come to the UK – there just isn't necessarily the support needed among a population where 50% of people name immigration as their main concern. For every person offering to put up a refugee in their spare room, another person is implacably opposed to allowing them into the country.
Back in Newcastle, Andrew Brett was nursing a coffee outside a café. He was the first person spoken to who was unequivocally in favour of the local council inviting more Syrian refugees to the city. "It's a good thing," he said. "When kids are suffering, they need to help the kids. I've seen the pictures: They need to help the kids. I wouldn't like to be in that situation."