Nigel Farage Says UKIP's Defeat In Oldham Proves "Electoral Process Is Now Dead"
The UKIP leader has not taken defeat in the Oldham West and Royton by-election very well.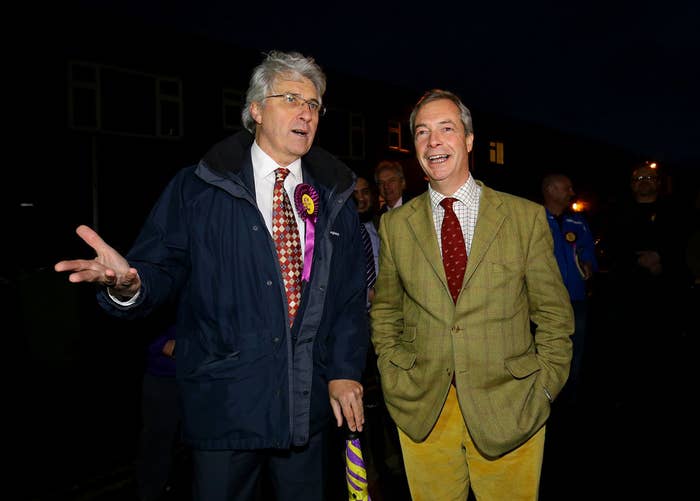 Nigel Farage has said that Labour's substantial victory over UKIP in the Oldham West and Royton by-election proves "the electoral process is now dead" and has pledged to file a formal complaint over the handling of the vote.
"I've been involved in 30 by-elections and no result has shocked me quite as much as this one," he said on Radio 4's Today programme. "There was a 15% increase in the number of postal votes yesterday."
Labour's Jim McMahon was elected with 17,209 votes in Thursday's night's vote, with UKIP's John Bickley a distant second with 6,487 votes.
Both parties had expected the race to be closer, and the UKIP leader raised concerns about the the prevalence of postal voting in "some communities". Farage has said his party struggled to connect with the town's large Muslim population during the campaign.
However, the total number of postal votes returned in the election was 7,115, less than Labour's winning margin, so these would not have been enough to swing the seat on their own.
Farage also claimed some voters in Oldham didn't know who they were voting for: "They can't speak English, they've never heard of UKIP or the Conservative party, they haven't even heard of Jeremy Corbyn."
He added: "It means effectively that in some of these seats where, as I say, people don't speak English, but they're signed up for postal votes, effectively the electoral process is now dead."
The UKIP leader also referenced "reports of people turning up with bundles of postal votes being delivered on behalf of other people" and said one box of postal votes was 99% in favour of Labour. "That does not seem to be consistent with modern, liberal democracy," he said.
"I'm not saying this would have changed the result, but I am saying that we got a perverse result," he said.
McMahon, the leader of Oldham council, dismissed his claims, telling the BBC: "UKIP just need to understand that people have the right to vote for the party that best represents their interests. I can say with confidence that we represent every community in Oldham – and every community came out and voted Labour."
Labour deputy leader Tom Watson heralded the result as a triumph for the party and called for party unity following recent divisions over Corbyn's leadership and his handling of the vote on airstrikes in Syria.
He told Today that Farage's accusations were baseless: "It seems like sour grapes to me. If he has got evidence of that he should have told the police immediately. I have spoken to our organisers. They have got no knowledge of that."
Corbyn made a brief visit to Oldham on Friday morning to celebrate Labour's victory after making just one appearance in the constituency during the campaign itself. While on the train to Manchester he made an unexpected friend at the buffet car – Conservative chancellor George Osborne, who congratulated him.