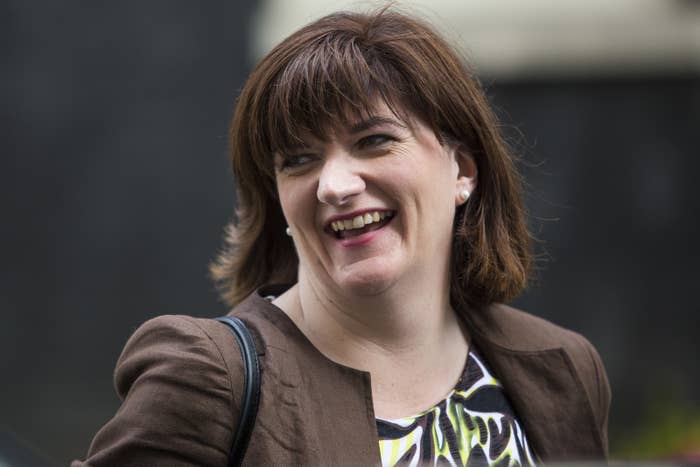 Former education secretary Nicky Morgan has hinted strongly that the government is preparing to compromise on its flagship grammar schools policy.

Morgan told BuzzFeed News the government is in "listening mode" and that government ministers are actively discussing compromises with Tory MPs who oppose lifting the existing ban on opening new selective grammar schools.
"As currently constituted, there are a lot of us on the Conservative back benches with concerns," said Morgan at the Tory party conference in Birmingham. "But it is a green paper, the government appears to be in listening mode, so it remains to be seen what is there when it actually comes forward.

"They [the government] are aware that as currently formulated it will have difficulty getting through the house, so they will look for ways to compromise."

Labour leader Jeremy Corbyn has campaigned against reintroducing grammar schools and called a nationwide day of protest against them earlier this week.
But Morgan agreed with a suggestion that Labour leader's strong opposition to grammar schools could inadvertently harden Tory backbench support for the policy.
"There's no doubt that Jeremy Corbyn and Labour's opposition to this is very different to the opposition and concerns of people like me on the Conservative benches," she said. "One of the extraordinary things about this as a first domestic policy to put forward is that it has united the Labour party!"
Grammar schools, which traditionally filter children into two streams at the age of 11, are held up by some on the right of the Tory party as a vehicle of social mobility because some poor children are able to access top-quality schools. But critics say reintroducing grammar schools will do little for the poorest students and condemn those who fail the academic test at age 11 to a substandard education.
Speaking earlier at a Conservative conference fringe event, Morgan said the grammar schools proposal "risked undermining finishing the job of ensuring every child in this country has access to an excellent education".

"I do worry that a return to more selection risks undermining the progress that we have seen over the last decade in our schools," she added.
Academic experts on education have lined up to criticise the policy at Tory fringes, forming an unusual alliance with teaching unions and supporters of former Conservative education secretary Michael Gove – who broadly opposes selection and insists the emphasis must be on improving all schools.

One teaching union source said the campaign against grammar schools was creating some "unusual bedfellows" as a result of the campaign, but said they felt the government was now "different in tone" and was listening to their protests.