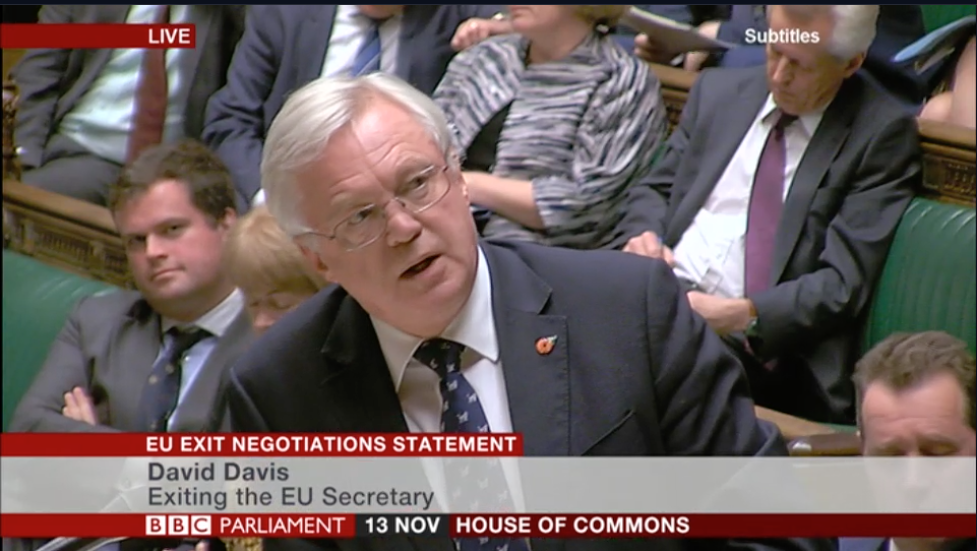 The government will give parliament a final vote on any Brexit deal, David Davis told MPs on Monday afternoon.
The Brexit secretary confirmed that British MPs will be given a chance to have their say on any deal reached between between the UK and Brussels.
"Once we have reached an agreement we will bring forth a specific piece of primary legislation to implement that agreement," he said.
Davis said the legislation will cover citizens' rights, any financial deal with the EU, and the length of any implementation period.
"This also means parliament will be given time to debate, scrutinise, and vote on the final agreement with the European Union," he added. "This agreement will only hold if parliament approves it."
However, it is unlikely that the vote will result in MPs blocking Brexit at the last hurdle, with Labour saying it will not attempt to overturn the result of the 2016 referendum, meaning the parliamentary arithmetic is firmly in favour of Brexit.
Even then it is not clear what would happen in the unlikely event of MPs rejecting any deal, a move that would potentially throw the entire Brexit process into chaos. Davis confirmed that if no deal is reached then nothing will be put to a vote.
Davis's pledge to hold a final vote on any Brexit deal came after sustained pressure from pro-Remain Tory MPs, who had tabled amendments demanding the government to holds a final vote on any deal.
The decision to give in to their demands – avoiding a potential embarrassing parliamentary defeat – was made the day before MPs return to debating the main legislation covering Brexit.
MPs from all major political parties have tabled hundreds of pages of amendments to the law, which will ultimately give the government the authority to leave the EU.

Labour's Keir Starmer said the concession was a sign of Conservative weakness: "This is a significant climbdown from a weak government on the verge of defeat. For months, Labour has been calling on ministers to guarantee parliament a final say on the withdrawal agreement.
"With less than 24 hours before they had to defend their flawed bill to parliament they have finally backed down. However, like everything with this government the devil will be in the detail."