Monsoon And Accessorize Shamed For Paying 1,400 Staff Less Than Minimum Wage
The high street stores broke the law and have been forced to pay over £100,000 in extra wages to workers.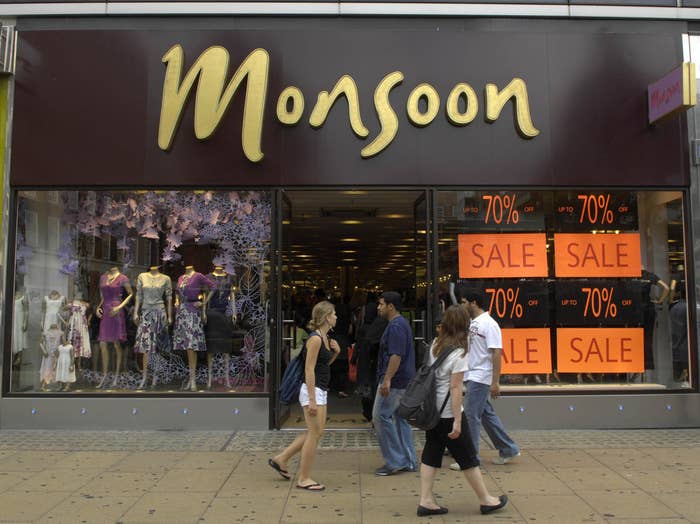 Monsoon and Accessorize have been forced to hand more than £100,000 to staff after the shops were caught breaking the law by paying employees less than the minimum wage.
The high street chains, which are owned by the same company, required staff to wear work clothes made by the brands that they could buy at a discount. This meant that once the uniform costs were taken into account, some employees were effectively earning less than the minimum wage for working in the shops.
Around 1,438 staff employed in recent years will now share wages worth £104,507.83 – an average of £73 – as a result of an investigation by HM Revenue & Customs (HMRC). Monsoon also faces a fine of up to £20,000 for breaking the law.
Monsoon, which also owns the Accessorize chain, apologised in a statement and said it now meets the requirements of the law: "Monsoon Accessorize has recently been working with HMRC in a wide-ranging review of its payroll practices in relation to the national minimum wage. This review has revealed an historic, unintentional breach of the regulations in respect of its staff discount policies for Monsoon clothing. Monsoon is pleased that this issue has been identified and has already taken prompt action to remedy it."
The government has started publicly naming and shaming business that fail to pay staff the minimum wage, which currently stands at £6.70 an hour for people over the age of 21.
In total at least 115 companies have been named for owing minimum-wage workers over £389,000 in unpaid salary.