Pro-Corbyn Group Momentum In Civil War Over Leadership's "Blairite" Tactics
The group is facing an uprising of activists who think its leadership has copied Tony Blair's tactics.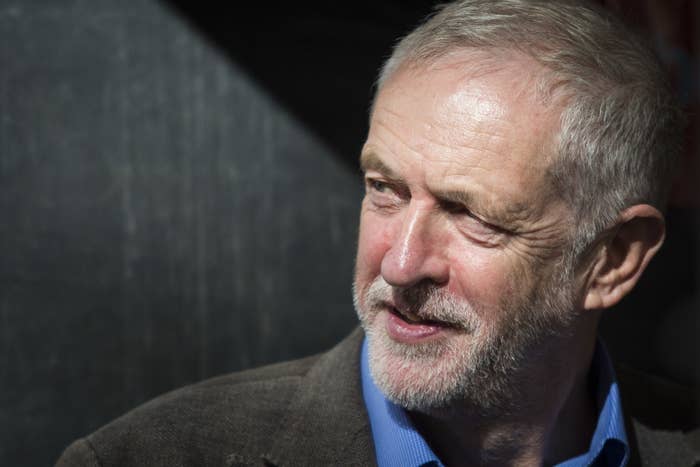 The pro-Labour group Momentum, which was founded to provide a permanent campaign group to support the aims of party leader Jeremy Corbyn, is split following accusations that some leading members are involved in "Blairite" tactics to stop the organisation being democratically accountable.

At the same time, the Momentum leadership is understood to be concerned that small hard-left groups could take over the organisation and is moving to limit this by giving a vote at the group's conference to all members.
A group called Labour Party Marxists has issued a statement attacking co-founder Jon Lansman for allegedly attempting to fix the result of a key meeting.
The group said his actions were "worse than anything Tony Blair managed to foist on the Labour Party", before asking: "How could we ever again gripe about the bowdlerising of Labour Party conference democracy if we acquiesce to the travesty that Jon Lansman and his cohorts at attempting to finagle us into?"

"Momentum's claims to represent some sort of clean 'new kind of politics' is starting to look very grimy indeed," the group added. "In truth, these methods borrow heavily from Stalinism and the repressive bureaucratism of rightwing Labourism."

The outrage centres around a decision by Momentum's steering committee, pushed through by Lansman and his allies, to postpone a meeting of the group's national committee.
The national committee contains representatives from the various regional branches, which have sometimes caused problems for the organisation's HQ because they are further to the left than the leadership.
Matt Wrack, the general secretary of the Fire Brigades Union, which pays an affiliation fee to the group, told a meeting of the left-wing Labour Representation Committee this weekend that Lansman had "questions to answer".
"It struck me that when people talk about new politics what we are seeing is the exact replica of the machine politics we want to see the back of," Wrack said.
Momentum is due to hold its first national conference early next year but the format is now hotly disputed, with Lansman and his allies backing a system that allows all 20,000 Momentum members an online vote, while many other activists want voting to be restricted to delegates who attend the event in person.

Michael Chessum, another member of Momentum's steering committee, complained in a public Facebook post that while he still supports the group he is concerned that the emergency meeting called at short notice was used to effectively abolish the party's national conference and turn it into "a live streamed national gathering" with "structures decided by e-ballot".
He concluded that parts of the Labour left "have absorbed the modus operandi of Blairism during the wilderness years".
Lansman, a long-time Corbyn ally and the chair of Momentum's steering committee, told BuzzFeed News he rejected claims he was copying the tactics of Tony Blair: "Using the latest technology so that all our members can participate in our first National Conference isn't Blairite. It trusts Momentum's 20,000 members to find the best long-term structure for our organisation. I favour a truly open and democratic process that can't be controlled by anyone."
There are also growing concerns among some Momentum factions over the power held by Lansman thanks to his control of a key database of supporter contact details.

Key Momentum member Jill Mountford told BuzzFeed News that she hoped Lansman, who is currently the sole director of Jeremy for Labour Limited, would soon share control of the data with the rest of the group: "There may be a better way of that data being kept than in the hands of one person. I'm sure Jon will be amenable to that."
She also warned that the decision to change the conference structure had angered many ordinary members, and urged fellow Momentum officials to reconsider the decision: "They need to reassess what they've done, recognise that it flies in the face of the democratic structures that we have, and then they need to backtrack. They need to stand back and let democracy happen."
Lansman did not respond to the question of handing over control of the Momentum database to the wider organisation but said it was necessary to call the meeting at short notice: "We called an urgent meeting to deal with a number of complaints and concerns about the 5 November meeting which had been raised by members, groups and regions. Due to the time frame, the meeting had to be called at short notice."
Earlier this month Momentum co-founder James Schneider told BuzzFeed News of his plans to expand the organisation following a summer of success, although its structure has come under pressure following the removal of former steering committee vice-chair Jackie Walker over claims of anti-Semitism.