Michael Gove's Wife Has Concerns About Boris Johnson's Leadership
Sarah Vine, a newspaper columnist, sent a leaked email raising concerns about Boris Johnson's campaign.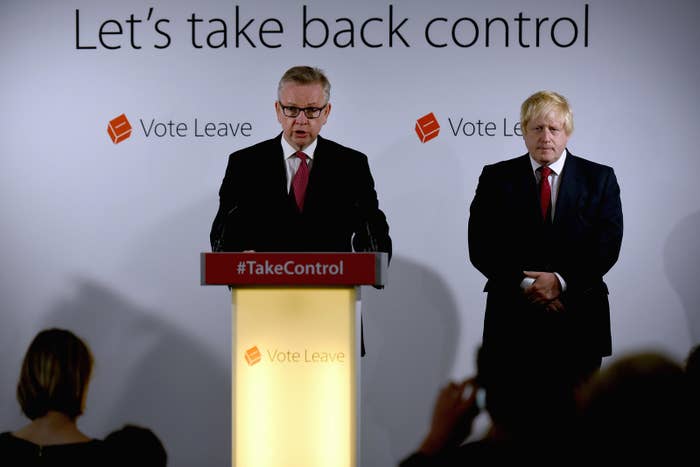 Michael Gove's wife has accidentally emailed details of his Conservative leadership plotting to a member of the public, revealing fears about Boris Johnson leading the party and suggesting the justice secretary wants a series of promises before backing the former mayor of London's campaign.

Sarah Vine, who is a Daily Mail columnist, accidentally CC'd the email to a member of the public when sending a series of notes to Gove and his team.
The email, obtained by Sky News, was sent on Tuesday morning and reveals concerns about whether Johnson can reassure the party membership that he is a competent leader.
Vine also raises concerns about whether Daily Mail editor Paul Dacre and media boss Rupert Murdoch would provide Johnson with crucial press support unless Gove joined the team.
As a result she says Gove "MUST have SPECIFIC assurances" from Johnson before promising to support the campaign, since he is crucial to it.
She also suggests Gove "needs to have a Henry or a Beth" in the meeting, a reference to Gove's close advisers.
Gove's team declined to comment on the leaking of the email about Johnson. The two men were close allies in the successful Vote Leave campaign to lead the UK out of the EU.
Vine has already shared some thoughts on the result. In her newspaper column on Wednesday morning she said Gove slept through the results night and she only told him the result at around 4.45am.
His response was: "Gosh, I suppose I had better get up"
She also suggested that the campaign hadn't expected to win.
"You were only supposed to blow the bloody doors off," Vine apparently told her husband.

Johnson is set to formally announce his candidature and file his nomination papers on Thursday, with one Tory MP on the campaign telling BuzzFeed News they are canvassing hard. They expect to formally announce a relatively small set of MPs as supporters before hoping the list will grow organically through self-declarations of support.
This is to "avoid MPs doing a Wollaston" and have the campaign claim the support of politician who later turn to different campaigns. This refers to the Tory MP who declared for the Leave side in the EU referendum before switching to Remain in a high-profile mid-campaign move.
There are also concerns about Tory MPs promising their support to multiple candidates.
"We've already found three MPs who have pledged to all three campaigns," the pro-Johnson MP said.
Stephen Crabb has already announced his campaign, while Theresa May is also set to go public tomorrow. Liam Fox told LBC he would run while Andrea Leadsom is still weighing up a campaign but is though to also be considering a deal with Johnson. Only two candidates will make it onto the final ballot which is put to members.
Read the leaked email in full:
Very important that we focus now on the individual obstacles and thoroughly overcome them before moving to the next.

I really think Michael needs to have a Henry or a Beth with him for this morning's crucial meetings.

One simple message: you MUST have SPECIFIC assurances from Boris OTHERWISE you cannot guarantee your support.

The details can be worked out later on, but without that you have no leverage.

Crucially the membership will not have the necessary reassurance to back Boris, neither will Dacre/Murdoch, who instinctively dislike Boris but trust your ability enough to support a Boris/Gove ticket.

Do not concede any ground. Be your stubborn best.

GOOD LUCK.