Michael Gove: I Did Not Want To Be Prime Minister And I Have No Charisma
The justice secretary launched his Tory leadership bid by insisting he was the only candidate who could make good on the promise to leave the EU, cut immigration, and put an extra £100 million a week into the NHS.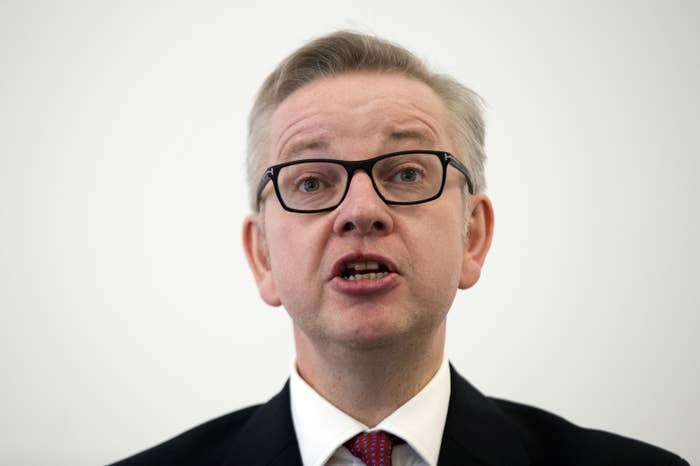 Michael Gove has formally launched his bid to become Conservative leader – and the next prime minister – by pledging £100 million extra a week for the NHS and insisting that, despite having "no charisma", he is the the only candidate who can be trusted to make good on the referendum promise to take Britain out of the European Union.

The justice secretary had been expected to run Boris Johnson's leadership campaign, but betrayed his old colleague just hours before nominations closed on Thursday morning by announcing his own candidature.
"I never thought I'd ever be in this position. I did not want it, indeed I did almost everything not be a candidate for the leadership of this party," Gove said on Friday at his campaign launch event, where he insisted he was a reluctant candidate.
"Whatever charisma is, I don't have it," he told the audience in central London. "But at every step in my political life I've asked myself one question: What is the right thing to do? What does your heart tell you?"
In a lengthy, 5,000-word address – designed to pitch himself as the radical reformer in the race and differentiate him from frontrunner Theresa May's focus on stability – Gove set out his key political beliefs and pledges including:
• Blocking the free movement of people throughout the EU in order to cut immigration.
• Providing £100 million extra funding a week for the NHS by 2020 – not the £350 million the Vote Leave campaign had claimed.
• Pledging not to call an early general election before 2020.
• Confirming he would not invoke Article 50 – the formal procedure for the UK to start a two year period of leaving the EU – until 2017 at the earliest.
Gove said he wanted to be a radical leader who reformed UK institutions, and implied that he betrayed Johnson because the former mayor of London was not sufficiently committed to removing the UK from the EU.

Instead, the justice secretary said he would not abandon the key pledges made by the Vote Leave campaign during the referendum. "I will ensure we honour the instructions the British people have given us."
The £100 million a week of extra funding for the NHS is lower than the strongly disputed £350 million figure that was emblazoned on the side of the Vote Leave battle bus and repeated by senior Leave figures throughout the campaign, but Gove insisted his position is consistent with his previous statements.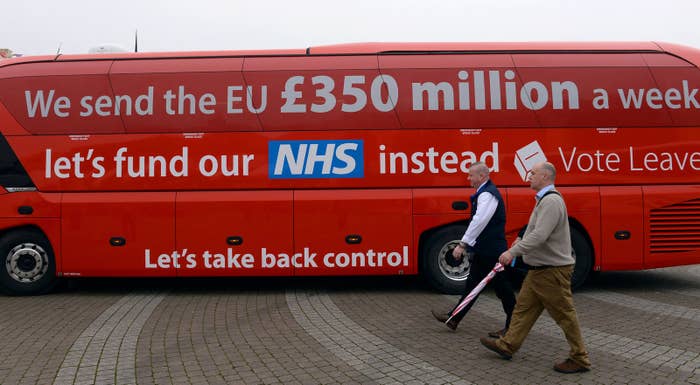 Gove also said he could not trust Johnson to pull together a group to lead Britain out of the EU: "I believed that Boris Johnson – who had campaigned alongside me with such energy and enthusiasm – could build and lead that team.

"I wanted that plan to work. I worked night and day for it. But I came to realise this week that, for all Boris's formidable talents, he was not the right person for the task."

In a pitch to Leave-voting Tory activists, Gove also repeatedly suggested that May, his main rival leadership candidate, could not be trusted to take the UK out of the EU because she campaigned for Remain in the referendum.
He also pledged to take a more radical approach than May to cutting immigration numbers by committing to a complete end of the free movement of people within the EU: "I will end free movement, introduce an Australian-style points-based system for immigration, and bring numbers down."
Gove's speech made no mention of the EU single market or spell out what sort of trade deal he envisaged the UK having after Brexit.
Instead, it attacked excessive pay deals for top business executives in financial services and criticised the wealthy for exploiting "an overly complex tax system to avoid paying their fair share".

He said the referendum showed how globalisation had left many British people behind, resulting in "a stratified and unequal society".
"The referendum showed in stark relief that there are two Britains: those who can reap the benefits of globalisation and those who are flotsam and jetsam in its powerful flows of global capital and free labour."
When asked by BuzzFeed News how he could convince the public to like him, Gove implied he was not concerned by his unpopularity during his previous stint as education secretary.
"It's not important to be liked in this job, it's important to be respected. Whatever anyone else says about me, they can always say that they know what my convictions and my beliefs are."
Gove, who has previously spoken of his admiration for the Game of Thrones character Tyrion Lannister, refused to say whether he now felt an affinity with any particular individual in the series in case people had not seen the most recent episode.
However, a MP who was part of Boris Johnson's former campaign team swiftly suggested an appropriate role.
Conservative MPs will start voting on the five declared candidates this coming Tuesday, before putting two names to the approximately 150,000 ordinary party members in a ballot. As a result, it is these Tory activists who will ultimately select the next prime minister – with a result due on 9 September.