1.
There was not a gunman outside Oldham hospital, despite reports by the Daily Express.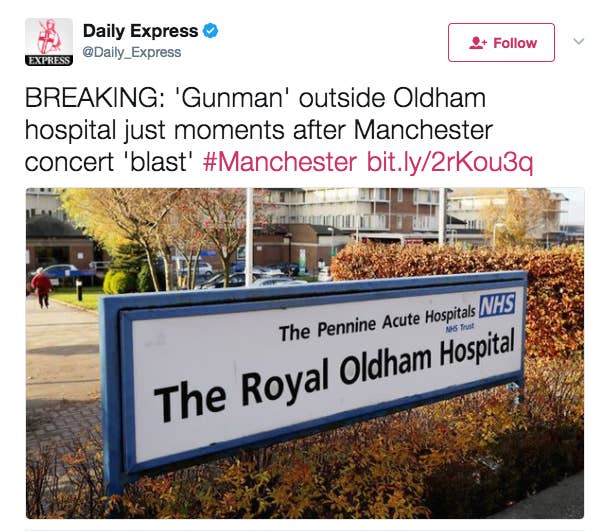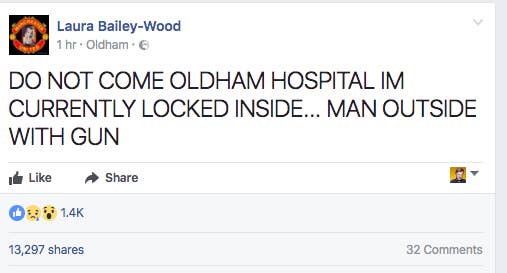 2.
This viral collage claiming to show pictures of missing children was circulated by sites such as MailOnline despite featuring several people who were on different continents at the time of the attack.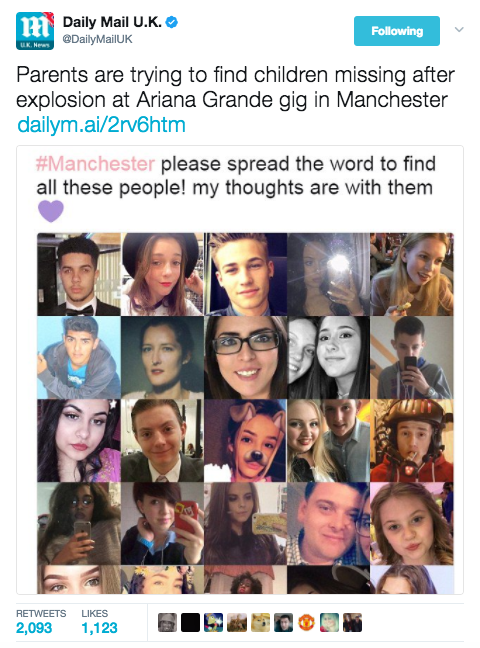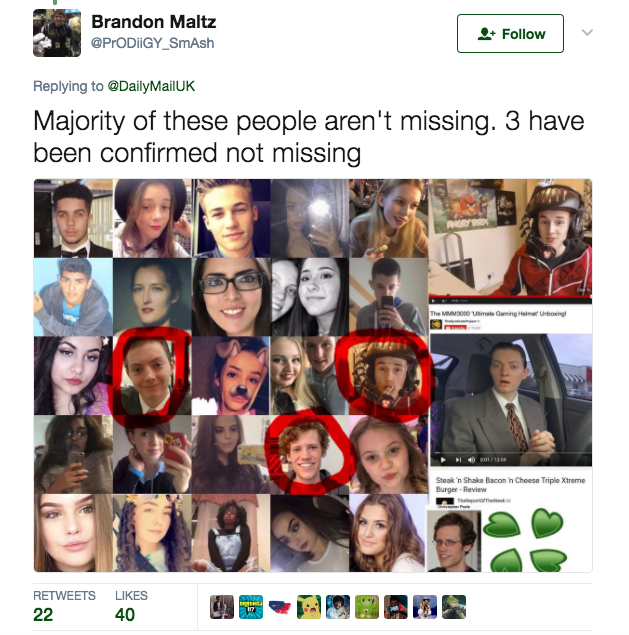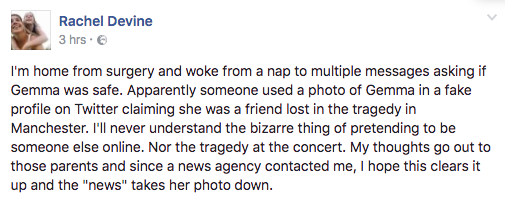 3.
Trolls, some of them with Twitter handles that suggested connections to the GamerGate movement, also posted pictures for seemingly malicious reasons.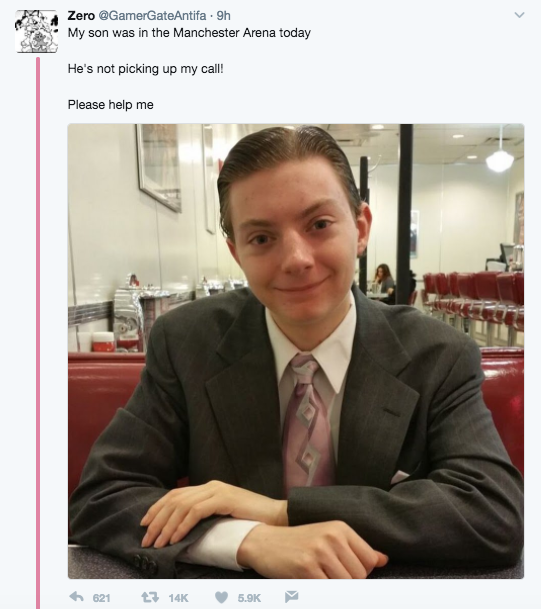 This picture, purporting to be from a parent desperately searching for their son, attracted 14,000 retweets on Twitter, with hundreds of replies offering advice and assistance on the ground in Manchester. In reality, it is a picture of a YouTube user who posts under the username ReportOfTheWeek.
In a video posted in the aftermath of the attack he confirmed he was in the United States and said he had suffered from an attempt to "mislead the general public with fake news".
"My heart goes out to all those affected by the attack," he added.
Speaking to BuzzFeed News on Tuesday evening, ReportOfTheWeek (real name John) said he received calls, emails and messages from friends and family to make sure he was safe.
"It only increased when several major news networks picked up on the fake information and broadcast it as factual. It frustrated and saddened me to see that this fake news got so much attention that could have been directed to those who were actually missing, but I understand that when events are developing, the situation can be very confusing."
4.
This little boy who "went missing" following the Manchester explosion is actually a model posing for a 2014 article about fashion lines made for people with Down syndrome.
5.
There were images circulating on social media purporting to be Ariana Grande backstage in the moments after the explosion.
6.
People are making up fake "missing friends" in order to generate retweets on Twitter.
7.
Holiday Inn said it did not have 50 unaccompanied children staying at its Manchester hotel.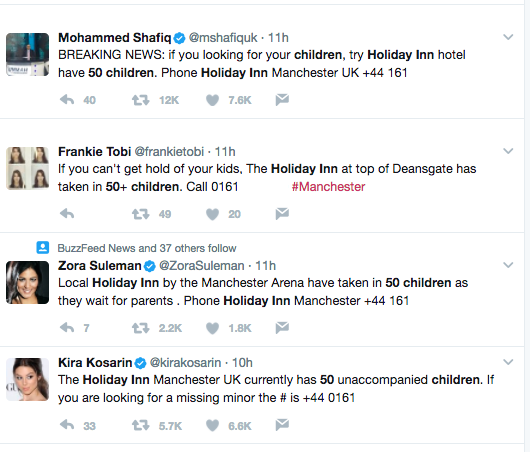 8.
Some news outlets reported that Glasgow Central Mosque was the target of a graffiti attack on one of its walls after yesterday's Manchester terror attack.
Glasgow Central Mosque confirmed to BuzzFeed News that the graffiti appeared last Friday and it has since reported it to the police.
Alisdair Woodburn from Glasgow was the first to take the picture of the graffiti and said today's media coverage linking it directly to the Manchester attack was a result of a misunderstanding. He told BuzzFeed News: "I took this in Glasgow this morning. I originally thought that it was done overnight but it transpires it was done on Saturday night. I contacted the council and it was removed within a couple of hours."
9.
An obscure Twitter account almost certainly did not predict the Manchester terror attack hours in advance.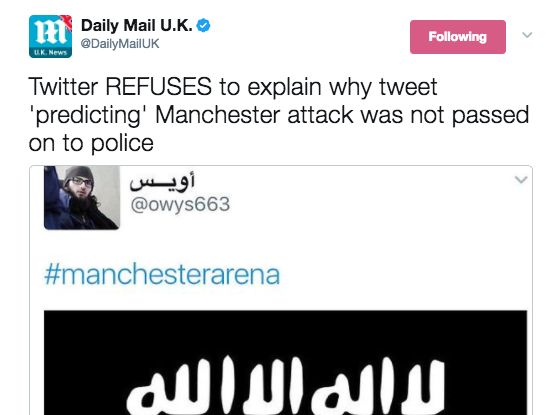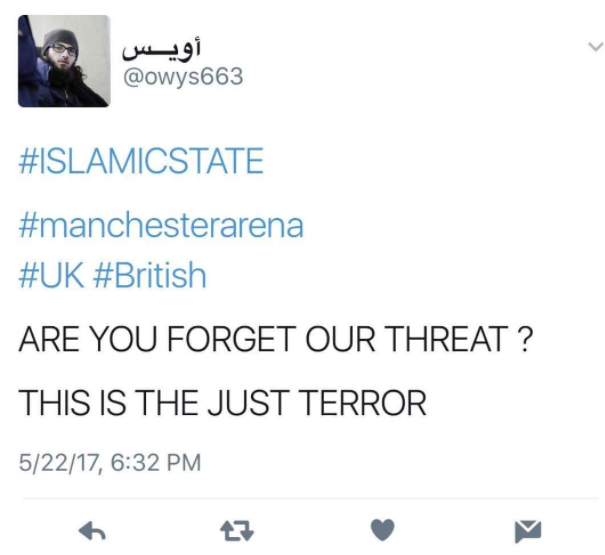 10.
A video released shortly after the attack purporting to be a message from ISIS is almost certainly fake.
New York Times correspondent Rukmini Callimachi, who focuses on al-Qaeda and ISIS, tweeted screenshots showing ISIS members discussing the video on Tuesday evening.