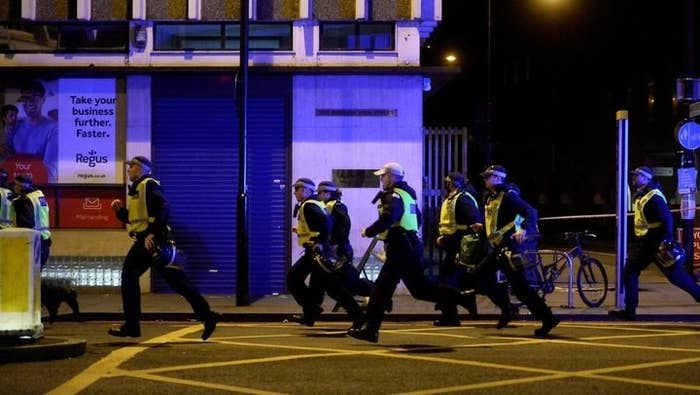 LONDON — A white van plowed into pedestrians on London Bridge on a busy Saturday night and people at a popular nearby restaurant were stabbed in what police are describing as terrorist incidents.
At least seven people died and 48 people were injured in the attacks, including a British Transport Police officer who was on duty at the time of the incident, police officials said Sunday. Three male suspects were also shot and killed by police.
The events began unfolding shortly after 10 p.m., when a vehicle struck pedestrians on London Bridge, and continued to drive to Borough Market, a busy London night spot. Suspects then got out of the vehicle and began stabbing people nearby.
As the attack unfolded, heavily armed police stormed into bars in the area — a crammed tourist haunt and major transit hub — screaming for everyone to take cover. Authorities also banged on doors instructing people to flee their homes shortly after the fast-paced and horrifying incidents.
Witnesses said the attackers seemed to make their way around the pub- and eatery-lined streets — at one restaurant, people used bottles and chairs to fend off an attacker.
Officers confronted and shot the attackers, killing all three men about eight minutes after the attack began, police said Sunday. The suspects were wearing what appeared to be explosive vests, police said, but those were later determined to be fake.
Mark Rowley, of the Metropolitan Police, said Sunday that all of the attackers are believed to be dead, but that investigations are still ongoing to confirm that the three men acted alone.
London Ambulance Service said at least 30 people were taken to five hospitals across the city following the attack. That number was later amended to 48 people. Several medical centers said they were on lockdown early Sunday to protect patients.
The names of the victims have not yet been released. But police confirmed Saturday that a British Transport Police officer received "serious injuries" while responding to the attack.

It was the latest in a series of attacks that have rocked the United Kingdom this year. In March, four people died and dozens were wounded in a car attack on the Westminster bridge. In May, 23 people died and more than 100 were injured in an attack on a concert in Manchester.
In a statement late Saturday, Prime Minister Theresa May confirmed that the incident is "being treated as a potential act of terrorism."
"This is a fast moving investigation," May added. "I want to express my huge gratitude to the police and emergency services who are on the scene. Our thoughts are with those who are caught up in these dreadful events."
A terrorism investigation is already underway, and May is scheduled to chair a meeting of the government's emergency response committee, known as COBRA, on Sunday.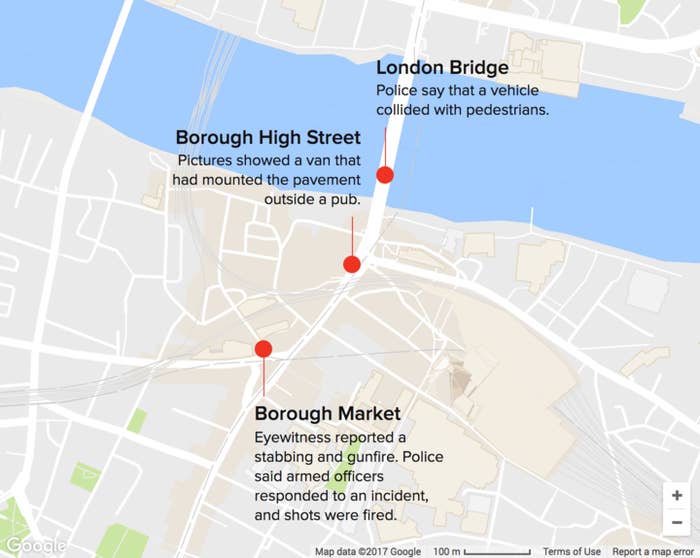 Gabrielle Sciotto, a photographer, posted an image to Instagram that he said depicted two of the assailants on the ground and being watched by officers. One of the men seems to have canisters around his waist.
"I then tried to run towards the scene because I noticed this man with a kind of explosive looking belt on their chest," Sciotto told the BBC. "They were running, they didn't even know I guess what they were running to. A police officer was trying to put himself between them and the crowd."
Not long after, police "shot all the three men down," Sciotto added. "Yeah, that's what I honestly saw."
Police later confirmed that the explosive vests worn by the attackers were fake.
As the attack began around 22:08, people reported seeing a white van, which appears to be a rental, that was speeding from north to south at about 50 miles per hour ram into people on the bridge and come to a rest near its southern end.

An eyewitness, Eric, described a harrowing scene to BBC News, saying that "the van smacked into the side of the bridge and people were thrown into the road, probably jumping out of the way."

"Afterwards three men jumped out of the van, they started attacking people on the road, as they headed down the stairs running towards people they were shouting 'this is for Allah,'" Eric told BBC. "There were definitely three people in the front of the van. They literally got out and started running at people with knives and violently attacking anyone in this path."

Holly Jones, a BBC employee who was at the scene, said the van mounted the pavement and struck people. "He swerved right round me and then hit about five or six people. He hit about two people in front of me and then three behind," Jones told the BBC. "I'd say there are about four severely injured people."
She said she later saw a man without his shirt being arrested.
"Suddenly I noticed on the left on the pavement there was somebody down on the pavement with a small crowd around them," Will Heaven of the Spectator magazine told Sky News. "It looked like someone had collapsed. We drove a little bit further southwards and noticed there was another person on the right hand side of the bridge."

"I suddenly saw people who looked as though they'd been run over," Haven said.
"We saw people on the road, we saw people on the pavement," he added. Soon after, he said, witnesses were guided towards a hotel on the north side of the bridge to give statements to the police.
Witnesses then said they saw assailants at Borough Market, an area filled with popular restaurants near the bridge where police said they were investigating stabbings.
A security guard who oversees a number of pubs in the Borough Market area told the BBC he saw four people stabbed by three attackers.

The man, who asked not to be named, said he was at the Market Porter pub when a colleague at another bar said there was a stabbing at the Borough Market nearby.
He said he went towards this pub and saw that "everybody started running" and there was screaming.
The eyewitness added that he saw three attackers, one of whom had a long knife and was stabbing people, including a girl in her early 20s.
Two other witnesses, a married couple identified as Natalie and Ben, told the BBC that they witnessed someone being stabbed as they exited the Borough High Street metro station.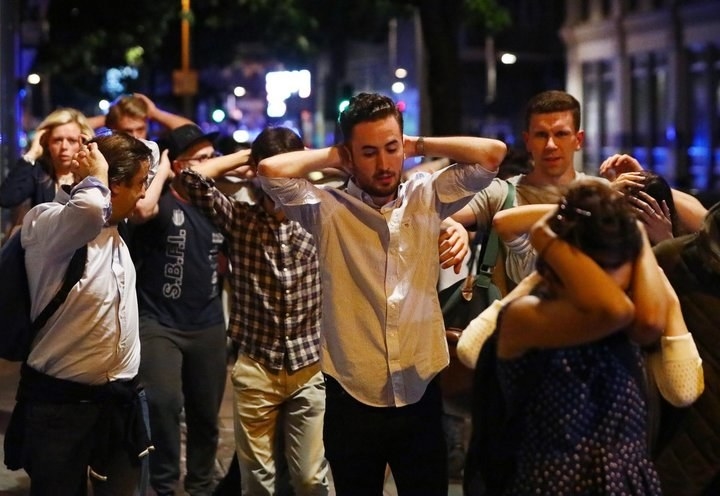 "I saw a man in red with quite a large blade," Ben said. "I don't know the measurement I guess maybe 10 inches. He was stabbing a man...he stabbed him about three times fairly calmly."
"It looked the man had maybe been trying to intervene but there wasn't much that he could do he was being stabbed quite coldly and he slumped to the ground."
"A table was thrown, a bottle was thrown at the individual with the knife and then we heard three gunshots and we ran," Ben added.
Sky News reported an anonymous witness describing how he was in a restaurant when one man entered armed with a foot-long knife.
"The blade was about a foot long and there were four others outside, four other assailants armed with knives, outside," the channel quoted the eyewitness. According to this eyewitness there were five assailants at the El Pastor restaurant in Borough Market.
"One man entered the restaurant armed with a knife, about a foot long, and stabbed a lady who was in the restaurant — maybe a waitress," the witness told Sky News. "He, along with other people in the restaurant, threw bottles and chairs at this man armed with a knife to try and stop him."
Police stormed into Katzenjammers, a bar close to Borough Market, and told everyone to get down:
Some witnesses also reported gunfire, which may have been the shots police fired against the attackers.
One 25-year-old student at Kings College University told BuzzFeed News he was on Talbot yard, just off from London Bridge, when he heard at least six shots fired.
"All of a sudden we heard gun shots," he told BuzzFeed News. "There was this weird moment where everyone was just walking and then suddenly everyone started running. We saw police running towards us shouting get the fuck away. Run."
"We ran down the road and into a courtyard and as we got towards our building there were police," he said, "I'll never forget the policewoman's face: she was shouting get the fuck inside. It was crazy. I've never seen anything like it in my life. People were terrified, absolutely terrified."
Emily Craig, who works for the BBC, was in a restaurant in Borough Market when she heard what sounded like gunfire. Armed police outside the restaurant told people there to run towards Elephant and Castle.
"It sounded like very rapid fire, but by that stage it was as clear as it could be that it was police gunfire," she told BBC News. "There were so many blue lights, and we could hear the sirens and the shouting."
In a statement late Saturday night, London Mayor Sadiq Khan called the incident a "horrific terrorist attack."
"We don't yet know the full details," Khan added, "but this was a deliberate and cowardly attack on innocent Londoners and visitors to our city enjoying their Saturday night. I condemn it in the strongest possible terms. There is no justification whatsoever for such barbaric acts."
"Brutal and shocking incidents reported in London. My thoughts are with the victims and their families. Thank you to the emergency services," tweeted Jeremy Corbyn, the leader of the Labour Party in the UK.

MP Neil Coyle, the incumbent Labour candidate for Bermondsey and Southwark, said people had died. "Devastated to hear of murders at a part of our capital defined by life & vibrancy," he tweeted.
Shortly after the incident, there was a large, heavily-armed police presence throughout the streets of London. Images on social media showed officers carrying rifles and wearing heavy armor. Local people were told they would not be able to get home Saturday night.
Pedestrians were stopped and searched at times, creating a tense atmosphere. In one video, police appear to surround a man on a darkened street and search him. When one officer, who was covering his face, sees that the incident is being recorded, he approaches the person recording and yells, repeatedly at him to "Get back!" and "Keep moving!"
Another video shows officers, dressed in all black, clearing a train station and yelling at people to leave the area.
And in another clip, two officers are seen aiming their rifles at a man on another street, and instructing him to leave what appears to be clothes on a cement barrier. The officers maintained their distance, weapons raised, while they yelled their commands.

Police have instructed people to run, hide, and tell: "Run to a place of safety. This is a better option than to surrender or negotiate. If there's nowhere to go, then hide. Turn your phone to silent and turn off vibrate. Barricade yourself," they repeatedly cautioned on social media.
President Trump was the first world leader to address the attacks, tweeting, "We need to be smart, vigilant and tough. We need the courts to give us back our rights. We need the Travel Ban as an extra level of safety!" The message was a reference to his executive order barring travel to the US from six Muslim-majority countries, which has so far been blocked by courts.

"Whatever the United States can do to help out in London and the U. K., we will be there - WE ARE WITH YOU. GOD BLESS!" Trump added. Trump later spoke with May, UK's prime minister, and "offered the full support of the United States Government in investigating and bringing those responsible for these heinous acts to justice," according to a statement from the White House.

The US State Department and Department of Homeland Security also issued statements condemning the attack, and affirming their commitment to assisting the UK with its terrorism investigation.
Other world leaders also offered their condolences early Sunday morning.
The Japanese government issued a travel warning to its citizens, warning those visiting London to avoid what it said were potential targets for terrorist attacks, including tourist hotspots, department stores and markets, concert venues, and political rallies.
Earlier in the night, police said they were investigating an incident in London's Vauxhall neighborhood, but later said it was a stabbing unrelated to the attack.
Reporting by Jim Waterson, Rose Troup Buchanan and Marie Le Conte in London; Hannah Al-Othman in Manchester; and Grace Wyler and Sal Hernandez in Los Angeles.