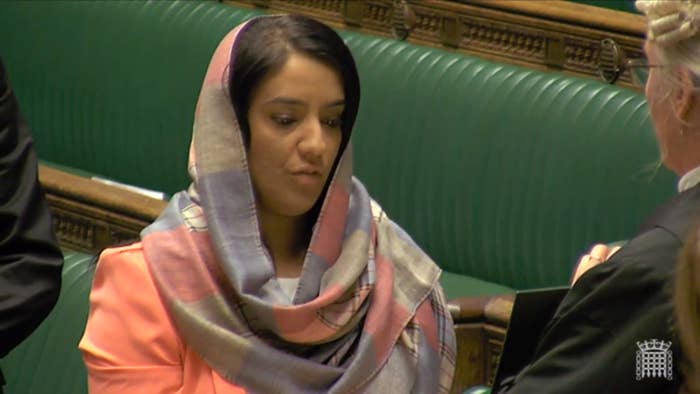 Labour MP Naz Shah is fighting to save her career following a row over anti-Semitic comments she shared on Facebook, after Jeremy Corbyn said the comments were "offensive and unacceptable" and fellow Labour MPs called for her to be suspended from the party.

As the Bradford West MP issued a full apology on Wednesday for the Facebook comments, posted in 2014 before she became an MP, her party leader suggested she would not be suspended.
But even as Corbyn issued his statement, a shadow minister publicly called for her to lose the party whip while a full investigation is carried out.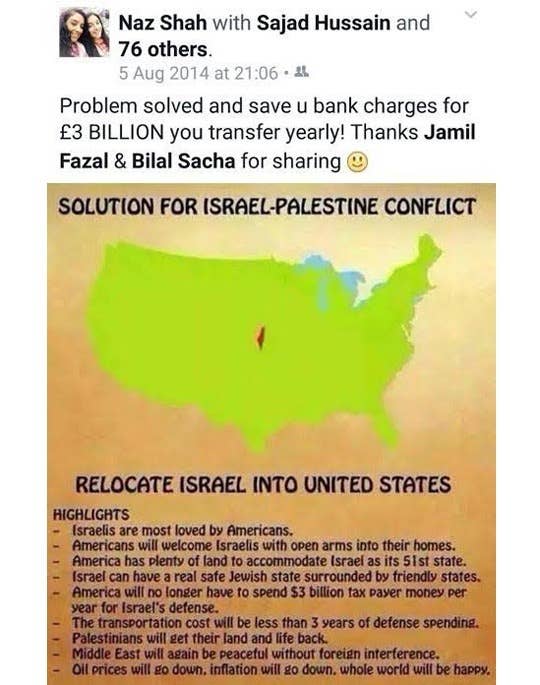 Shah resigned as an aide to shadow chancellor John McDonnell on Tuesday, just hours after Facebook posts were revealed by the Guido Fawkes website.
In one, Shah shared a graphic that said Israel should be relocated to the US and that the "transportation cost" of moving Israelis would save on defence spending and as a result the "whole world will be happy".
The Guido site later posted another graphic in which Shah compared the actions of Israel to Nazi Germany and said Israel was an apartheid state.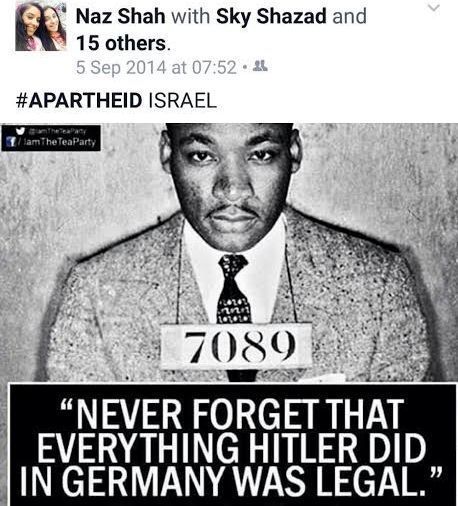 In her statement on Wednesday, Shah said she now realised that "referring to Israel and Hitler as I did is deeply offensive to Jewish people for which I apologise".
"The manner and tone of what I wrote in haste is not excusable," she said. "With the understanding of the issues I have now I would never have posted them. I have to own up to the fact that ignorance is not a defence.
"If politicians put their hands up when they get something wrong it would help to restore faith in politics. I hope that by writing to those who I have hurt, I am practicing as I preach and calling myself out.

"For those that I have caused hurt to, particularly the Jewish community, my constituents, friends and family, I sincerely hope my intentions and actions from here on in will win back your trust and faith in me."
Corbyn said the MP had made a "fulsome apology" and insisted the comments had been made before she was elected as an MP so should be treated differently.
"She does not hold these views and accepts she was completely wrong to have made these posts," the Labour leader said in a statement. "The Labour Party is implacably opposed to anti-Semitism and all forms of racism."
But Labour's shadow energy secretary, Lisa Nandy, went against her party leader and called for Shah to be suspended over the comments.
"We have a policy in the Labour party that people who make anti-Semitic remarks are suspended and an investigation carried out," Nandy said live on the BBC's Daily Politics, apparently unaware Corbyn had issued a statement while she was on air confirming Shah would not be suspended.
"Now I don't want to pre-empt the outcome of the conversation Jeremy is about to have with her, but I have made clear to the leader's office my view that the policy should be followed without exception."
At Prime Minister's Questions, David Cameron said it was "extraordinary" that Shah has not been suspended by the Labour party. A Downing Street spokesperson told reporters that if Labour "had a shred of decency" Shah would be suspended.
In response, Corbyn's spokesman said suspension would now be a matter for the National Executive Committee, which will examine her remarks.