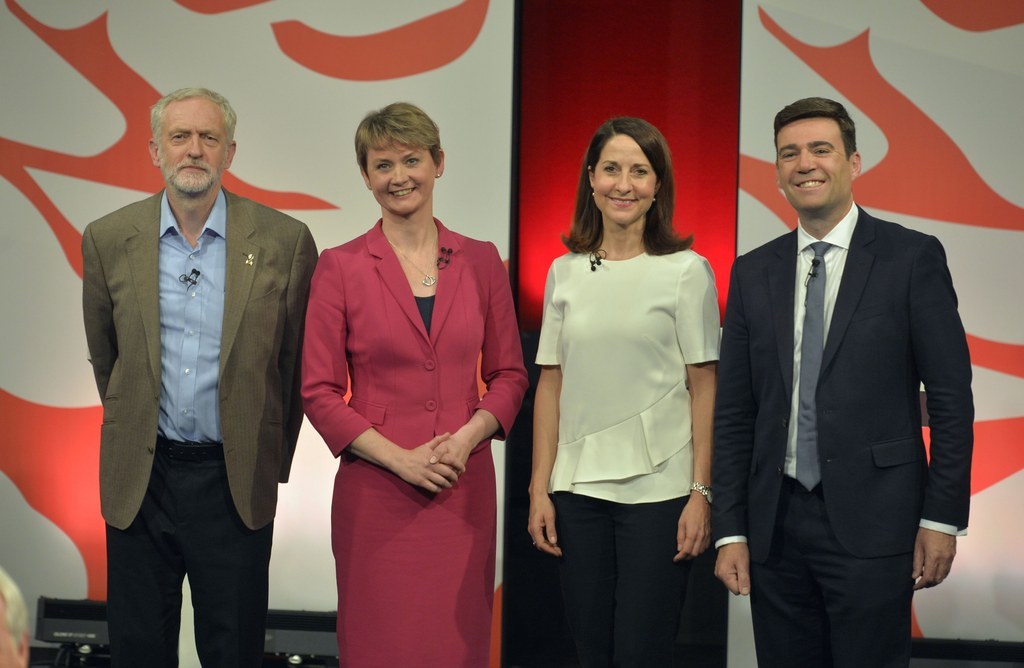 Voting in the Labour leadership contest ended at midday on Thursday, with Jeremy Corbyn the favourite to be elected party leader following a leadership election that has transformed the party.
The result will be made public at 11:30am on Saturday morning at a special event held at central London's Queen Elizabeth II Conference Centre, with the winner expected to make their first speech as party leader shortly afterwards.
The other candidates are spending Thursday making their final pitches to Labour supporters, with Andy Burnham and Yvette Cooper's teams still publicly claiming they can overturn Corbyn's strong lead in the polls. Some Labour sources suggest that support for Corbyn has weakened in recent weeks following a barrage of negative media stories and claim the result could be closer than expected, although he would require a substantial drop in support to miss out.
Corbyn told BuzzFeed News that he would spend the day between polls closing and the leadership announcement working on casework for his constituents rather than planning for victory: "I'll be doing stuff in my constituency, go into the office in parliament, and then on Friday evening I'll go home and do some relaxing."
Speaking at the 98th public rally of his campaign in the Warwickshire town of Nuneaton, the MP for Islington North insisted he would not exclude his political enemies from the shadow cabinet if he wins on Saturday: "I'm looking at democracy within the party and policy-making that starts at the grassroots rather than top-down. The parliamentary party is obviously a wide-ranging and politically diverse body, I understand that. Whoever is leader has got to ensure their shadow cabinet reflects that and the talents within the parliamentary party."
Just three months ago Corbyn made it on to the ballot with just minutes to spare before the deadline after begging for nominations from fellow MPs. Some colleagues only nominated the left-wing MP as a favour because they thought he had no chance of winning.
At that point even Corbyn and his supporters privately admitted that they were only taking part in the contest in order to drag the party's debate to the left and did not believe they had a realistic chance of beating the likes of Andy Burnham and Yvette Cooper. They both had a record of government under Blair and Brown, not to mention name recognition. Meanwhile, Corbyn was dismissed by the Labour establishment, had never held a shadow ministerial position, and was mainly known for rebelling against his own party.
But from the very first leadership hustings in Nuneaton his team quickly realised that Corbyn's distinctive pitch of old-fashioned socialism with policies such as renationalising the railways, opposing foreign intervention, and abolishing tuition fees was reaching a different audience to the other candidates.
Corbyn's growth in popularity contributed to hundreds of thousands of people paying £3 to sign up as registered supporters of the party in order to vote in the leadership election. The flipside of this surge was chaos within Labour as the party had to deploy dozens of staff from headquarters to work – according to one exhausted adviser – "12-hour days and weekends" in order to sift through hundreds of thousands of applications from new members and verify they were eligible to take part in the contest.
Despite this, some false claims slipped through the net, while on Wednesday many people were claiming they had been disenfranchised and still not received a ballot. Some were threatening legal action, although the candidates themselves have insisted they will not challenge the result, meaning whoever is announced as party leader on Saturday is likely to keep the job.
Liz Kendall, who is expected to finish in fourth place, said Labour now needs to discuss how the party can balance the influx of new members who have signed up to back Corbyn with being a "modern, electable" political party.
The winner of Labour's deputy leadership contest will be announced at 11am on Saturday, with Tom Watson favourite to win.
Labour's candidate for the London mayoralty will be unveiled on Friday, with Sadiq Khan battling Tessa Jowell for the nomination.
Looks like there are no comments yet.
Be the first to comment!