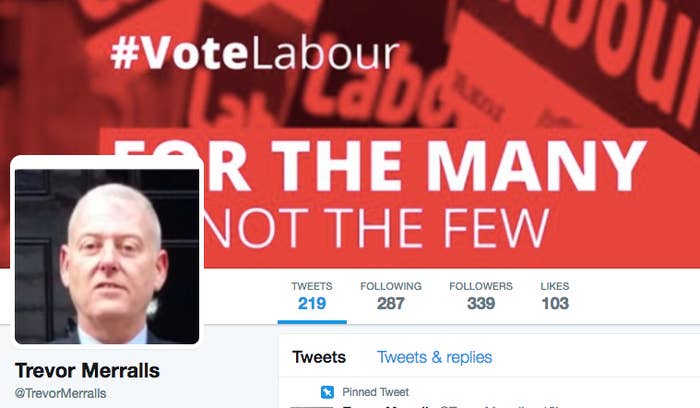 A Labour party general election campaign candidate has quit following allegations he was behind a Twitter account that posted comments that appeared to support the eradication of Islam from Europe.
Trevor Merralls, who leads a group campaigning on behalf of black-cab drivers, was announced on Monday as the Labour candidate for the suburban London constituency of Old Bexley and Sidcup.
As the current chairman of the United Cabbies Group (UCG), which has been involved in anti-Uber protests across London, he pledged to run as the "cabbies' candidate" in the general election.

Within hours he had been linked to a Twitter account – now deleted but still partially available on Google's cache – named @wellingblueboy, which has tweeted comments about Islam that warn a "reckoning" is on the way.
Merralls strongly denies that he is responsible for the account. But following questions from BuzzFeed News and members of the public he announced he would step aside as candidate, blaming a "vicious smear campaign".
Screengrabs of tweets from the account show @wellingblueboy in a conversation with other users discussing Islam and saying "on a positive note that should eradicate islam from our continent for years".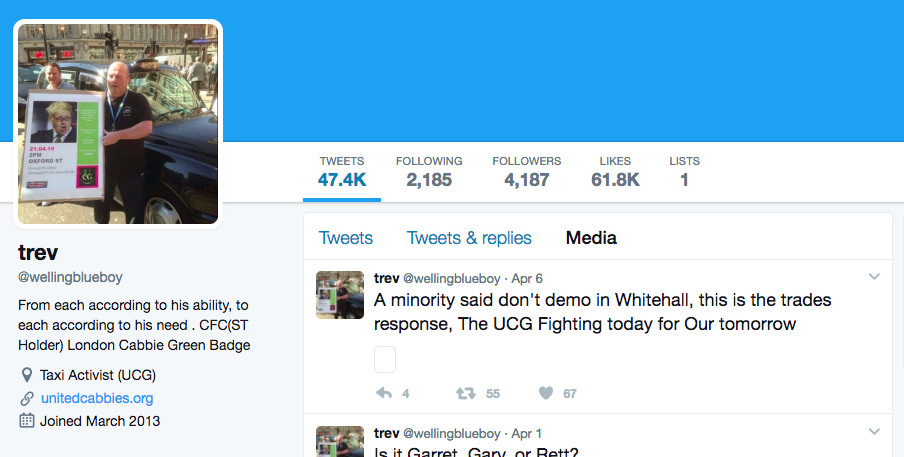 "This is all leading to a fight of no surrender total war," the account then tweeted.

"our battle is not yet with the muslims, but those that appease them!!," said a different user in response.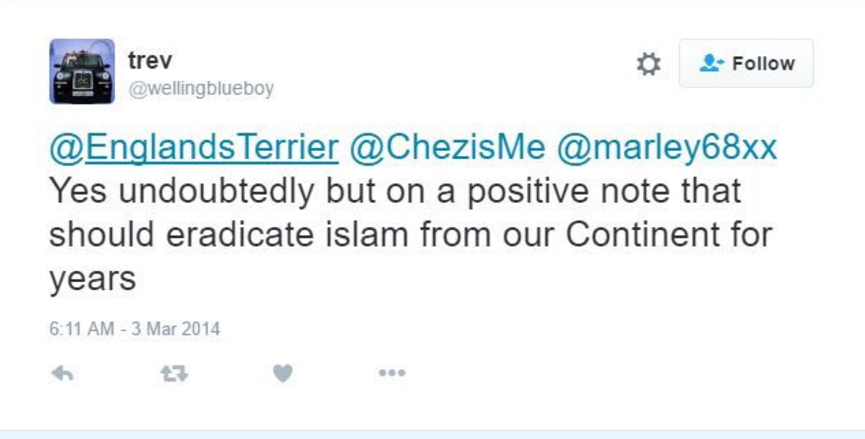 ""If you follow it to its natural conclusion this is reckoning the left have deserved," @wellingblueboy replied.
Another conversation appeared to show @wellingblueboy discussing "establishment" plans to kill off black cabs and replace them "with muslims".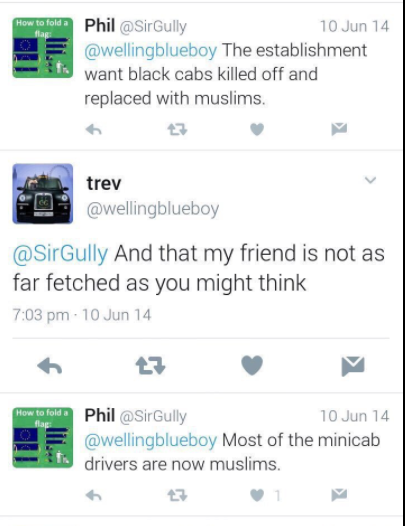 The @wellingblueboy half of the conversation has now been deleted but the other tweets can be verified. Other tweets attributed to the account include: "I know of a bloke who's got 8 kids by different birds he's aiming to have 10 bet he votes Labour".

A spokesperson for Jeremy Corbyn said: "Labour's National Executive committee is urgently investigating allegations of racism involving a prospective parliamentary candidate."
"If the allegations are found to be true, the strongest disciplinary action will be taken and he will be removed as a Labour candidate. The Labour party has always been at the forefront of standing against racism in all its forms. Hate and division have no place within our party."

The local party also confirmed it was investigating after Merralls was announced as its candidate by the regional branch of the Labour party.
"We became aware of the allegations late on Monday evening after London region announced to us our candidate in the afternoon," a spokesperson for the Old Bexley and Sidcup constituency Labour party told BuzzFeed News. "We are consulting with London region."
Merralls lives in Welling, the account was operated under the name of Trev with a picture resembling the driver, and dozens of tweets aimed at the UCG were sent to the account.

The UCG, which Merralls now runs, has also repeatedly attributed quotes by Merralls to the now-defunct account, including a video of him protesting on Whitehall.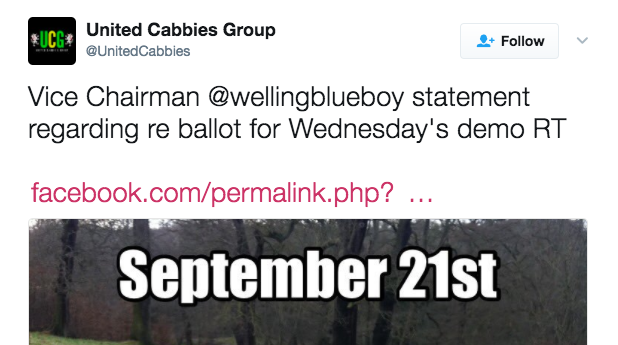 Following the original publication of this story Merralls told BuzzFeed News he strongly denies the allegations and blamed a smear campaign by far-left activists.
"It's not my account," he said. "They're categorically not my words. With my hand on my heart they are not my words. All I'm trying to do is be a working man fighting for his trade.
"The organisation I happen to lead is made up of people of all of sexualities, all races. I've just had a message from my daughter at school who's crying. My Muslim members are in uproar at this today."
He suggested the sexuality and religion of his campaign manager may be playing a role: "I'm doomed. I'm innocent of this but I'm being found guilty because someone has a campaign against me. I don't know if I'm getting a backlash because they don't like taxi drivers, they don't gays, they don't like Jewish people. They are categorically not my words."
Merralls said it was impossible for him to prove to the central Labour party he didn't write the tweets and said he had no hope of winning the seat anyway: "Labour has said it's going to go back before the NEC. I can't prove that I haven't written that. I'm standing for a seat that I've got no chance of winning. I have got no aspirations to be a politician and all I want to do is the right thing for the working man.
"That is not my words. They are categorically not my words. I'm absolute devastated. I've got a devastated teenage daughter. I'm not a member of a far-right party. I'm not homophobic, I'm not Islamophobic."
When asked why his own cabbies' organisation had repeatedly referenced @wellingblueboy as being his Twitter account, the prospective Labour candidate said: "It's not my account."
His campaign manager Bryn Phillips said: "This is a smear campaign generated by the far-left, this is a disgusting smear attempt and you should be calling it out for what it is. There is not a scintilla of truth in it."
Phillips later said he would stand as an independent in the constituency in protest at the decision to suspended Merralls and said he would aim to win the constituency with the support of the "disillusioned working class".