Ken Livingstone Suspended By Labour For A Year Over Hitler Comments
The decision not to permanently expel the former London mayor was met with outrage by the Holocaust Educational Trust and the Jewish Labour Movement, but Livingstone remains defiant.
by
,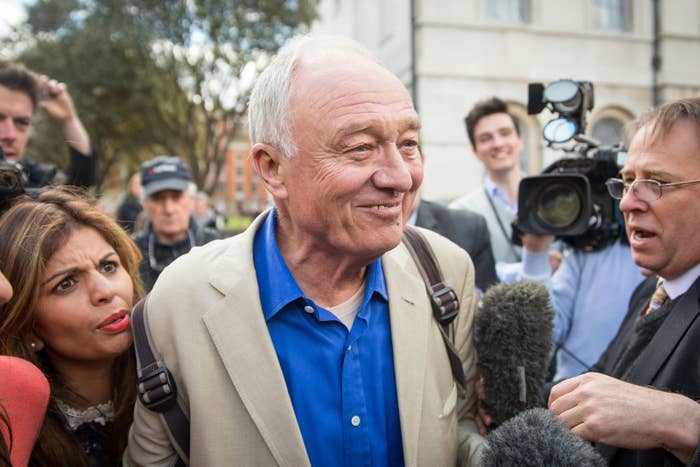 Ken Livingstone has been suspended from Labour for bringing the party into disrepute, after he made comments suggesting Adolf Hitler worked with Zionists in 1930s Germany.

In a statement after the hearing on Tuesday night, Livingstone said the timing of the verdict, which came on the day the party launched its local election campaign, was "a supreme misjudgement" by Labour headquarters, adding that he would be launching a "campaign" to be reinstated.

The decision not to permanently expel the former mayor of London sparked outrage from many Labour MPs, as well as the Jewish Labour Movement, whose chair Jeremy Newmark described it as "insufficient". Both sides in the dispute had expected a permanent expulsion.
Karen Pollock, chair of the Holocaust Educational Trust, said in a statement that Livingstone has caused "significant pain and great offence to the Jewish community with persistent rewriting of history".
"We have spent over a year now having to tolerate misinformation and falsehoods about the Holocaust – including during this hearing," Pollock said. "This verdict is a slap on the wrist for a serial offender. That a mainstream political party would consider these views to be welcome within their ranks simply demonstrates that anti-Semitism is not taken as seriously as all other forms of racism and prejudice."
Many serving Labour MPs expressed their exasperation with the decision not to expel him for good.
Redcar MP Anna Turley said the decision was "weak and shameful" and tweeted "Why will you not deal properly with anti-Semitism" at her own party.
Others were even more forthright, with current Labour mayor of London Sadiq Khan saying he was disappointed by the decision. Deputy party leader Tom Watson said he found the decision "incomprehensible" and warned that the party is "not living up to its commitment to have a zero tolerance approach to anti-Semitism".
Livingstone has been suspended since April 2016 after he appeared on BBC Radio London to defend Labour MP Naz Shah, who was briefly suspended from the party after being accused of making anti-Semitic Facebook posts.

"When Hitler won his election in 1932 his policy then was that Jews should be moved to Israel," Livingstone told the radio station. "He was supporting Zionism before he went mad and ended up killing 6 million Jews."

These comments prompted a 12-month suspension that has now been extended by a year. The decision was made by the party's 11-person national constitutional committee.
Speaking to reporters following the hearing, Livingstone described the controversy as being like "sitting through a court in North Korea. ... No one was listening to anything we were actually saying."
He said he would have been "angry" if he had been permanently expelled. "I don't think anyone was expecting this result," he said. He added: "I've been suspended for stating the truth."
Livingstone's initial comments about Hitler in April 2016 were attacked by Labour MPs and some Jewish campaign groups but it was the former mayor's refusal to apologise that turned it into a major crisis for Labour.

What could have been a short political row turned into a media circus as MP John Mann screamed at him in front of TV cameras while Livingstone did interview after interview repeating his claims.
Within hours Livingstone found himself barricaded inside a disabled toilet as dozens of journalists attempted to shout questions about his views on Hitler through the door.
Livingstone continues to insist the media has misrepresented his comments to imply he said Hitler was himself a Zionist.

This is not the first time Livingstone, a historical ally of Jeremy Corbyn, has been suspended from the party.
After running the Greater London Council during the 1980s, Livingstone became a Labour MP following the council's abolishment. Then in 2000, after failing to secure Labour's nomination to run as London mayor under Tony Blair's leadership, Livingstone ran as as an independent. He won and Labour capitulated and allowed him to return to the party, fearful of a second consecutive election defeat.
As mayor he helped guide London's successful bid to host the 2012 Olympics, introduced the Oyster card to the city's transport system, and pushed through major redevelopment schemes, while paving the way for the construction of many of the skyscrapers that now dominate London's skyline.

He also set an unwanted precedent when he was suspended from the office of mayor for four weeks in 2006 for likening a Jewish reporter on the Evening Standard newspaper to a Nazi concentration camp guard.
Following a narrow loss to Conservative Boris Johnson in 2008, Livingstone ran for the job on one final occasion in 2012 before announcing his retirement from frontline politics. Since then he has happily appeared as a guest on many political programmes – at one point his voicemail message was: "If you're ringing about an interview, the answer is yes."