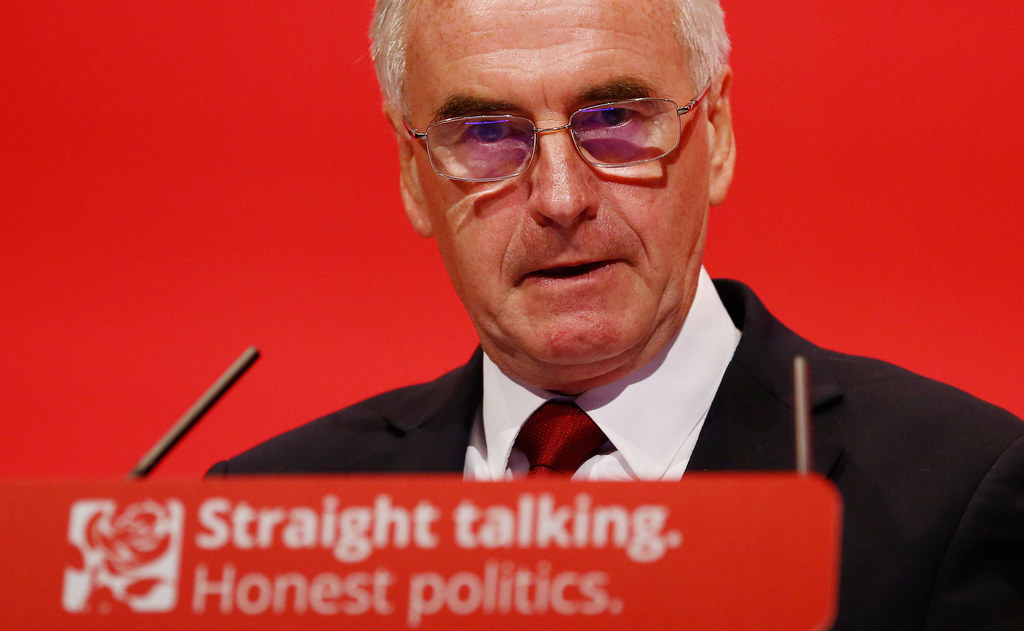 Labour's shadow chancellor has said he decided to change his party's economic policy after meeting Redcar steelworkers who are losing their jobs.
John McDonnell has been openly criticised by many MPs within his own party after announcing his intention to vote against George Osborne's fiscal responsibility charter, just two weeks after announcing he would back the government's proposal to always run a budget surplus.
"I have changed my mind on the parliamentary tactics," he told Sky News. "Originally what I said to people was: 'Look, that charter is a political stunt, a political trap by George Osborne, it is virtually meaningless – he ignores it himself time and time again, he never meets his targets. So this is just a stunt and let's ridicule it in the debate and vote for it because it's a meaningless vote.'"
McDonnell claimed that visiting Redcar, where thousands of people are set to lose their jobs following the permanent closure of the local steelworks, changed his mind.
"I went to Redcar and I met steelworkers and I had families in tears about what's happening to them as a result of the government failing to act, failing to intervene," he said. "I came back and I realised the consequences of the government's failure to invest in infrastructure and skills, the cuts that are going to start coming now. I realised that people are actually going to suffer badly. And it brought it home to me, and I don't want the Labour party associated with this policy."
McDonnell had faced growing criticism – from both left-wing and centrist Labour MPs – over the decision to lend his support to Osborne's charter.
He had initially justified the decision by saying "we are going to want to balance the books, we do want to live within our means and we will tackle the deficit" but said circumstances had changed his mind in the last fortnight.
The situation has particularly baffled some centrist Labour MPs who have little time for Corbyn and want the party to adopt an economically moderate spending plan. Several found themselves in the unusual position of opposing the anti-austerity party leadership by pledging to vote against George Osborne's spending plans.
"I was always going to vote against, as was John Mann," Ilford North MP Wes Streeting told BuzzFeed News. "It's economically illiterate and we should never have entertained supporting it."
Ex-shadow chancellor Chris Leslie told the Today programme that McDonnell had faced a "very difficult balancing act" as a result but the decision to U-turn "sends the wrong economic message" to the electorate.
Other Labour MPs who oppose Corbyn, such as Mike Gapes, went into open revolt on the matter.
McDonnell formally announced the decision at Monday night's argumentative meeting of the parliamentary Labour party, where he said it would help "comrades in Scotland" ahead of the forthcoming Holyrood elections.
One Scottish Labour source downplayed suggestions that Scottish Labour leader Kezia Dugdale had demanded Jeremy Corbyn oppose the austerity charter in order to help the fight against the SNP, although they confirmed that she had raised the issue with the leader of the UK-wide party.
But this was not enough to stop SNP leader Nicola Sturgeon claiming credit for the climbdown.
McDonnell is now expected to impose a three-line whip on Labour MPs, requiring them to vote against Osborne's bill when the House of Commons votes on Wednesday. However, some may choose to abstain in an act of rebellion.