This is the news: A man has gone and got Jeremy Corbyn's face tattooed on his back.
Yes, really. It's on the back of Kierran Horsfield, an 18-year-old from York.
"I've been a Corbyn supporter even when he was an obscure rebellious backbencher and he's a man with a lot to offer British politics," Horsfield told BuzzFeed News.
"I'm inspired by him standing in the woolly jumper his mum knitted for him preaching the politics of the people, surrounded by men in suits who have redefined 'corrupt and corporate backed' as 'mainstream'."
Horsfield had the tattoo done in Australia, where he's currently living.
"It was professionally done by Leviathan Tattoo Gallery in Melbourne, Australia, in 90 minutes. The reaction in Australia has been largely confusion. In Australia the idea of an inspiring politician is sadly alien and people don't understand why I would want a politician's likeness on my back.
The image went all over the internet after his friend @_megoll posted it on Twitter. "Among my friends it's been largely positive and the reaction of the media has been very surprising indeed," said Horsfield.
He also hopes Corbyn will see the tattoo and feel encouraged by it: "It's a symbol (albeit a weird symbol) that people are dedicated to JC and the message he is sending. With all the slandering of JC in the media I want him to remember that the support he has gathered is enormous."
But how will it look in 20 years' time?
"Hopefully it'll be a reminder of when UK politics changed forever. If not, a reminder of what might have been."
Some people were quite taken aback.
Others were a little confused as to who it was meant to be.
One user felt the man had put the tattoo in the wrong place.
A lot of people thought it was a KFC tribute.
And some people just wanted to know about his eyewear choice.
And then there was this.
Either way, thanks to Kierran Horsfield the Corbyn tattoo is now a thing that is here and happening.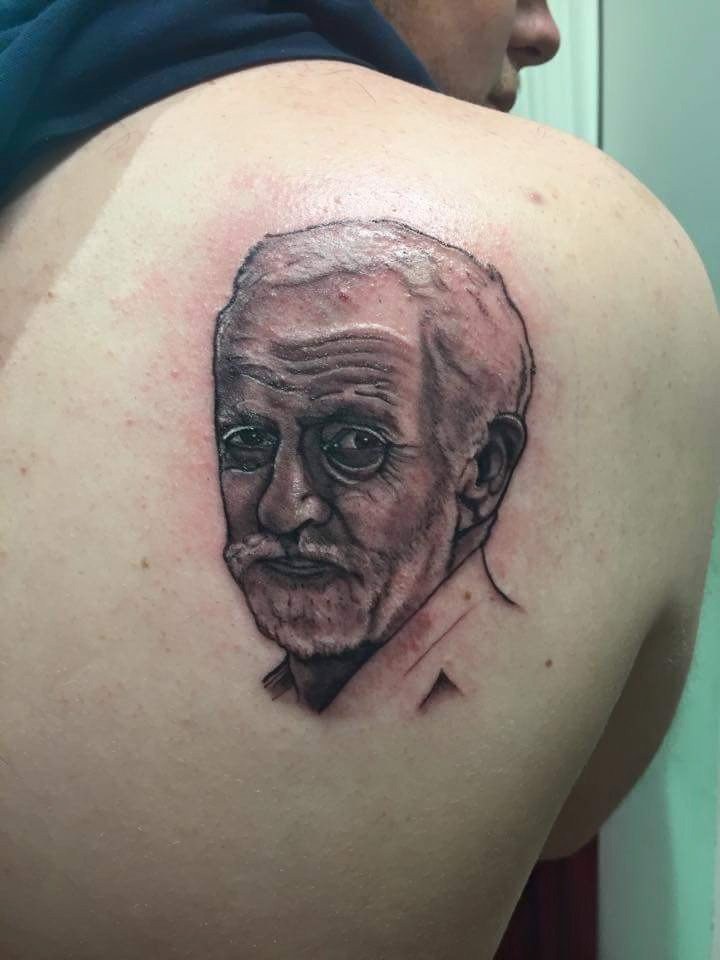 Well done, everyone.