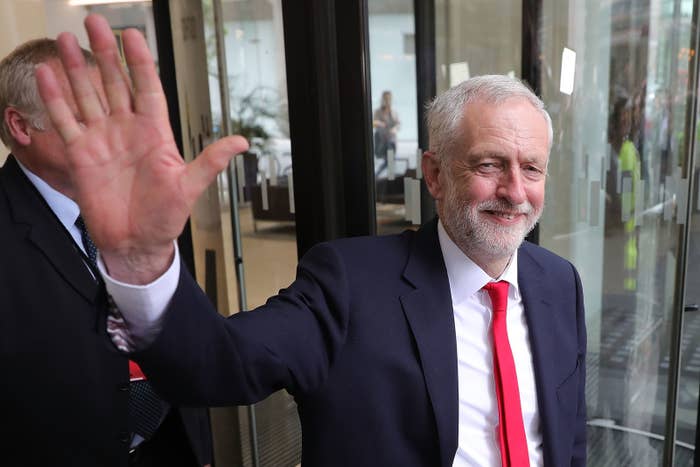 Jeremy Corbyn told the first meeting of Labour MPs following the general election that he needed their unity ahead of a possible second election as Theresa May's government "has no mandate and no legitimacy".
"Now the election is over, the next phase of our campaign to win power for the majority has already begun," he told MPs. "We must remain in permanent campaign mode on a general election footing."

He went on: "We achieved what we did last Thursday because we were a united party during the campaign and we need to maintain that unity and collective discipline in the weeks and months ahead."
Labour MPs, who have previously been critical of the leader, now seem increasingly united behind the man who beat expectations to lead Labour to win 40% of the vote in last week's general election, despite the party falling short of the seats required to form a government.

"In 2010 and 2015 we came back feeling like shit," said one Labour MP after leaving the sweltering meeting room in the House of Commons. "This time around we've come back and seen the Tories' faces."
Another prominent Labour MP, who has been highly critical of Corbyn, said the atmosphere was "brilliant" and "government is the aim".
For almost two years the parliamentary Labour party meetings became a ritual where Corbyn would face criticism and abuse from a largely hostile group of MPs and peers. Journalists standing outside the room, waiting to hear what was said, often heard deathly silences for much of the meetings.
On Tuesday evening all that could be heard from the room was a constant stream of cheers and laughter, as Labour MPs from all wings of the party embraced what they felt was a glorious electoral defeat against the odds.
Corbyn told MPs he would keep the party on a permanent election footing and would continue to campaign around the country in the Conservative marginals the party needs to win in order to form a majority government.
The prospects of an immediate second general election have receded, however, with the Conservatives in Downing Street working on forming a minority government with the help of Northern Ireland's DUP.
"We are now a government in waiting and we must think and act at all times with that in mind," said Corbyn. "That is our responsibility to the huge numbers who voted for our manifesto last week: a programme to transform Britain for the many that caught the imagination of millions.
"This was a remarkable result achieved because we stayed united and worked as a team and I have no doubt together we can win the next general election, whenever that may be."