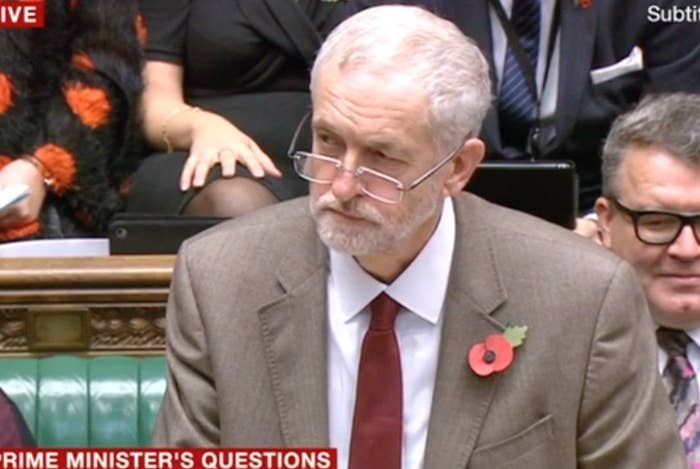 Jeremy Corbyn quoted a former BNP regional leader at David Cameron during Prime Minister's Questions on Wednesday, BuzzFeed News can reveal.
The Labour leader has increasingly relied on questions sent in by real members of the public to add a human touch to his performances at the despatch box as he holds the government to account in the House of Commons. However, it appears one of the individuals he quoted this week was a prominent activist in the far-right British National Party.
On Wednesday Corbyn pushed the prime minister on Conservative cuts to tax credits: "I have a question from Kieran, a veteran of the first Gulf war. His family are set to lose out, and he writes: 'It's a worry to the family… There's fear and trepidation about whether we're going to be able to get by'. And he asks: 'Is that how this government treats veterans of the Armed Forces?'"
BuzzFeed News understands the "Kieran" who Corbyn asked the question on behalf of is Kieran Devlin, a former soldier who served as Northern Ireland organiser for the BNP.
When contacted, Devlin confirmed that he had been involved in the party but said he had since moved on. He said that he did not see Corbyn ask the question as he was at work and is now involved in Veterans for Peace, an anti-war group, and was filmed by The Guardian for a project on former British soldiers meeting their opponents in Northern Ireland.
In 2009 Ireland's Sunday World newspaper named Devlin as the individual running the party in Northern Ireland under the name "Kieran Dinsmore" and his details were included on a membership list leaked that year. He said he no longer has any involvement in the party, which at that time was at the peak of its popularity under former leader Nick Griffin.
At the time the Sunday World claimed he had been working with the party for five years to try to build its presence in Northern Ireland. Its report said Devlin was a "pal" of Nick Griffin who "claims the people of Ulster are steadily waking up to the fact that the BNP's message had been correct all along".
Reports from anti-racism group Hope Not Hate suggest he stood down as the BNP's lead man in Northern Ireland during 2010.
BuzzFeed News has asked Labour for comment.
Like BuzzFeed UK Politics on Facebook.