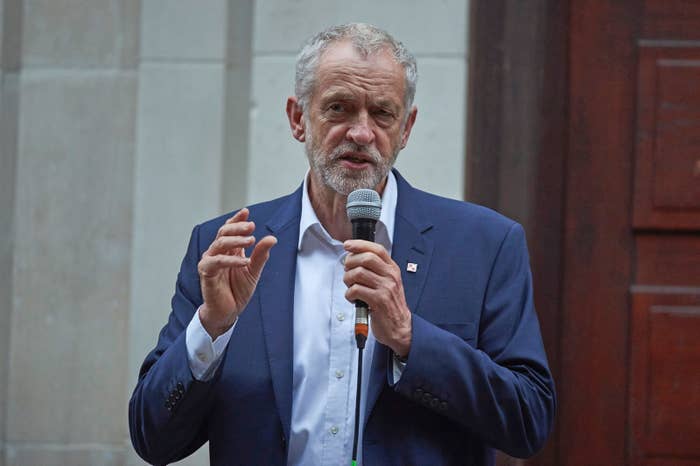 Jeremy Corbyn has insisted he has no intention of quitting as Labour leader and told a crowd of his supporters that he would be "carrying on" in control of the party, as his team prepare for a leadership challenge.

He told a gathering of supporters in central London that he would fight on despite losing the support of almost the entire Labour parliamentary party, former Labour leaders, the current leader of Scottish Labour, and some of his economic advisers.
Angela Eagle is thought to be considering a challenge to Corbyn, which would require 51 signatures from MPs. Strenuous efforts are being made by MPs to convince the Labour leader to quit office, but his speech showed he has no intention of moving and instead appears to be relishing the expected contest.
But Corbyn told the crowd his leadership was dedicated to changing the direction of the Labour party and developing a new policy platform, insisting he was not going anywhere: "I am very proud to be carrying on with that work."

"There are many in the party who do not completely agree with the direction I want to take the party in," he went on to admit, in his only reference to the ongoing coup attempt.
The gathering was announced at very short notice by Momentum, the pro-Corbyn group that is preparing for a leadership campaign by urging tens of thousands of supporters to sign up as Labour members to back Corbyn. He turned up late to the event at the School of Oriental and African Studies, accompanied by Diane Abbott, after further discussions in parliament with his team on what to do next.
Corbyn insisted his leadership was about fighting for a new politics that rejected "the politics of austerity" and instead encouraged housebuilding and environmentalism.
Corbyn drew the biggest cheers from the crowd when he criticised the decision to invade Iraq, ahead of the publication of next week's Chilcot report, which is expected to criticise the actions of Tony Blair's New Labour government. There have been suggestions Corbyn is preparing to use the Chilcot report to attack Blair's record and differentiate himself from previous party leaders.
He also suggested he would adopt a more radical stance if he managed to continue as leader, criticising Labour's 2015 manifesto not being radical enough: "We weren't offering a redistribution of wealth; we weren't offering a redistribution of power."
Corbyn delivered the speech to several hundred people standing outside on the steps of the SOAS junior common room as there was not enough room for the crowd to fit inside.
The only negative note was when a heckler criticised Corbyn for not doing enough for the Remain side in the EU referendum by shouting, "Where were you when we needed you, Jeremy?"
The crowd quickly shouted him down.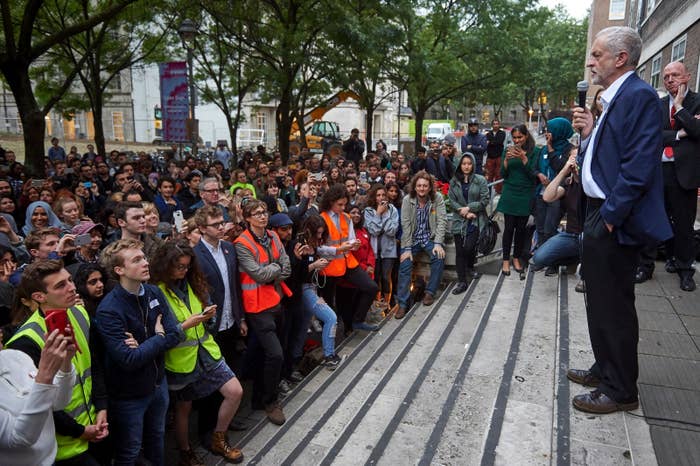 Before Corbyn took to the stage, shadow chancellor John McDonnell pledged to fight a new leadership election and said the parliamentary Labour party could not accept the will of ordinary members.

He said it was time to "nail the lie" that Corbyn was responsible for the party's defeat in the referendum. Instead, he said Angela Eagle and Hilary Benn — who he said were originally responsible for Labour's EU campaigning — only asked for the leader's help when they realised their own efforts were failing.
"The task was given to Jeremy because it was going pear-shaped," he said.
The shadow chancellor said MPs were acting against the wishes of members: "We've been trying to explain to the PLP that there's a recent Greek invention called democracy."
He warned the activists that if Corbyn lost the leadership election, then ordinary members would have been "bullied" and the party's activist base would become meaningless, and he urged them to sign up friends ahead of an expected leadership vote.
"What's going on now is a battle for democracy," the shadow chancellor concluded. "This is a deeply political struggle about the future of this country and the role that we play in it."