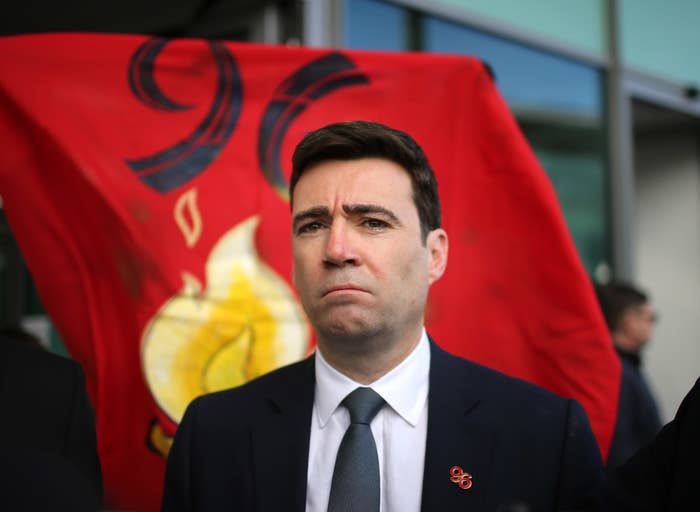 Andy Burnham has launched a bid to become mayor of Greater Manchester, turning his back on Westminster politics in favour of a chance to run a major city.
The shadow home secretary will formally announce he is running for the job in a speech in Salford on Thursday.
In an interview with the Manchester Evening News he pledged to renationalise social care in the city, boost technical education, and revive Manchester's music scene.

"I've consistently beaten the drum for Greater Manchester, for the North," he said. "I've consistently pointed out how we live in a London-centric country. I've even gone as far as saying my own party is London-centric.
"The system of politics we've got in this country has given us a very unequal country where the North West doesn't get its fair share of the power and the money. So I've come to a point in my life where I'm not prepared to carry on sitting there when there's a chance to change it."
Burnham accidentally leaked his own mayoral announcement to the press when he launched an @Andy4Manchester Twitter account on Wednesday afternoon, forcing journalists to publish interviews that had been planned to coincide with his speech.

Elections for the first ever elected mayor of Greater Manchester – which will cover the city itself as well as outlying boroughs such as Rochdale, Stockport, and Wigan – are due to take place in May 2017. Labour is clear favourite to win the contest, resulting in a strong internal competition for the party's mayoral nomination.
Former Northern Ireland minister Ivan Lewis has already declared his intention to run, as has interim mayor and former Manchester Central MP Tony Lloyd, who has the backing of some major local unions.

But Burnham is by far the most high-profile candidate to have declared their interest and shows how Labour MPs are looking for jobs away from Westminster, with some internal opponents of Jeremy Corbyn inspired to run for mayoralties after seeing Sadiq Khan's success in London.
Burnham has been MP for Leigh since 2001 but was born in Liverpool and is a famous supporter of Everton football club. However, he still believes Greater Manchester would be willing to accept a scouser as mayor. Last week he joked in an interview with BuzzFeed News that his love for the new Stone Roses song was not an attempt to shore up his Mancunian support base ahead of a potential mayoral run.