UPDATE – July. 1, 10:30 a.m.: The Student Loans Company has decided to stop sending letters from a fake debt recovery service while it reviews the practice.
Following BuzzFeed's story the student loans business has ceased issuing any correspondence from Smith Lawson and Company. The threatening letters appeared to be from a third party debt collection agency but were actually being sent by a division of the Student Loans Company.
The Student Loans Company says it will now review the practice and decide whether to resume the use of similar letters in the future.
"The Student Loans Company has suspended all use of Smith Lawson branded correspondence," the company said in a statement. "The issuing of any revised Smith Lawson correspondence has still to be agreed."
"The Smith Lawson collection process has been used since 2005 to support collection activities and was mainly used after the initial in-house collections process had been exhausted for customers who had persistently defaulted on their loan repayments and were in arrears for a minimum of three months."
The Student Loans Company pretends to be a debt recovery firm named "Smith Lawson and Company" when threatening graduates who have not repaid their debts.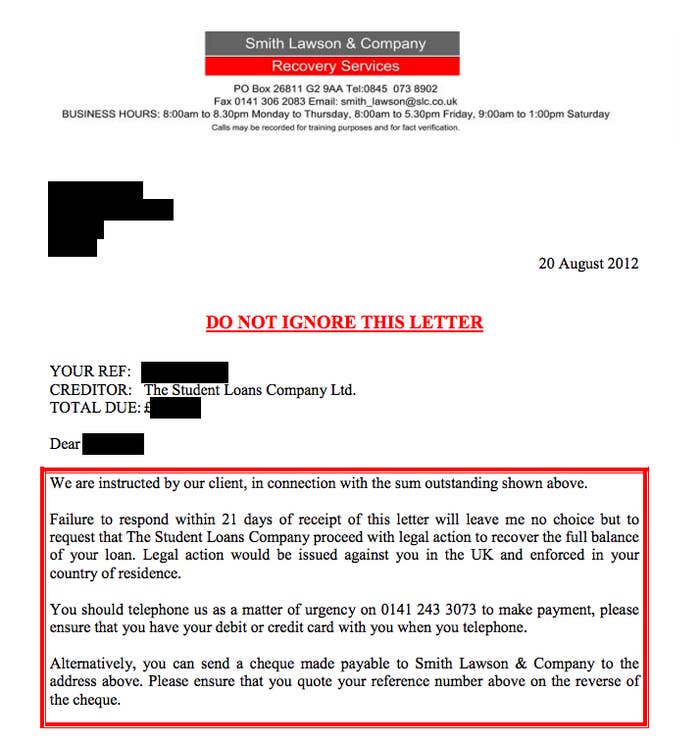 Graduates who are in dispute over student debts have received threatening letters from what appears to be an independent debt collection agency called "Smith Lawson & Company Recovery Services".
But in reality BuzzFeed understands the business is nothing more than a trading name used by The Student Loans Company in an attempt to recover debts.
Hundreds of graduates have posted online about their fears after receiving a letter from the supposed business, in the apparent belief that responsibility for their debt has been handed to external agency.
The majority seem unaware that Smith Lawson & Company, which shares the same initials as the Student Loans Company, is not an independent debt collection agency but merely a trading name used by the loan provider when former students fall into arrears.
Many of the former students contacted by Smith Lawson are convinced they are dealing with an independent entity.


Use of alternative names by companies seeking the repayment of debts has come under greater scrutiny since payday loans firm Wonga admitted sending letters to clients from fictitious law firms in an attempt to encourage repayment of debts.
There is no suggestion of any wrongdoing on the part of the The Student Loans Company and letters from Smith Lawson & Company include small print stating that the business is a trading name of The Student Loans Company.
But the decision to operate under a pseudonym that gives the impression of being an independent company is controversial because The Student Loans Company is a not-for-profit business owned by the UK government and devolved assemblies in Scotland, Wales and Northern Ireland.
Some of the Smith Lawson letters even begin with phrases such as "We are instructed by our client", giving the impression that Smith Lawson is an independent business with multiple customers.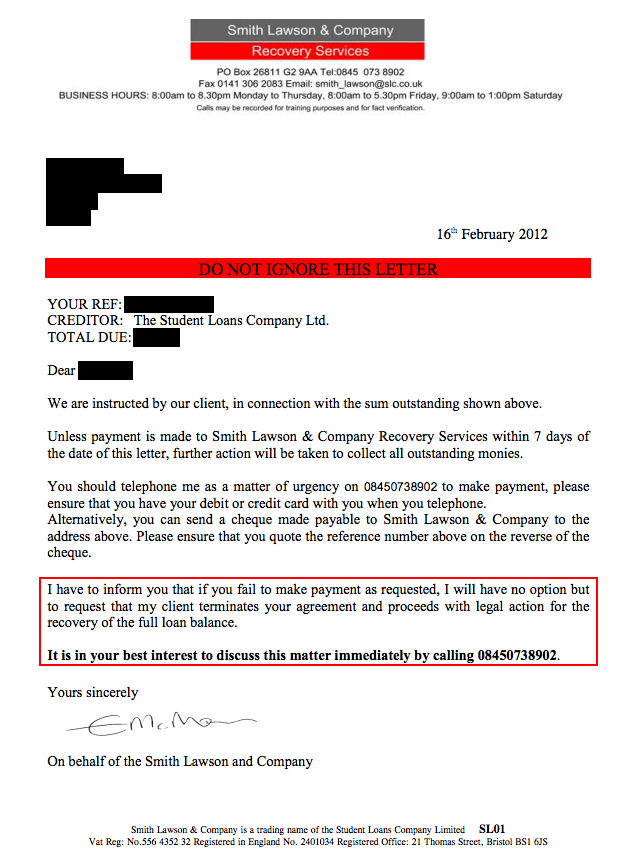 Smith Lawson letters are designed to resemble letters sent by independent debt collection agencies. Additionally, customers who phone the supposed debt recovery business receive no indication on the phone that they are actually calling the Student Loans Company.
In reality both organisation share the same registered address in Bristol.
A spokesman for the Student Loans Company defended the practice: "Smith Lawson is a trading name for the Student Loans Company and this is made clear on all relevant correspondence to customers. Our communications were agreed with the Office for Fair Trading (prior to 1st April 2014)."
"Smith Lawson is used to collect outstanding debts from customers, for example if a student has defaulted on repayment."