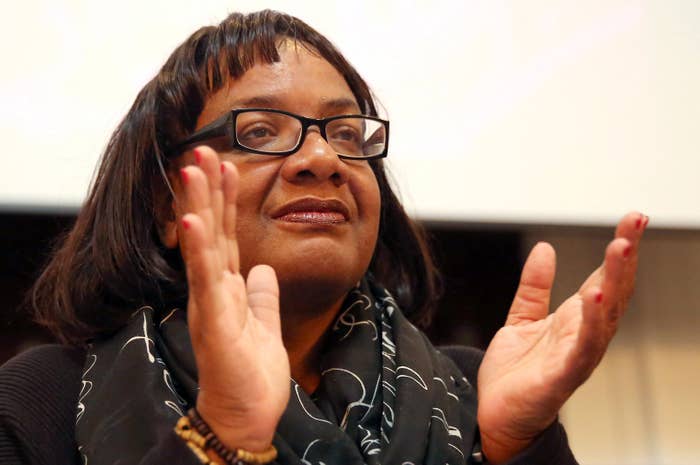 Diane Abbott has increasingly become the target of Conservative campaigning in the final days of the election campaign, as the party plays on voters' apparent negative reaction to the shadow home secretary.

The Labour MP, who is one of the most prominent members of Corbyn's team, has suffered a series of unfortunate slip-ups during the campaign but has also consistently gone on TV to defend the Labour leader.
Analysis by BuzzFeed News has shown that 10% of the most viral right-wing news stories during this election are attacks on Abbott, while the focus of official Conservative attack material has increasingly been on Abbott during recent weeks.
Analysis by BuzzFeed News found a third of recent Conservative emails to members explicitly mention the so-called threat of Abbott becoming home secretary, while the Tories have increasingly taken to pushing videos involving Abbott on their official Facebook page and received above-average engagement. One video posted on Monday already has more than a million views, possibly helped by paid-for Facebook advertising.
The messaging in the videos is relentlessly negative, warning that Abbott – already seemingly disliked – would be in charge of fighting terrorism following the London and Manchester attacks.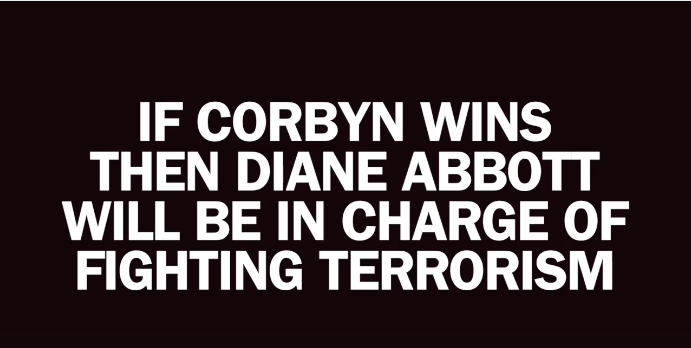 Meanwhile, Theresa May repeatedly namechecked Abbott during last week's BBC Question Time debate and almost every minister is mentioning the shadow home secretary in the context of the security risk following recent terror attacks.
"I wish I had more of an opportunity to make the point about why Jeremy Corbyn and Diane Abbott would be so bad for the security of this country," home secretary Amber Rudd told the BBC this morning.

Labour supporters said the relentless focus on parliament's first black female MP was not a simple matter of competence.
The journalist and activist Paul Mason, a leading ally of Jeremy Corbyn, said the Conservative attacks were simply "dog whistle racism" that needs to be called out – a view backed by the singer Lily Allen.

"She draws the attention of critics primarily because she's a black woman," said Arron Bastani of the pro-Corbyn outlet Novara Media. "There are many politicians one may say shouldn't have their roles but the sheer amount of ire she's subject to is a result of her gender and race. Even if she was a black man she wouldn't get this level of criticism. It's testament that what they've tried to throw at Jeremy Corbyn hasn't worked."

Labour activist and Corbyn supporter Barbara Ntumy echoed this and also called out her own party's treatment of the shadow home secretary: "Even in my party people are falling into this trap – it's a clear amalgamation of sexism and racism tapping into something deep in this country. It speaks to something wider in the Labour party of people thinking that because they're in the Labour party they're beyond reproach to sexism and racism.
"Diane gets so much abuse because of who she is, and what she stands for. I don't think you can separate those two things."
In an article for The Guardian earlier this year, Abbott spoke out for the first time about the racist and sexist abuse she receives on a daily basis.

Mark Wallace of the pro-Tory ConservativeHome website insists criticism of Abbott's performance was valid. "In repeated interviews she's struggled with a history of highly dubious views and an air of incompetence," he said. "Frankly, the kneejerk response by some on the left that it is 'racist' to hold her to account would be laughable if it wasn't so poisonous. Suggesting that Abbott should be excused this scrutiny is duplicitous, and trying to dismiss valid criticism as racist risks devaluing the term."
The problem for Labour is that whatever the motivating factor, the anti-Abbott feeling appears to be breaking through to the party's voters, especially in traditional northern seats.
Paul Farrelly, Labour candidate in the marginal seat of Newcastle-under-Lyme, said the shadow home secretary was not going down well on the doorstep. "It's not helpful when people like Diane get rolled out and don't do their homework for interviews, but we have to fight with what we've got," he told BuzzFeed News last month.

Another Labour candidate in a marginal northern constituency told BuzzFeed News some of the party's traditional voters were raising the prospect of "Jeremy and particularly Diane Abbott" being in power as reasons for them not wanting to vote.
Mark Shallcross, 49, who runs a barber shop in Newcastle-under-Lyme, told BuzzFeed News last month that Abbott was a part of what put him off Labour.

He said: "I'm voting Conservative. I voted for UKIP last time but they're a spent force since Farage left. You only have to switch on Facebook and everyone's taking the mick out of Labour at the moment. I'm not that politically minded but when you've got that woman [Diane Abbott] on the news that can't add up..."