As the general election ticked down to polling day last week, Thomas Clark was working 20 hours a day, stopping only for quick naps before getting back to his one-man mission: writing attacks on Theresa May and producing memes in support of Jeremy Corbyn's policies for his blog, Another Angry Voice.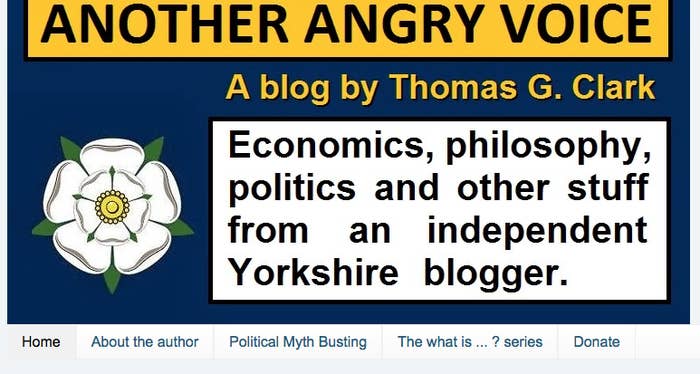 His output was prodigious and his commitment to the job – which he considers to be that of an activist working to elect a Labour government rather than a traditional journalist – was utterly obsessional. It got to the point where a friend would come around to cook him meals, just so he didn't have to stop writing updates for the blog. Friday, the day after the election, was the first time he'd left the house in a week.

"People have been writing to me continuously, saying: 'You've given me the arguments, I've converted people on the doorstep using your work,'" Clark told BuzzFeed News.
For him, the dramatic election result, which saw Corbyn's Labour gain 30 seats and wipe out May's Commons majority, was the reward for his dedication to his task. He makes the not unreasonable claim that his output was reaching so many people that it could have helped win Labour some of those ultra-marginal constituencies.
In the space of a seven-week campaign Clark produced 163 different articles, all unashamedly pro-Corbyn – albeit carefully peppered with links to source material – which collectively reached millions of people. Pageviews on a single article – "How many of Jeremy Corbyn's policies do you actually disagree with?" – were similar to the number of people who buy The Sun on any given day.
"Comparing me against the mainstream media, there were only two that got more interactions than me," said Clark of the popularity of his site's Facebook page. "One was the Daily Mail and most of theirs were on their clickbait cat videos. The other was The Independent and they've got non-election-related news and various other things."
It is this that puts Clark at the centre of one of the most significant long-term narratives of the 2017 election. This campaign will be remembered as the one in which hyperpartisan coverage by sites such as Another Angry Voice, The Canary, and Evolve Politics – most of which barely existed two years ago – vastly outperformed the traditional media as they were shared by millions across social media platforms. The Sun and the Daily Mail may still sell 3 million copies a day between them, but their decades-long claim to dominating public opinion may have finally come to an end.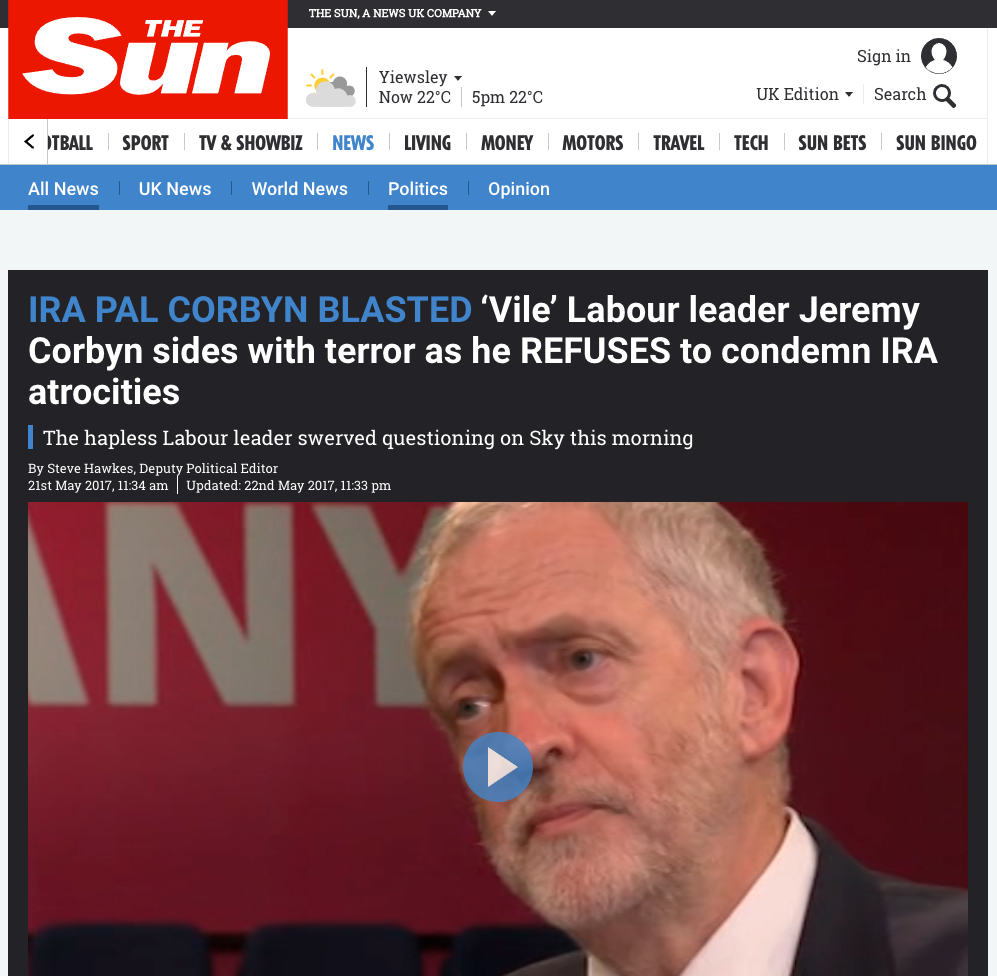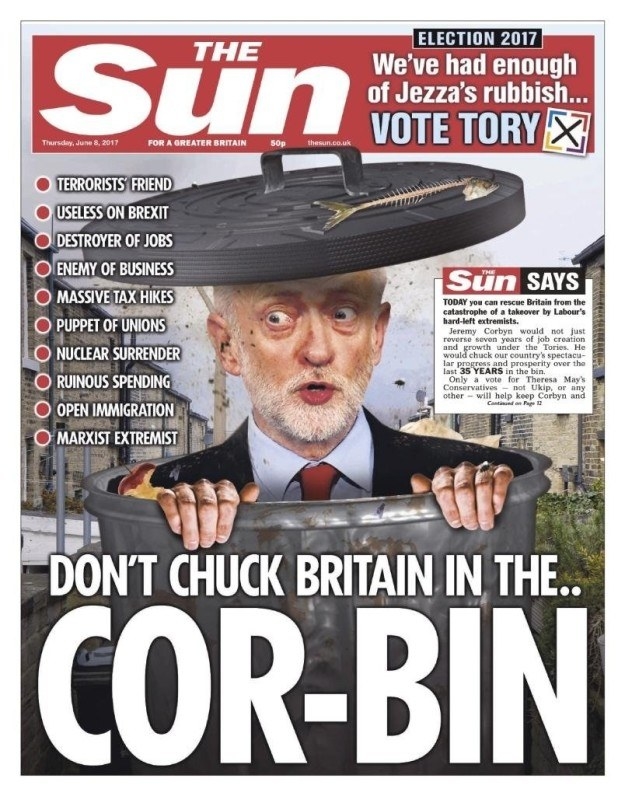 The Mail, meanwhile, went even further that day, printing 13 straight pages of anti-Corbyn pieces, starting with the front-page block capitals of "Apologists for terror" over pictures of the Labour leader, John McDonnell, and Diane Abbott, before heading into "Corbyn at rally attended by jihadis linked to London Bridge killer", "McDonnell, the Marxist who wanted to axe MI5", and "Revealed: Labour plan to crash house prices".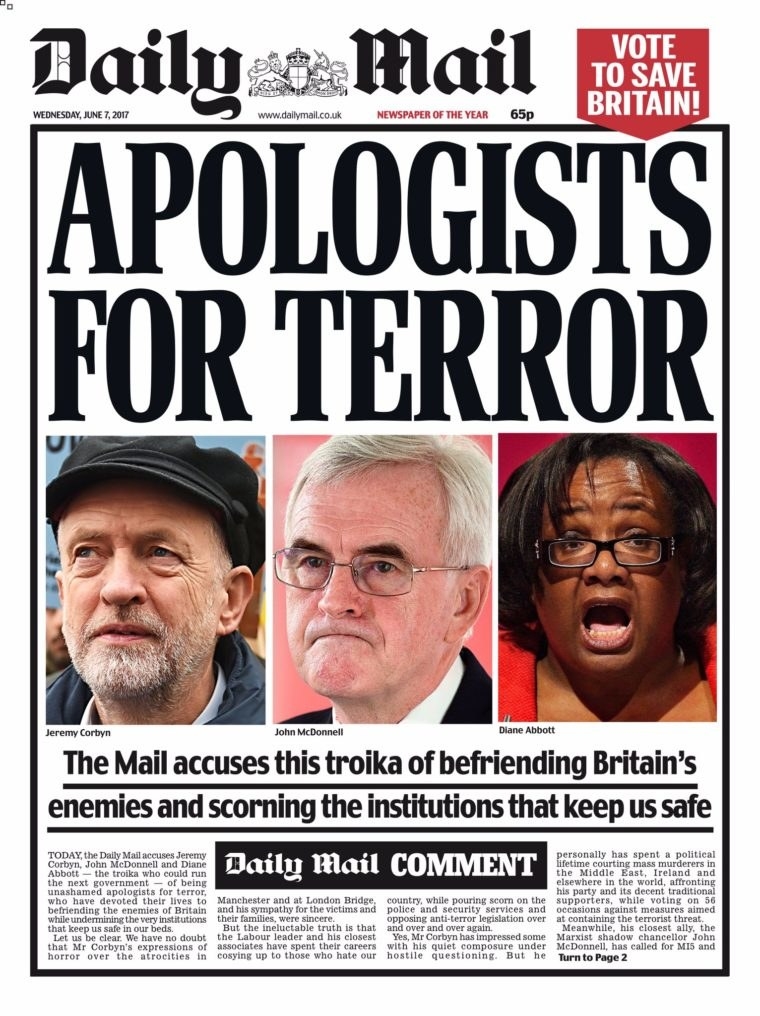 If a Labour leader can gain seats against the odds in the face of such outright hostility from the UK's biggest-selling newspapers, it's fair to suggest that something has changed dramatically in how the public consume their news.

Compare the Mail and Sun's coverage with that of Another Angry Voice in the final hours before polls opened. The blog published pieces with the headlines "Jeremy Corbyn is made of nails" and "Theresa May is planning to give jihadist terrorists a huge ideological victory". This was followed by "People want honest independent media, not mainstream media distortions". Each attracted thousands of comments.
The hyperpartisan sites are creating their own parallel universe where a small number of policy topics – often of the sort that would be seen as too irrelevant for a mainstream news bulletin, such as fox hunting and NHS land disposals – are hammered home again and again, and then flood people's Facebook feeds.
Analysis produced by BuzzFeed News as part of our Social Barometer, which attempted to track the most-shared articles online during the election, is stark: On Facebook, which is actively used by more than half the UK population, almost no pro-Tory material was shared in significant numbers. While May – aided by supportive papers – attempted to frame the debate around Brexit, this failed to cut through online.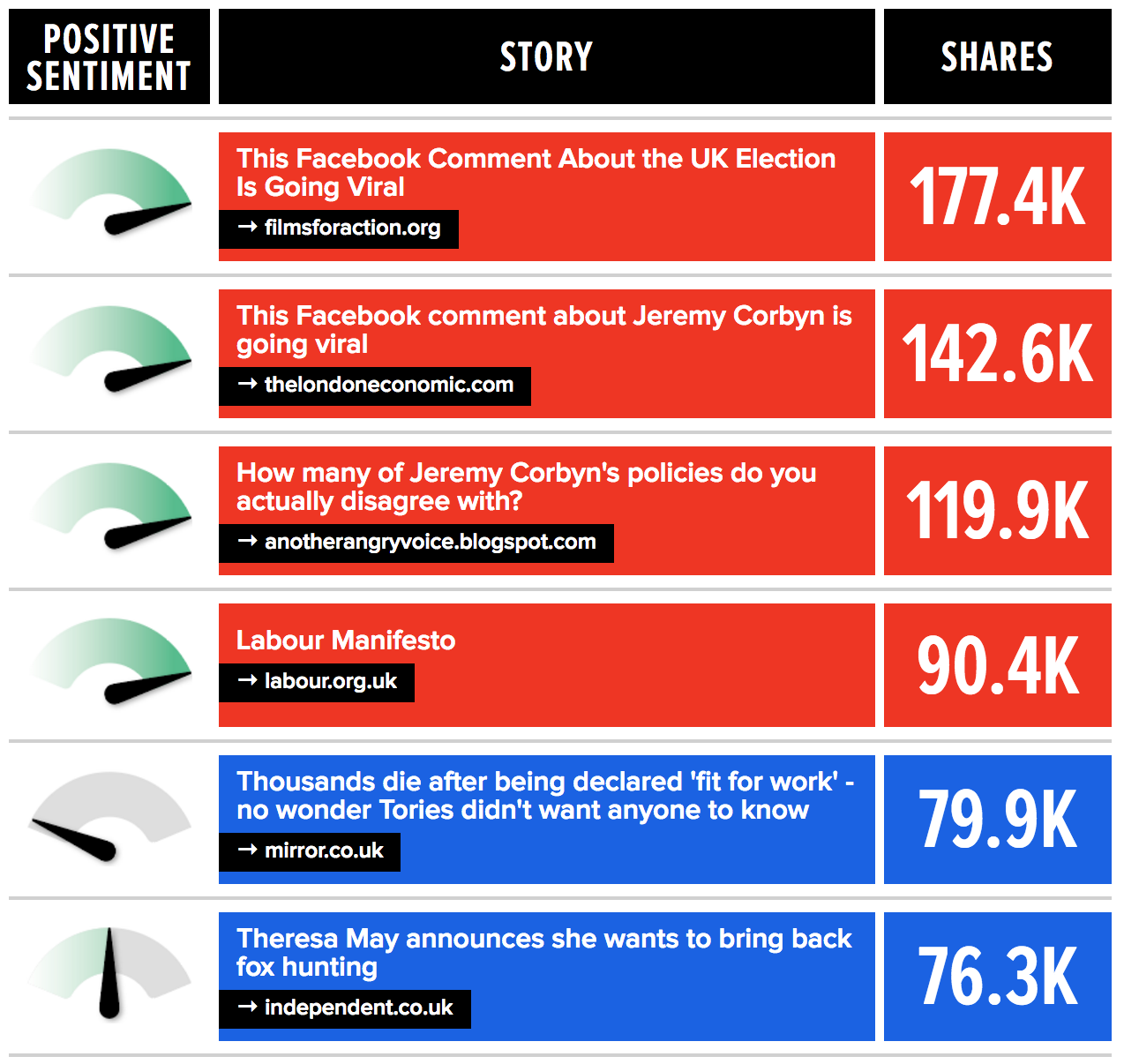 More people, according to our figures, shared stories about the Conservatives' decision to back a free vote on bringing back fox hunting than about the future of the UK's relationship with the EU.

Nine out of the top 20 most-shared articles came from nontraditional news outlets. The most popular article of the entire campaign was a post on a site called Films for Action which was shared 177,000 times and read by 4 million people, simply entitled "This Facebook Comment About the UK Election Is Going Viral".
"On Facebook positive messages get shared much more widely," said Charlie Beckett, a journalism professor at the London School of Economics, who said pro-Corbyn outlets combined with viral posts by individual users to reach a large and varied audience with messages they weren't seeing elsewhere. "Labour are adopting a classic corporate marketing technique."
Beckett said that, pre-election, his hunch was that the relentlessness of pro-Corbyn social media would put off swing voters, but this seems not to have happened. Instead, the Conservatives' attack lines on Corbyn's alleged fiscal irresponsibility and IRA links struggled to cut through online. "On Facebook you don't want to be frightened," he warned.
For decades the UK political news agenda has been remarkably homogenous, largely set by a small group of lobby correspondents chasing the same stories – albeit from different political angles – and covering the same agreed set of political events. Their findings, their analysis, and their understanding is then fine-tuned and presented to the public, shaped by the presence of a major public sector broadcaster in the form of the BBC.
But now hyperpartisan sites have upped their output and gained audiences that rival the print circulation of the biggest newspapers. As a result, more and more people are rejecting the mainstream news agenda, enabled by the widespread adoption of smartphones and articles produced by sites that have a deep understanding of how to go viral on Facebook.
That's led to right-wing newspapers pondering their relevance, less than a year after celebrating their key role leading the charge for Brexit in the EU referendum.
Joey Jones, a former Sky News political correspondent who ran communications for May when she was home secretary, told BuzzFeed News it is increasingly hard to tell where the power lies in political media.
"A year ago the blanket coverage in the Mail and The Sun felt like it moved the dial on the referendum and was really important," Jones said. "From my position within the Home Office, for those ministers fighting the Remain campaign, it felt like a siege mentality. Now it feels like everyone's discounted the papers. If I was the papers who 12 months ago felt like they were masters of the universe, now they must be asking some serious questions."
Meanwhile, broadcasters still command enormous audiences but are struggling to capture younger people with their news coverage, with the average age of a BBC One viewer stuck at 61 years old. At the same time, social media during this election was so utterly dominated by pro-Labour articles that it has even led some Tory campaigners to question whether there's any hope for the party being able to get its message across online in the future.
Clark, who acknowledges the British tabloids still sell huge numbers of papers, said: "I don't want to see them shut down – that's censorship. They should be held to account."
But he has a warning that it's time to adapt or die: "The mainstream media's not going away, they're just going to have to change their approach."
The approach that has worked for sites like Clark's is to blend activism with elements of journalism. The outright viral lies that caused a moral panic in the wake of Donald Trump's election were largely absent during the UK campaign, possibly because the current output of the UK media left no room for US-style fake news. Instead, it has been hyperpartisan left-wing content that has dominated people's social media feeds.
"The blurred line between activism and journalism is something that people have actively demanded as of late," Matt Turner, deputy editor of pro-Corbyn site Evolve Politics, told BuzzFeed News. The site consistently scored viral hits during this election and claims 18 million people worldwide saw at least one of its posts in their News Feed in the final week of the campaign. "It's an interesting new dynamic and a market that has opened up over the past few years."

If you want to understand the impact that social media and hyperpartisan activist journalism had on this campaign – and the growth of a parallel political news agenda driven by what people share rather than what news editors believe matters – then it's hard to think of a better test case than the ivory ban.
The catastrophic launch of the Conservative manifesto, described by former chancellor George Osborne as one of the worst such documents in electoral history, was epitomised by May's disastrous U-turn after announcing a so-called "dementia tax", which dominated mainstream coverage of the rest of the campaign and destroyed her chances of a majority.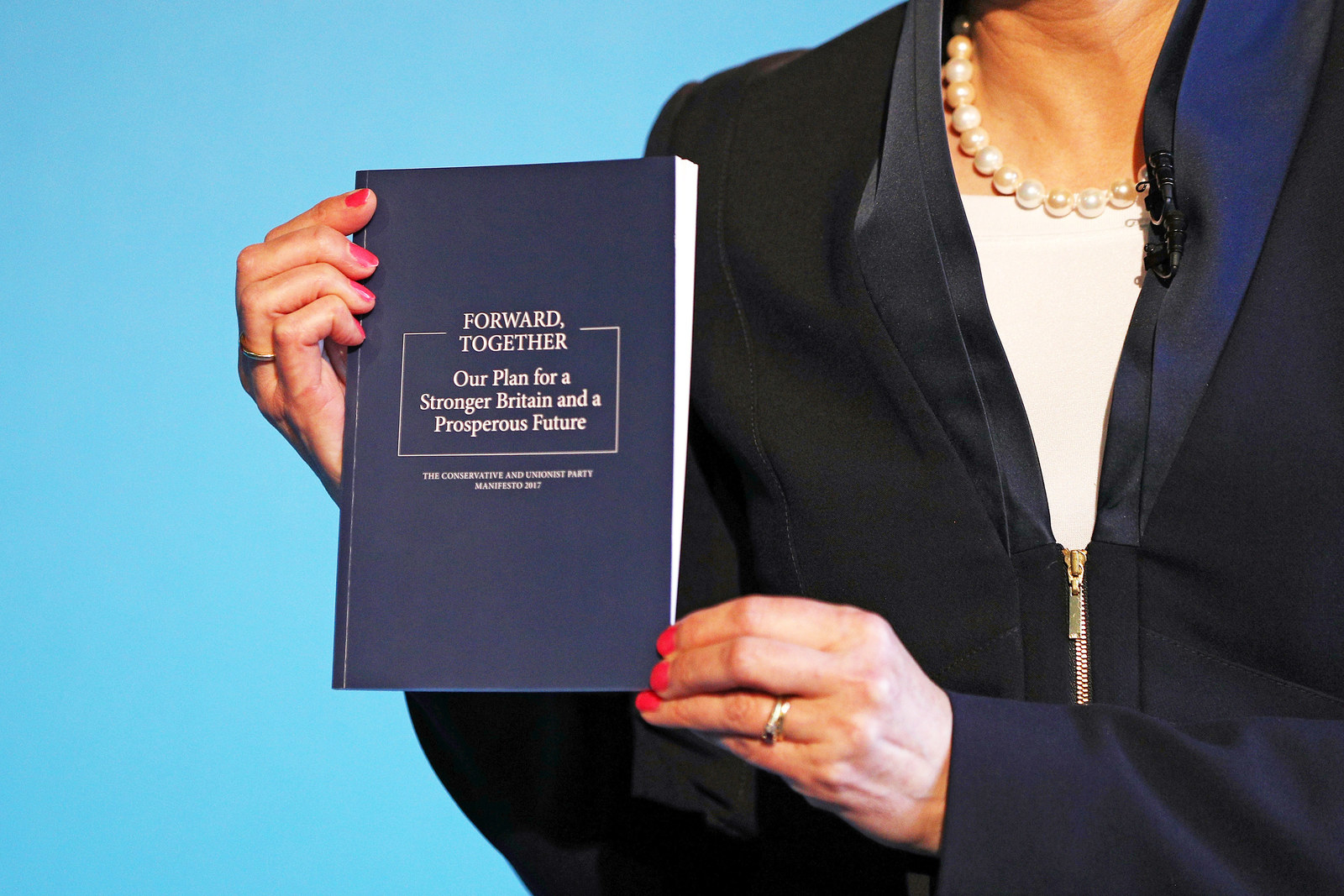 One thing about the manifesto that didn't get covered widely by the mainstream media was the absence of a line committing the Conservatives to banning the sale of goods made from elephant ivory.

The internet felt very differently, and the absence of an ivory ban became the subject of one of the single most-read stories on Facebook, just three weeks out from a general election.
Originally reported in a niche trade magazine, the story emerged as one of the viral hits of the election after left-wing blogger Tom Pride wrote it up for Evolve Politics under the headline "Theresa May's Tory manifesto SCRAPS THE BAN on elephant ivory sales after bowing to millionaire antique lobbyists".
The article, which covered a topic most mainstream political journalists would have considered small fry, was shared more than 70,000 times – more than almost any other individual story about the Conservative manifesto. The thumbnail picture showed a dead elephant without its tusks being nuzzled by a calf, while in the photo opposite Theresa May shook hands with Conservative MP Victoria Borwick, who had lobbied on behalf of pro-ivory antique traders.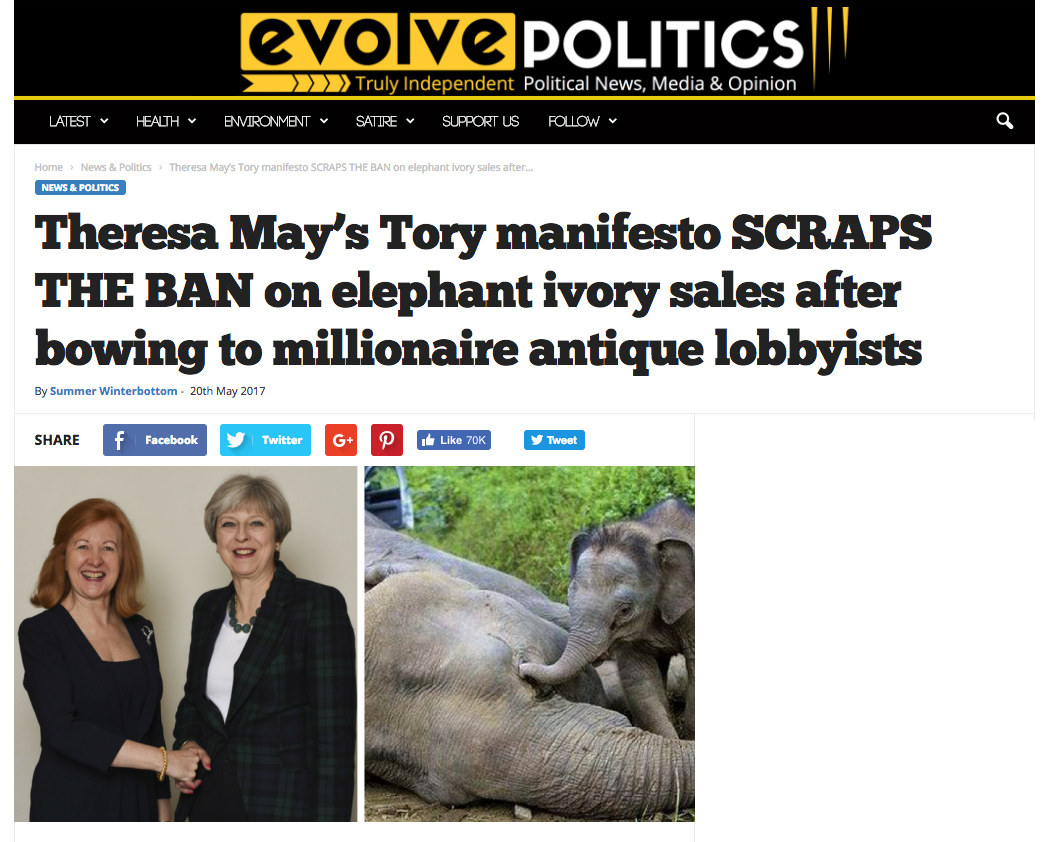 When the election finally took place, Borwick lost her Kensington seat to Labour by 20 votes in one of the shocks of the night.

Combined with follow-up stories on sites such as The Independent and The Mirror, it is highly likely that the ivory ban story was read by millions of people without ever troubling a major news bulletin.
In order to ascertain whether the story, which was driven almost entirely by social media, had cut through to the public at large, BuzzFeed News enlisted polling company YouGov to ask the British public whether they had heard of the ivory ban issue and where they had first read about it.
The poll, conducted in the final week of the campaign, found that 14% of the public said they recalled the issue, despite the story existing almost entirely in the world of political websites, a figure that rose to 30% among those aged 18 to 24 years old. In short, if you stopped three British students at random in the run-up to polling day, then at least one would be able to talk about the Conservatives' desire to allow the trading of elephant tusks, despite the opposition of animal rights charities who believe it provides a cover for a market in new ivory.
According to YouGov, of those who knew about the ivory ban, half had heard about it on social media, while just 10% said they had encountered it on a mainstream news website.
"It cut through massively because, perhaps besides a couple of animal rights pressure groups, no media outlet had actually covered it," said Turner of Evolve Politics. "People were genuinely shocked and surprised that they hadn't heard about this before."
YouGov also found that the Conservatives' proposal to allow a free vote on fox hunting – a story that was consistently viral during the campaign – was recalled by double the number of people who remembered the Labour manifesto pledge to introduce controls on private rental costs. Even members of Labour's media team admit that they were blindsided by some of the issues that organically became major concerns among voters during the election campaign thanks to the work of the hyperpartisan sites.

Another feature of the rise of the new breed of sites has been their ferocious attacks on the old media order. Many of the most viral stories and videos of the entire election have been not about the policies of the parties or even attacks on the leaders but instead about the supposed bias of the BBC.

The Canary's biggest hit – reaching hundreds of thousands of people – was headlined "Corbyn delivered a speech that could win him the election but the BBC isn't showing it" and alleged the national broadcaster had suppressed the opposition leader's speech in favour of the prime minister's address to the nation in the wake of the London terror attack.
The criticism was persistent. Out of the 14 news stories on the site's homepage on the eve of the election, half were pieces attacking news outlets for alleged anti-Corbyn bias. One, entitled "The BBC's vow to give 'balanced' election coverage is now in tatters after a shocking stunt", consisted of an article highlighting how the news organisation had tweeted a Sun front page, in line with the BBC's policy of tweeting the front pages of all national newspapers each night.
The splintering of the political journalism narrative serves little purpose unless the wider population actually take notice. The audience for the biggest television news programmes remains far bigger than that of even the most viral online political articles, but that viewership is ageing and is not being replaced.
There was some evidence during this election that the cut-through had begun to take hold, at least on the Labour side. Time and time again while following Corbyn on the campaign trail BuzzFeed News encountered people who, unprompted, blamed the BBC for the party leader's woes and said they preferred to get their news from left-wing outlets.
"You've got the traditional media like the newspapers and broadcasters," said Matthew Kaufman, standing in the crowd at a rally hosted by Corbyn in Worcester near the start of the election. "All the way through from BBC to Sky it's either pro-Tory or run by the Tories. Any sort of billionaire that would disagree with Corbyn's policies, then obviously they've got an incentive to portray him [negatively]."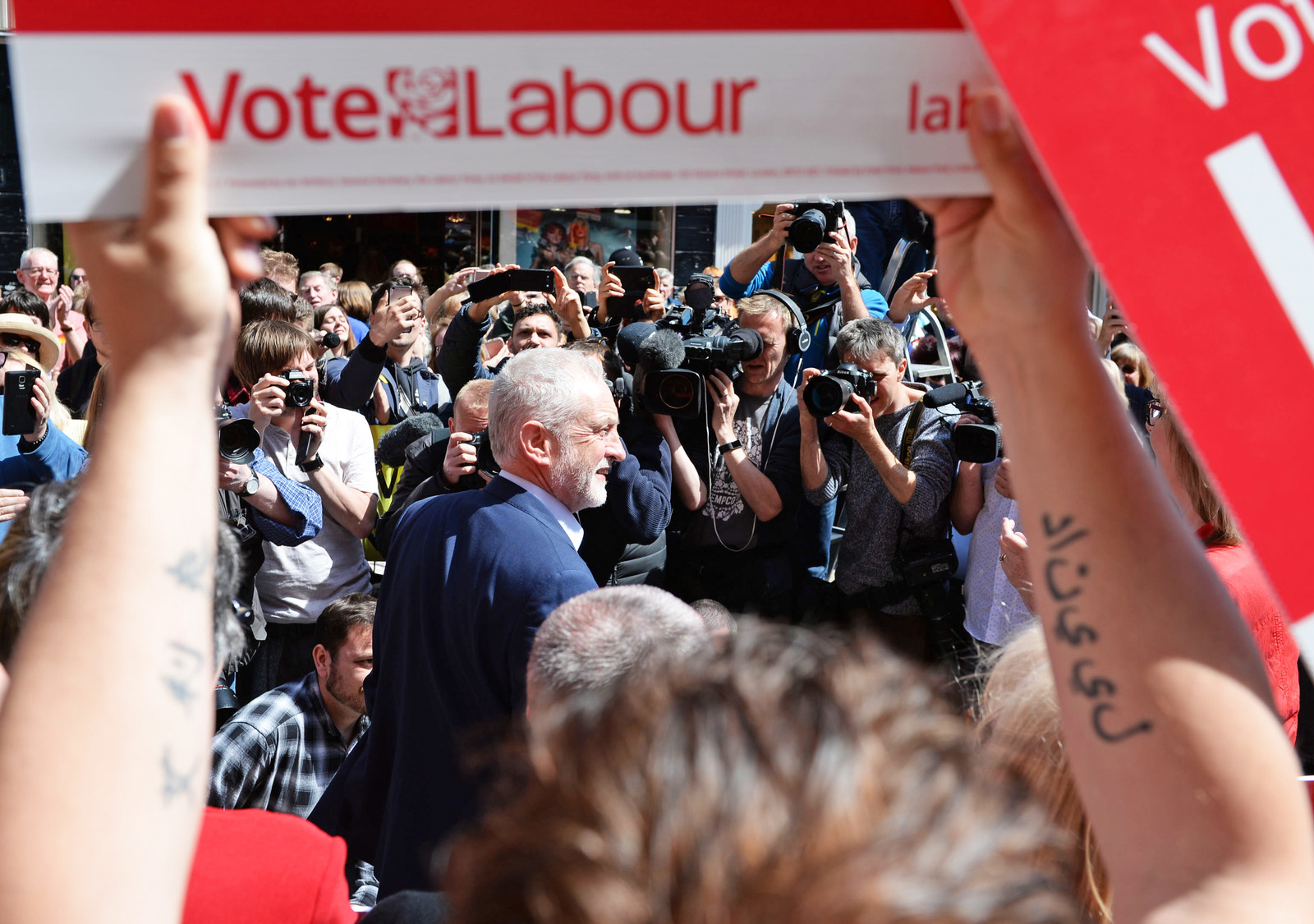 Kaufman, a media studies teacher, told BuzzFeed News he increasingly got his news from social media and sites like The Canary, Novara Media, and Another Angry Voice.

"Traditional broadcasting and media are on the way out," he said. "Young voters are actually engaged with social media, where you don't have those dominant voices like the BBC."
One of Kaufman's friends, standing in the sun to watch Corbyn address a few hundred people outside Worcester's Guildhall, said he was more likely to get his news by reverse-engineering jokes on meme sites rather than anything resembling traditional reporting.
"The first port of call for news is probably 9Gag," said Noel Ferris, a small-business owner. "I realised that the last five or six terror attacks in Europe I've found out about them through 9Gag. Then that's framed by someone making a sick joke about it."
At the Labour manifesto launch in Bradford, an activist called Katy Jones, wearing a giant hat featuring the party's election slogan, agreed: "On the main TV channels I don't think [Corbyn] is fairly represented; I think he's often sidelined. I turn to the internet and Twitter and things like that to get news because it's real and it's coming from the people. I read a lot of stuff on Facebook – a lot of my friends vote Labour or are left-wing generally."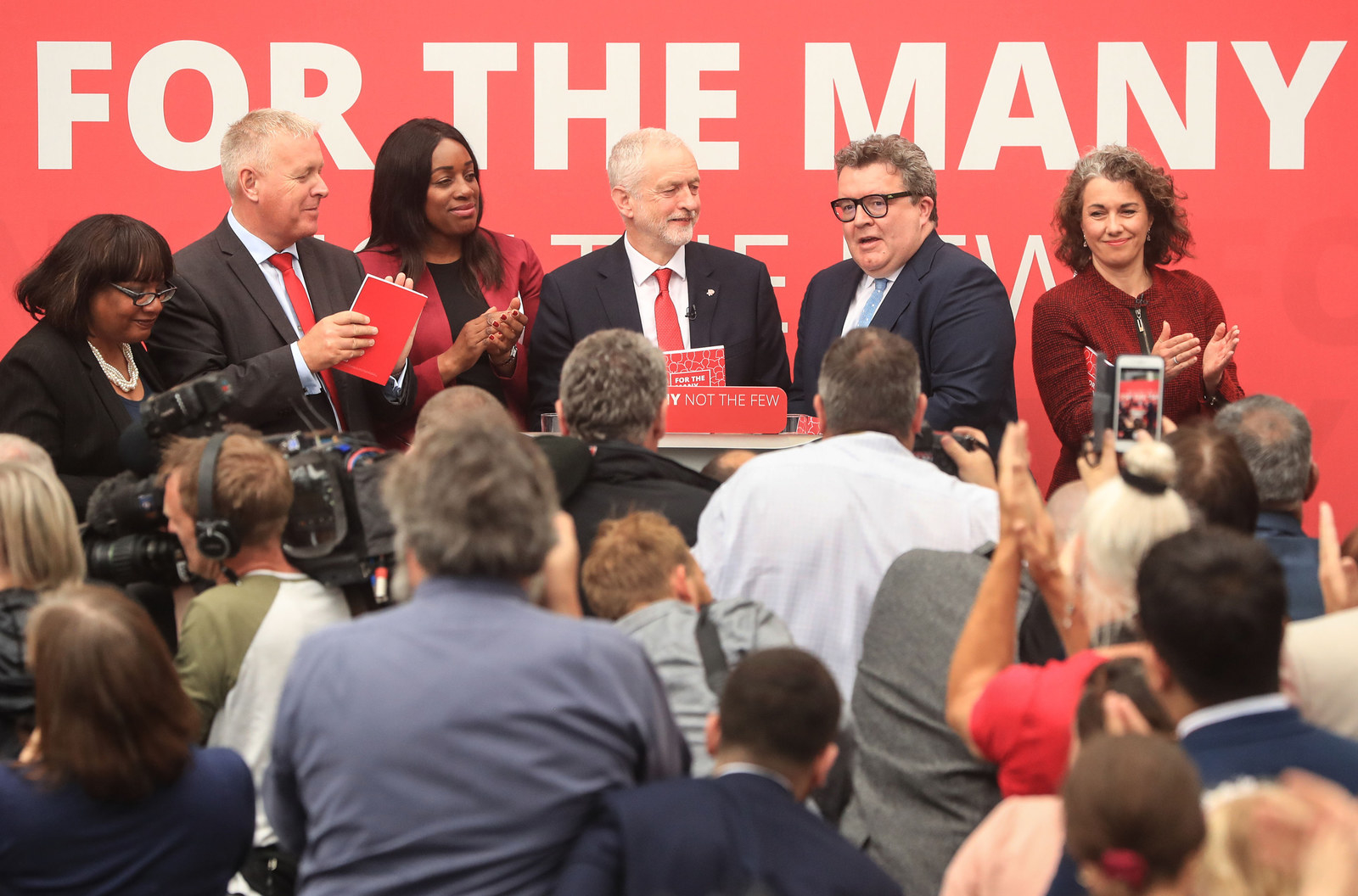 Many of the new sites emphasise that they are only doing what traditional newspapers have done for years. Turner says his site's readers adore the shift from journalism as a craft rooted at some level in objectivity towards an industry that produces partisan takes for mass consumption: "Speaking to readers, they enjoy the fact we are unashamedly campaigners as well as journalists, and don't tiptoe around the sensitive issues that they're passionate about."

Privately, several journalists on right-leaning tabloids told BuzzFeed News they were furious with May's performance, given the strength of their backing. One said that, contrary to received wisdom among left-wing opponents, readers of right-wing newspapers often respond badly to outright partisanship in these titles.
In public the papers remain defiant and keen to defend their reputation as the arbiters of the national conversation, still selling millions of copies a day.
"Some are trying to write off the influence of the popular press on the basis that Labour polled above Hades-low expectations," said Dylan Sharpe, leader writer and head of PR at The Sun. "The facts remain that The Sun sells 1.6 million copies a day, with millions more seeing a copy. The Sun online gets almost 5 million daily readers, with millions more seeing our stories on Snapchat and Facebook. These stats easily equal or surpass the reach of the supposed viral sites."
Instead, Sharpe said he welcomes the competition from outlets of all political leanings.
"Plenty of people come to The Sun as a trusted place for political coverage and will continue to do so. Having strong opinions on all issues and parties is one reason why Britain has such a thriving and world-renowned media, it's not something we are ashamed of."

The left-wing viral sites are also perfectly geared towards rapid rebuttal: When May attempted to restart the election campaign following the Manchester attacks with criticism of Corbyn's record on security, they were able to swiftly push out lines linking the events to police cuts she imposed as home secretary.
Many articles also pointed to the May government's continued sale of arms to Saudi Arabia and the UK's alliance with the Middle Eastern state, with several left-wing sites running stories on Saudi funding of radical British mosques – a story that had previously mainly been pushed by right-wing UKIP-supporting outlets. It is unlikely that mainstream outlets would have emphasised that connection, but it was soon a major topic of discussion on Facebook, aided by the comparison with Corbyn's non-interventionist foreign policy.
Crucially the lines between what is political reporting, what is political comment, and what is simply partisan internet ephemera seem to be blurring – to little concern from an audience who don't distinguish between spoof videos, traditional analysis pieces, and celebrity endorsements.

The splintering of the news agenda and the overwhelming dominance of left-wing outlets on Facebook have created a strange paradox for the Conservatives. The party, which enjoys the support of the majority of print newspapers, has benefited from the ability to shape the media agenda through friendly editors.

Online, however, there is almost no one speaking for the Tories with any success. Despite the party's older demographics, millions of its supporters are on Facebook. But those supporters seem reluctant to share articles about their party in the same way their Labour counterparts do. And when the growth of social media means news distribution will increasingly be done by users sharing articles, that's a serious problem.
It's enough to worry some Tory MPs, who fear they are losing access to their core audience. "My wife won't post political things online and I know lots of other people, particularly women, who are very uncomfortable showing Tory support online," said Conservative MP James Cleverly, speaking on the eve of the election.
"The hard left now dominate the comments online – not necessarily the content, but the comments. On Facebook, for example, I get a huge number of shares and likes but very few supportive comments. Lots of people have watched the video critical of Corbyn's soft-on-terror quotes, but the comments about it just scream 'Tory lies'."
Analysis by BuzzFeed News has found that right-wingers were markedly less likely to share political content during this election and even when they did it was usually attacks on Labour rather than positive news stories about the Conservative party or whatever the government is doing. It was often the case during this election that more people on Facebook encountered the Daily Mail and The Sun's political coverage in the form of media criticism by a left-wing viral site than read the original coverage, leading the editors of some left-wing sites to suggest the papers' slavish pro-Conservative coverage could actually be doing more damage to the Tories than good.
Cleverly, speaking before the vote, said this could be a structural problem for the party, forcing its many supporters into social media silence – which could explain the Conservatives' growing reliance on paid-for Facebook advertising. "It forces 'quiet Tories' to be even quieter," he said.
Former Tory cabinet minister Nicky Morgan told BuzzFeed News she had noticed online stories being raised on the doorstep while out campaigning: "There was a lot of stuff going around about NHS privatisation, but that was something going around and people picking up a lot of misinformation videos."
She also suggested that Tory supporters' reluctance to publicly state their allegiance online and share positive articles was in line with how the party's voters always acted.
"That's typical. It's always Labour or Lib Dems who put posters up, not the Conservatives. That's just symptomatic."
One individual near the top of the Conservative campaign told BuzzFeed News that their targeted attack advertising worked well online, but poor understanding of voting intention and a weak campaign meant "we were pointed in the totally wrong direction, saying the wrong stuff".
The source also agreed that a complete absence of pro-Tory new media could be a long-term structural problem for the party. "18-24-year-olds don't care what's on the front page of The Sun," they said.

Perversely, one thing many left-wing viral sites now want is mainstream recognition, as broadcasters come to terms with the Corbyn surge and the dearth of pundits who support him on political programmes. During the campaign only a handful of talking heads – including Novara Media's Aaron Bastani, former Corbyn spinner Matt Zarb-Cousin, and journalist Rachel Shabi – regularly toured TV studios to make the case in support of the party leader. Now Corbyn's won 40% of the vote, there's a rush to refresh the lineup of those who make a living opining on political punditry shows. Kerry-Anne Mendoza, the editor of The Canary, appeared on both BBC Radio 4's Today programme and BBC Two's Newsnight following the vote.

During the election, the Today programme, for one day only, experimented with including a "What the websites say" segment alongside its regular paper review, featuring stories from sites such as BuzzFeed News and Guido Fawkes. Clark of Another Angry Voice said he wanted broadcasters to go further and include articles from sites such as his on the newspaper reviews as standard, arguing that unless mainstream broadcasters incorporate articles from this new parallel political news agenda they could find themselves made irrelevant: "You need to speak to Andrew Marr – you can be the first to bring in the review of what's viral on social media. He can be the first mainstream media outlet to realise the importance of social media."
Rob Burley, the editor of The Andrew Marr Show, told BuzzFeed News that he was open to the idea but had to balance the demands of a loud but minority online audience with serving the large number of people who still watch on TV and pay little attention to social media.
He said: "We have responded to changing media by including online content using tablets and bringing on journalists from the online world…. As for going further and bringing Twitter content on to the show via 'what's trending', I'm not sure A) that works very well on television, B) does much for viewers – if they are already on Twitter they can see what's trending and if they aren't Twitter users they probably don't care, and C) we are usually trending number one, so we don't want to be too self-referential.

"We are in the business of hearing from online journalists and integrating that content but also focus on the millions who are actually watching us on their televisions."
Even Labour has yet to work out how to engage with the sites. As recently as last summer a Corbyn aide furiously complained to the BBC after it put a representative from The Canary on a political discussion panel during the party's leadership campaign rather than a reporter from what the aide believed was a more credible outlet.
During this election, despite their enormous audience, there was very little direct briefing of such outlets by Labour politicians or Corbyn's team. Shadow cabinet minister Barry Gardiner – who adopted much of the anti-media language of the left during the campaign, criticising outlets as "fake news" – broke the mould by giving an interview to Skwawkbox (sample comment: "Barry, you've been as brilliant and passionate as we expected. Thanks again for making so much time for this interview") and for his troubles was mocked for endorsing the site.
Jones, May's former communications chief, said civil servants and ministers had yet to wake up to the idea of monitoring what is going massively viral in the new parallel political narrative and instead continue to simply worry about what's on the front page of newspapers and leading BBC bulletins: "[The civil servant] view of going viral online is lobby journalists tweeting. Whether it's going viral online among people who are on the left is not on their radar."
---
While politicians continue to fret over the opinions of Murdoch, it's possible they should be much more concerned about how Facebook's algorithm works, especially when a pro-Corbyn post by Ricky Gervais can become one of the most viewed pieces of election content, reaching more people in a day than bought any national UK newspaper.

Stories bubble up from sites with limited pedigree, confusing and angering followers who can't understand why an issue that is dominating their Facebook feeds is not on TV. Accusations of bias are so commonplace as to be part of everyday life for mainstream political journalists. And politicians attacking media bias has become one of the surefire ways to play to a support base while also providing a route to escape awkward questions.

Craig Oliver, who until last year was Downing Street's director of communications under David Cameron, told BuzzFeed News that a major media transition is underway and the Conservatives don't understand how to adapt their message.
"A lot of traditional journalism is in transmission-only mode," he said. "You need to find ways to listen and engage. We were in the foothills of that approach and were pushing in that direction but there's a lot of evidence that the Conservatives have gone backwards from that. Theresa May's Twitter feed is following zero people – that's the first thing you see when you follow her online, that she didn't get this. You're supposed to be engaging, part of the conversation, not just a one-way street."
He is convinced that there is a chronic lack of understanding of the scale of the problem in the Conservative party: "I do think there's a narrowing window of opportunity if you remain stuck on just trying to transmit through traditional forms of media. It's not either/or, it's both/and. You need to be able to reach beyond that. They're not doing enough of it which feels convincing. Corbyn managed to find a load of cheerleaders who were willing to spontaneously push it. It's not relying on a political party to generate material, it's having people who are self-generating material."
As for the Labour-supporting viral sites, they believe the only way is up.
"Analysis of our viral qualities on social media indicated that sites like ours have had a significant impact on this election, although the battle for hearts and minds has really only just begun," said Turner of Evolve Politics. "We're the vanguard of something new and people are starting to take notice."
To his mind the direction of travel for political journalism is set and the crossover between activism and reporting is only going to increase: "People want writing and content that lights a fire in their belly and gets them riled up."
Additional reporting by Tom Phillips.