David Miliband told Hillary Clinton that the most devastating part of his 2010 Labour leadership defeat was losing to his brother.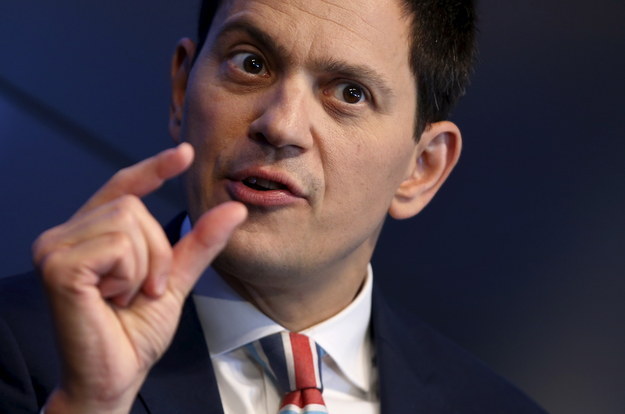 In one email Miliband thanks Clinton for a message of encouragement sent on the day of the leadership result and explained how "losing was tough", especially since he was beaten by his brother Ed.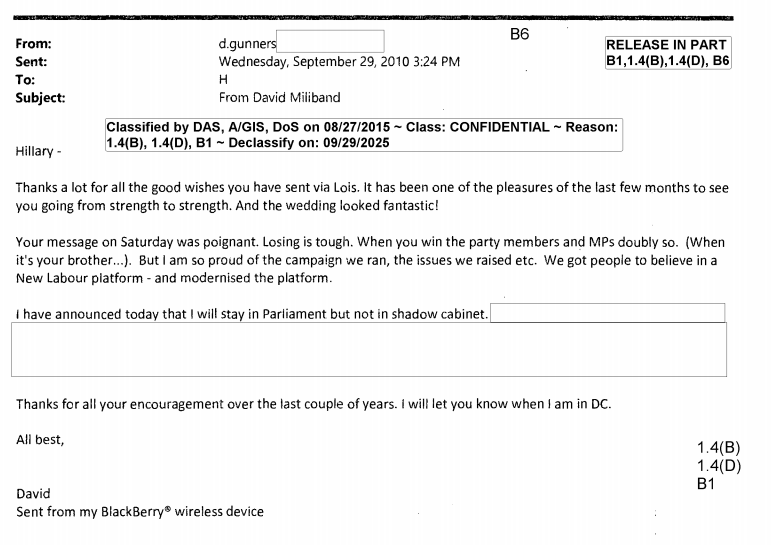 Hillary -

Thanks a lot for all the good wishes you have sent via Lois. It has been one of the pleasures of the last few months to see you going from strength to strength. And the wedding looked fantastic!

Your message on Saturday was poignant. Losing is tough. When you win the party members and MPs doubly so. (When it's your brother...). But I am so proud of the campaign we ran, the issues we raised etc. We got people to believe in a
New Labour platform – and modernised the platform.

I have announced today that I will stay in Parliament but not in shadow cabinet.
The email was sent from Miliband's personal email address – which begins with "d.gunners@..." in an apparent nod to his support of Arsenal football club.
Huma Abedin, one of Clinton's closest aides, had already forwarded the news that Ed Miliband had beaten David to become Labour leader.

The batch of previously private emails also includes discussions between Tony Blair and Clinton. Blair sent his emails from an address beginning with "aclb@..." – a reference to his full name of Anthony Charles Lynton Blair.

Meanwhile, emails from Cherie Blair show her claiming "good links to the Qataris" and lobbying for a meeting between Clinton and members of the country's royal family.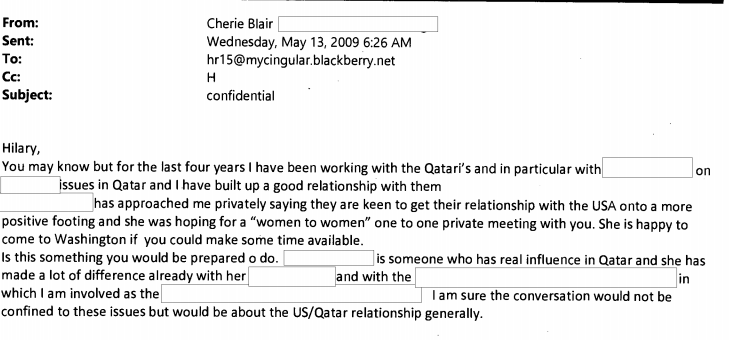 Hilary,
You may know but for the last four years I have been working with the Qatari's and in particular with [redacted] on [redacted] issues in Qatar and I have built up a good relationship with them. [Redacted] has approached me privately saying they are keen to get their relationship with the USA onto a more positive footing and she was hoping for a "women to women" one to one private meeting with you. She is happy to come to Washington if you could make some time available.

Is this something you would be prepared o do. [Redacted] is someone who has real influence in Qatar and she has made a lot of difference already with her [redacted] and with the [redacted] which I am involved as the [redacted]. I am sure the conversation would not be confined to these issues but would be about the US/Qatar relationship generally.
The emails suggest Clinton took a close interest in British politics, receiving updates directly from politicians and relying on longtime associate Sidney Blumenthal to keep her up to date on British debates.
She told Blumenthal she shared some of his analysis with her husband Bill, who "thought they were 'brilliant'!" and urged Blumenthal to "Keep 'em coming when you can".
In one email Blumenthal compared the 2009 internal Labour plotting to remove Gordon Brown as prime minister to the Tudors.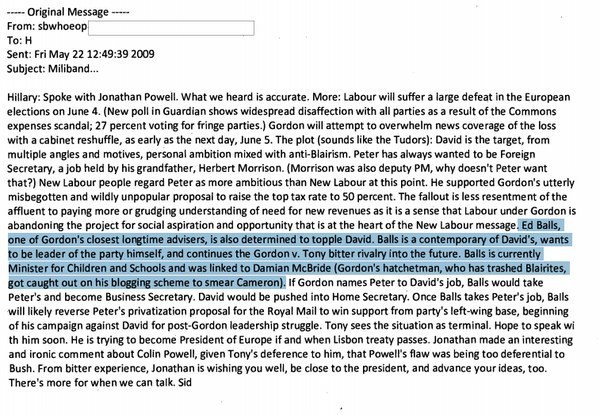 The plot (sounds like the Tudors): David is the target, from multiple angles and motives, personal ambition mixed with anti-Blairism. Peter has always wanted to be Foreign Secretary, a job held by his grandfather, Herbert Morrison. (Morrison was also deputy PM, why doesn't Peter want that?) New Labour people regard Peter as more ambitious than New Labour at this point. He supported Gordon's utterly misbegotten and wildly unpopular proposal to raise the top tax rate to 50 percent. The fallout is less resentment of the affluent to paying more or grudging understanding of need for new revenues as it is a sense that Labour under Gordon is abandoning the project for social aspiration and opportunity that is at the heart of the New Labour message.
Blumenthal also described the key characters in the Tory-Lib Dem coalition government. He told Clinton that Nick Clegg had an "inbred arrogance".