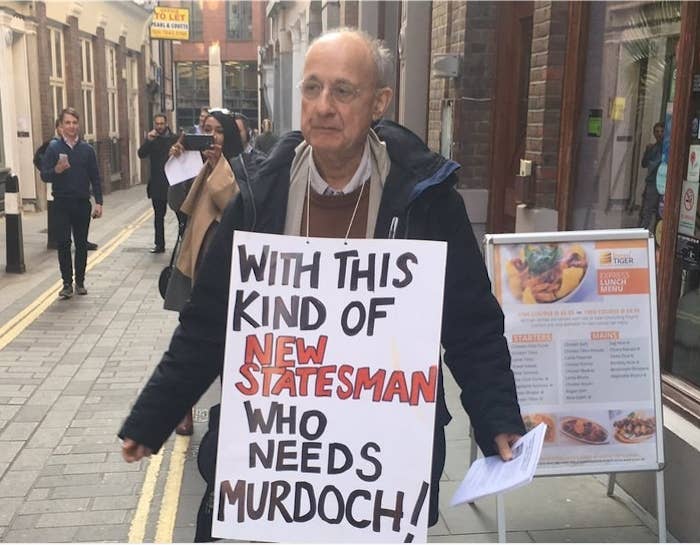 A group of Jeremy Corbyn supporters gathered outside the offices of the New Statesman on Thursday night to demand the left-wing magazine recants its criticisms of the Labour leader, does more to promote his agenda, and asked to be given 30 pages in the magazine's next issue to make a pro-Corbyn case.
One woman politely attempted to hand deliver a letter cancelling her New Statesman subscription in protest but was blocked from entering the building, accompanied by chants of "What do we want? 30 pages!"
The current issue of the magazine features a cover entitled "Wanted: An opposition" and features multiple articles criticising Corbyn and the current state of the Labour party, which the protestors said filled at least 30 print pages.
Protestors said they targeted the magazine, which sells around 35,000 copies a week, rather than larger circulation newspapers because they felt it should support the Labour leader as it is traditionally a left-leaning publication.
Sam Weinstein, a retired union official, aged 68, told BuzzFeed News the magazine was guilty of "scabbing" on the Labour party by opposing the leader shortly before the local elections. He suggested it was part of a plan to ensure the party performed badly and to make it easier to remove Corbyn.
"We expect it from the Daily Mail – what we don't expect is to be stabbed in the back by people who claim they're supporters of ours," he said. "It's nothing but treachery."
His comments were echoed by pensioner Nina Lopez, 64, who said she was more offended by the New Statesman's anti-Corbyn coverage than by other outlets.

"We are very shocked that the Labour media is doing this," she insisted. "They should be attacking the Tories. Every time there's elections coming up they attack Corbyn. They're treating him like he's completely useless."

Lopez said there was almost no media outlet she could trust to give a fair hearing to the Labour leader.
"There is nobody who is unbiased in relation to Corbyn – Paul Mason has been good. The Guardian has been terrible. The Independent at times has been a bit better. Every interview you watch is absolutely biased. Who needs Murdoch if the New Statesman is going to behave like this? You would expect the Labour media would not trash the elected Labour leader."

Around 20 protestors attended the event, which lasted an hour. It was promoted by local members of the pro-Corbyn organisation Momentum but was not officially organised by the national group.
At one point a small group of New Statesman staff ventured outside to watch the protest, including political editor George Eaton who was chased around by a man with a placard saying "Rent-A-Hack: Apply New Statesman". He declined to give protestors the 30 pages of the magazine they desired or take the microphone and instead stared intently at Twitter on his phone amid a barrage of shouting.
"He's probably trying to do a Donald Trump on us!" shouted one protestor at Eaton.
"That's his inspiration!" shouted another.
"At least Donald Trump was successful!"
"They said he smelled like a dead rat!" shouted another in reference to an article about Jeremy Corbyn.

"People say he can't get elected – he got elected twice and mobilised people."
The protest, which attracted a small crowd of sometimes bemused workers from nearby offices in the City of London, is one of the more visible campaigns against the media by some Corbyn supporters.
"The billionaires are laughing but the rest of us are crying," said Lopez in a final plea to journalists. "We would like to be laughing. We think the policies we put forward are popular. People in the New Statesman are committed to proving Jeremy Corbyn wrong and seeing him defeated. That is not journalism. We are appealing to journalists to inform voters instead of trying to manipulate them."
"I don't see what's very funny about not telling the public about the policies the Labour Party is putting forward. We are here to insist on unbiased journalism."
As the protestors packed up they celebrated the level of coverage on Twitter – and said other left-leaning media outlets who failed to be supportive of Corbyn would also be targeted, potentially starting with the Guardian.

The initial request for pro-Corbyn coverage may have failed. New Statesman deputy editor Helen Lewis said they would struggle to find the room to accommodate the protestors' demand for 30 pages: "The normal flatplan is 64 pages, so it would have a pretty severe effect on the critics section. And there's no way we would drop the crossword, the readers would go mad. Compared with that, being rude about Jeremy Corbyn is really small fry."