Here Are The Questions The Government Needs To Answer About The Grenfell Tower Fire
Why wasn't there a review of fire safety regulations in tower blocks? Why weren't sprinkler systems fitted into blocks? Are other buildings safe?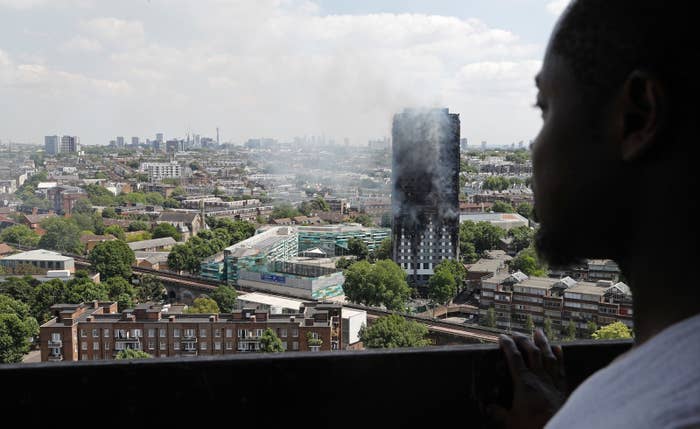 Why have ministers not carried out a promised review of tower block fire regulations?
An investigation into the devastating 2009 fire at Lakanal House in south London, which killed six people, concluded that the government should conduct a review of fire regulations in tower blocks. However, this has yet to take place, despite the coroner making the recommendation four years ago.
"Our group recommended that due to the speed that the fire spread in Lakanal House, that building regulations should be reviewed," Ronnie King, the honorary secretary of the all-party parliamentary fire safety and rescue group, told LBC on Wednesday morning. "It's nearly 11 years since it has been reviewed."
He added: "Successive ministers since 2013 have said they are still looking at it."
One of those housing ministers was Gavin Barwell, who promised that the government still intended to review part B of the housing rules – which deals with fire safety – but did not give a firm date.
"We have not set out any formal plans to review the building regulations as a whole, but we have publicly committed ourselves to reviewing part B following the Lakanal House fire," he told the House of Commons in October 2016.
A similar position was reiterated to the Fire Risk Management journal in March 2017, when a government spokesperson promised the review would take place "in due course". Shortly afterwards the general election was called.
Barwell lost his seat, Croydon Central, in that election. However, he has now been appointed as prime minister Theresa May's new chief of staff, putting him at the heart of the government's response to the tragic fire – and raising questions as to why he didn't push ahead with the review.
Why aren't sprinklers being installed as standard in tower blocks?
One of the recommendations made by the Lakanal House coroner was that sprinklers should be retrofitted in thousands of British tower blocks in order to combat the spread of fire.
Conservative MP David Amess used a parliamentary debate in 2014 to call for this recommendation to be implemented: "Sprinklers are required in new tower blocks of more than 30 metres; in Scotland, it is blocks of more than 18 metres. In England, 4,000 existing tower blocks are not sprinkler protected.
"Following the fire tragedies at Lakanal House in Southwark and Shirley Towers in Southampton, the coroners issued rule 43 letters asking the government to encourage the installation of retrofitted sprinklers in tower blocks. Blocks with complicated designs, or problems such as those in the town centre of Southend, could well benefit from them."
However, the government pushed back against this suggestion.
"We believe that it is the responsibility of the fire industry, rather than the government, to market fire sprinkler systems effectively and to encourage their wider installation," former housing minister Brandon Lewis said in response.

Should officials change the advice given to residents on whether to stay put or run in case of a fire?
Following the Lakanal House fire, the coroner asked the government for guidance on whether it was correct to recommend residents stay in their flats if a fire breaks out elsewhere in the block. Advice given to the residents in Grenfell Tower appears to have been that they should stay in their homes and wait to be rescued because the building's structure should ensure the fire is compartmentalised.
Many of those who escaped the fire ignored this advice and simply ran down the stairs and out of the building, leaving others who followed the advice trapped.
This is now likely to be reviewed once more.
Could this fire result in changes to other high-rise blocks?
Mayor of London Sadiq Khan has insisted the emergency services are still focused on putting out the fire and rescuing as many people as possible from the tower block rather than worrying about the investigation.
However, earlier in the day he told BBC Radio 4's Today programme that he had wider concerns about the state of the capital's housing.
"Across London we have many, many tower blocks and we can't have a situation where people's safety is put at risk because of bad advice being given or, if it is the case as has been alleged, of tower blocks not being properly serviced and maintained," he said.