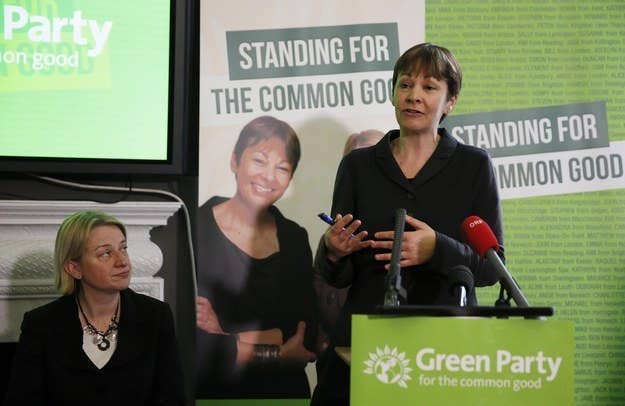 The Green party launched their general election campaign on Tuesday morning. The only problem was, they still wouldn't talk about election commitments, and their party leader gave the impression she wasn't exactly in control of her party.
Things didn't get off to the best start when Jenny Jones, the Greens' only member of the House of Lords, started proceedings by telling reporters there would be no discussion of detailed policies: "You can ask as many questions as you like about our manifesto but we won't be answering them."
Most reporters were there to ask questions about the party's manifesto.
Instead, the launch, held at the RSA in central London, was a strange event which showed the Greens making the difficult transition into a major party with the backing of up to 10% of the country. It mixed serious pitches to the TV news cameras with the feel of a residents' association meeting.
To make matters worse, party leader Natalie Bennett had just endured a disaster of an interview with LBC where she appeared to not know how her party would fund its commitment to build 500,000 new social rented homes.
The most bizarre moment came when Sky News reporter Joey Jones asked Bennett whether she had let her party down with weak media performances.
"She's not going to answer that," shouted Jenny Jones, jumping to her feet to protect her party leader.
"Yes I will!" Bennett shouted back.
"No! No! No! No! No! No!" Jones cried.
Eventually, a clearly mortified Bennett stood up and admitted that, yes, that morning's interview had been excruciating, but she is sticking in the hours talking to ordinary Green party members and that's what really matters.
She had the demeanour of someone whose mum had just embarrassed her in front of the whole school.
Everyone taking part in the event repeatedly insisted that this was "not a manifesto launch, this is a campaign launch", which meant the party could talk about directions of travel – free tuition fees, a 10% cut in railway fares, an end to NHS privatisation – but not the details or the costs. This, reporters were repeatedly told, was because the Greens are still working on their manifesto, which will be released by the end of March.
The most important announcement was that the Greens would now stand in 90% of constituencies across England and Wales, giving a record number of people the chance to vote for the party.
But Bennett, suffering a heavy cold, wasn't really in charge of the event and appeared shaken after her car-crash interview.
The Greens have an egalitarian structure but sometimes appeared a little too equal for the party leader on a panel that included assembly member Jones, former leader Caroline Lucas MP, and Bristol parliamentary candidate Darren Hall.
This – combined with the fact that every photo backdrop featured Lucas – gave the impression that Bennett wasn't really in charge. For example, when a reporter asked about doing a deal to prop up a minority Labour government, it was Lucas who jumped up to answer the question.
After the Greens' only MP had had her turn, the party leader stood up and began speaking, "...just to follow on from what Caroline said".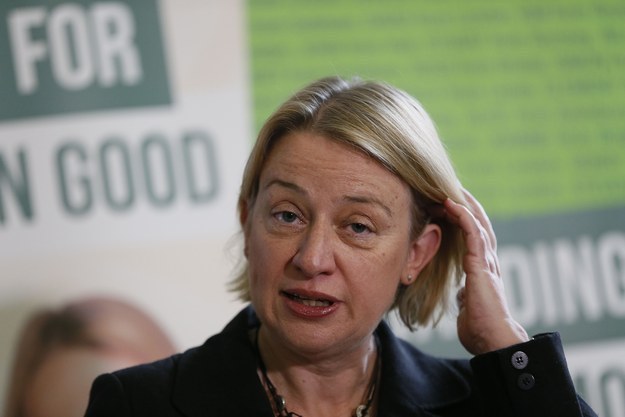 Keen to bring an end to proceedings, Jones asked for one final question to be directed at Hall, who had come all the way up from Bristol but had yet to be asked anything.
Journalist Adam Bienkov of politics.co.uk asked how they were going to pay for their policies.
"I wish I hadn't picked you, Adam," Jones shot back. "Thank you for asking that fascinating question."
Afterwards, Lucas, the party's most accomplished media performer, told BuzzFeed News that the party is having to comes to terms with an extra level of scrutiny: "What's happened is the scrutiny has started before our manifesto has been published. People have been going to back a document on our website which is a compendium of all the policies we've produced democratically over 30 years. That's not the same thing as our general election manifesto. That's what caught us slightly."
What about Bennett's performance?
"Everybody can have a bad moment. We need to be a bit more human."
And could you price up the party's housing policy?
"That's exactly the sort of question we'll be able to answer when the manifesto is priced up and those figures are there."
It might not affect them in the polls, but the Greens – and especially Natalie Bennett – are going to have to get used to this level of scrutiny.