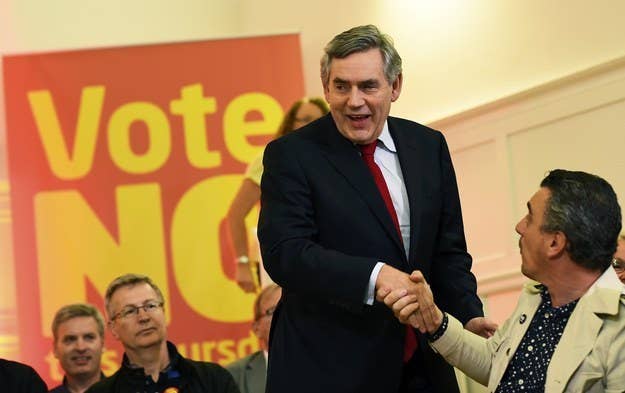 CLYDEBANK – Gordon Brown today told jokes and showed passion as he attacked the SNP over the NHS in an old town hall on the outskirts of Glasgow.
Sure, he stumbled over the punchlines, which included a reference to a Dad's Army defence policy that was presumably aimed at older Labour voters. And he looked deathly bored when talking to the media afterwards.
But he was in his element when talking to a hall of party supporters about old Scottish football results, his national pride, and how he wanted Labour to save the country from Alex Salmond.
Yes Scotland has surged in the polls on the back of fears the country's health service is at risk unless voters back independence. Brown wasn't having that.
"The biggest threat to the NHS in Scotland is the SNP," the former prime minister boomed, in a nod to a well-timed leaked document released this morning. "They are going to let £450 million of cuts take place.
"They are not powerless to take action. We are prepared to take power and we are prepared to protect the NHS in Scotland."
This was not the standard Better Together cross-party anti-independence speech. It was an unashamedly party-political attack on the SNP, with the message: Save the union, then return Labour to power, and we'll sort out the rest.
A woman in the audience was close to tears.
Brown listed things he was proud of: the NHS, Scotland, and the country's "friends and neighbours" in the rest of the UK.
Meanwhile, Alex Salmond has only the "president of North Korea and Rupert Murdoch" on his side, and the SNP's economic plans mean "inequality will last until doomsday".
"We the Labour party will [save the NHS] if they will not do so," shouted Brown, before heading off.
One member of the audience gushed down the phone to her friend as she left the auditorium: "I've just heard the most truly inspirational speech by Gordon Brown." It's quite a campaign.