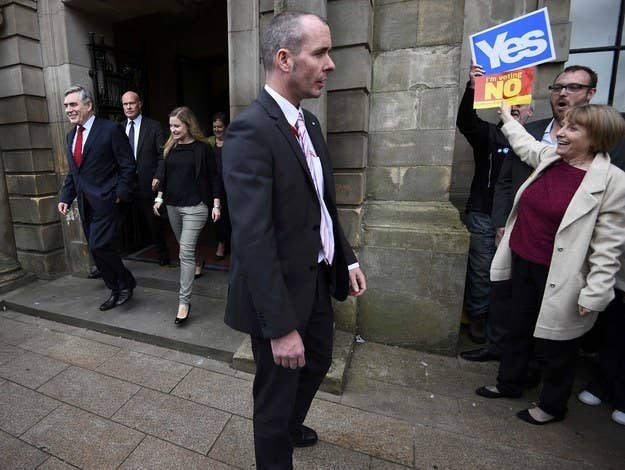 CLYDEBANK – Pro-independence supporters waving Yes Scotland signs shouted "traitor" at Gordon Brown on Thursday before declaring that the former prime minister would not to be welcome in an independent Scotland.
"How he can he turn around and say the union is better when he knows otherwise?" said pro-independence supporter Glen Brookes outside a town hall where Brown had just given a speech in the former shipbuilding town of Clydebank, on the outskirts of Glasgow.
"He's a traitor to Scotland. There'll be no place for him after Thursday. He can go back to England with his car and his money and his second house. Go back and claim £300 a day just for turning up at Westminster."
Four police officers were on hand to keep a small group of loud but peaceful pro-independence supporters away from Brown, who had just addressed Labour supporters emphasising his love of Scotland. The politician was taken straight out of the venue and into a waiting Range Rover.
Scott McLoughlin, a pro-independence supporter and Labour voter, also turned up to protest against Brown. Despite the invite-only guest list for the event, he learned about it from pro-independence friends on Facebook. Social media are making it much easier for pro-independence supporters to quickly learn of and attend Better Together events.
McLoughlin said he had no wish to see Gordon Brown in Scotland again: "He's a traitor to this country, joining in with the Tories. When has Labour ever done that?
"This is a vote for our country, it's not an SNP vote. It's a vote for Scotland. Everybody will vote Yes and we won't have to deal with these people any more."
https://vine.co/v/OWBQErtKnFZ