There are more pleasant things to do than sit next to George Osborne 30,000 feet above the Baltic sea, surrounded by his team, and try to explain to him why so many people really seem to dislike him. The chancellor is midway through a day-long madcap dash across Scandinavia that takes in visits to Finland, Sweden, and Denmark and I've tagged along for the ride. The purpose of the trip is to sell his plans for reform of the EU to potential European allies; it's also a chance to sell George Osborne.

At the moment, if you publish a piece on the chancellor, the comment box fills up within minutes with the same phrases: "in it for his mates", "doesn't care about the poor", "evil". His name elicits stronger reactions from opponents than almost any Conservative cabinet minister aside from Iain Duncan Smith, and even Tory supporters often seem to give the impression they respect – rather than immediately warm to – the man who is effectively the government's second-in-command.
Surely he takes that to heart? "It'd be sad if everyone had the same view in the country," Osborne insists blandly. "I know that it's not all well out there. Lots of people have suffered a lot because of that big recession." OK then, what about being booed by thousands of people at the 2012 Olympics? This time there's a hint of emotion: "It's not easy – you're only human. But I do understand."
I have another go. This time there's a slight smile: "What politicians find hardest is when people are totally apathetic. The worst thing for a politician is a complete lack of interest.
"I'd much rather be worth an opinion, and a strong one, rather than no opinion at all."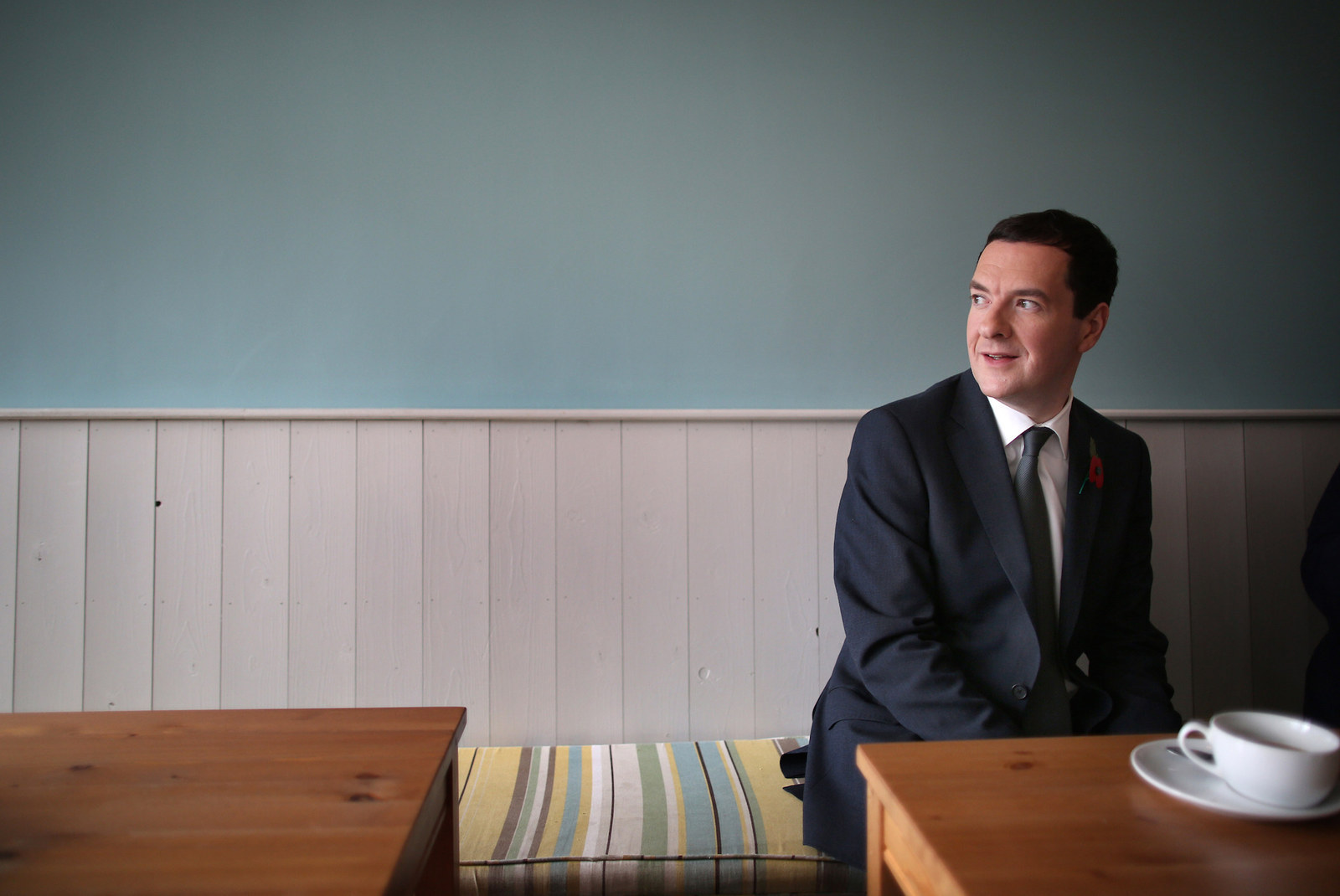 This is George Osborne in 2015: the political man behind the Cameron project who wants Britain to be a low-tax, low-welfare country, the man who used to be happy in the background but is now intent on building a frontline media presence, and the man tasked with renegotiating Britain's relationship with the EU.
The chancellor is attempting to secure some concessions from other nations to ensure he has some red meat to offer to the British public when the referendum on EU membership takes place before the end of 2017. Finance ministers aren't really supposed to be into jet-set diplomacy but it's also make-or-break time for George Osborne, the favourite to be the next prime minister, assuming David Cameron keeps to his word and steps down towards the end of this parliament.
The first thing that strikes me about Osborne is that for all his austere reputation, he's not really that overbearing. He's relatively quiet, rarely deviating from the official lines when he's in interview mode, but a little more relaxed when he's with his entourage. His demeanour, interactions, and answers to questions are methodical and logical. He's confident in his own ability but fairly functional. Often there's the sense that he is convinced his solution to a political problem is so obviously the correct answer that it's just a matter of time before everyone else in politics catches up.
"Some people say we're all declining and there's nothing we can do," he says at one point during the day, by way of explaining what counts as his philosophy for Britain. "I don't see why we can't be number one. All the things like keeping taxes low and welfare low flows from that."
In Helsinki he delivers an off-the-cuff speech over breakfast to a room of Finnish diplomats who have flown in from around the world. He butters them up with praise of their country and references to Millwall FC's attitude of not caring whether anyone likes them, then delivers the same lines that anyone who follows UK politics will have heard a hundred times before: Britain needs to deal with the "vexed issue of migration" and stop letting new arrivals immediately claim benefits; Britain wants the EU to be about trade, not closer union; Britain needs a new deal or he won't be able to present a pro-Europe case to the public. The audience laps it up. The chancellor suggests the new Finnish prime minister uses the "political honeymoon" of a newly elected government to change policy fast and then says they need to offer concessions if they want Britain to remain in Europe: "You should not assume that all rational, sensible opinion is in favour of staying in the EU."
He has genuine political acolytes here. Afterwards we make a typically glamorous politicians' visit to a factory making dental scanners. (Next time you're at the dentist there's a small chance the machine was part assembled by Osborne, who nervously screwed components together while holding a rictus grin for the cameras.) Finnish finance minister Alex Stubb, who seems to be one of the most self-confident individuals ever to have walked the earth, is a big fan of the British politician. The previous day he'd taken Osborne fishing in an attempt to boost the bond between the two men. Stubb is impressed with Osbornomics and is preparing to apply the same principles in his homeland: "There are two things the UK did right five years ago: to go for tough austerity measures and to frontload them."
Does he get on with Osborne? "I can hack these Oxford boys on occasions."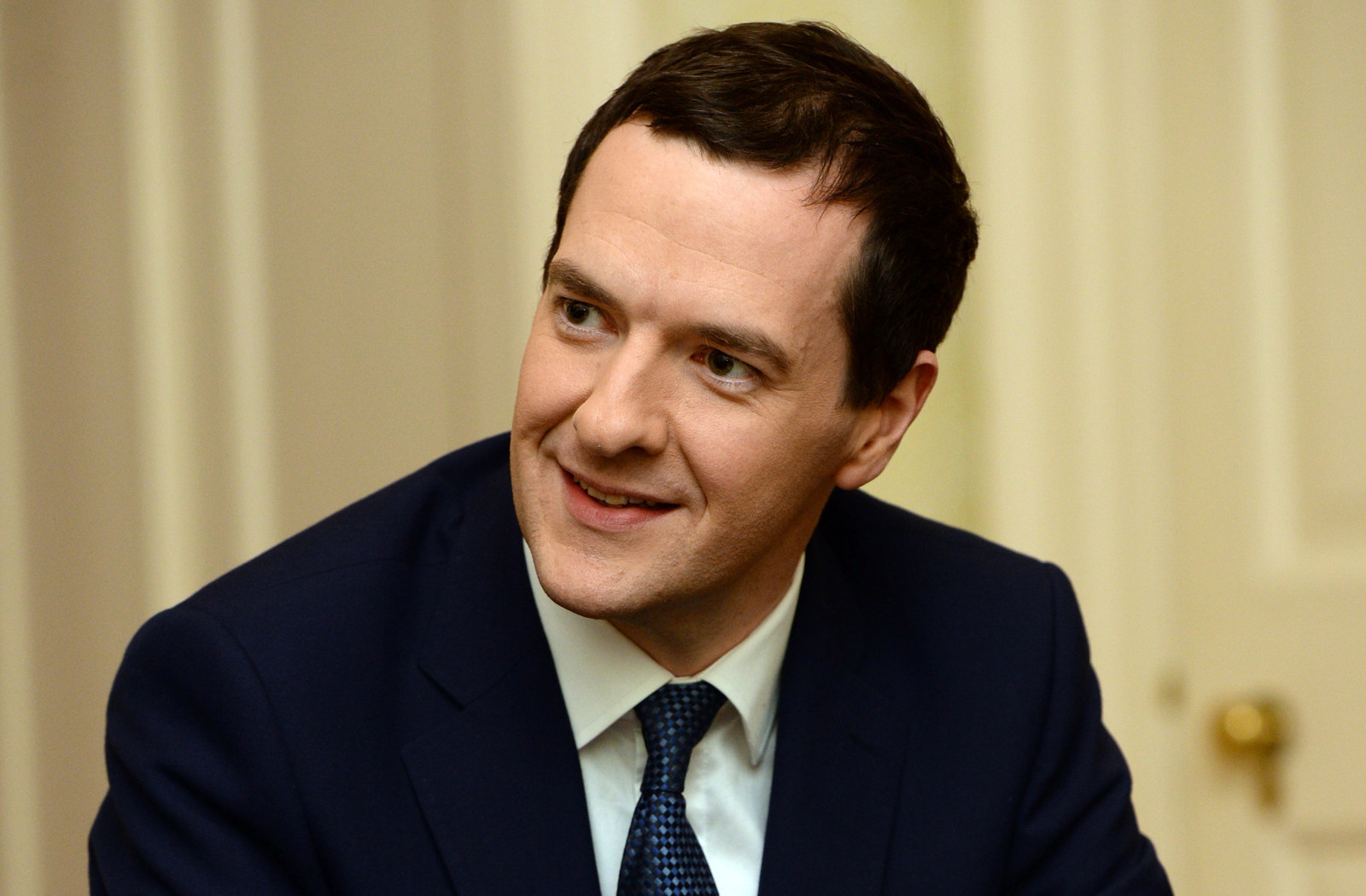 On the plane to Stockholm a wodge of briefing papers sits nearby, ready for meetings with the new Swedish prime minister. Osborne is undoubtedly delighted with how the Labour leadership contest has panned out, though he goes out of his way to avoid mentioning Jeremy Corbyn by name, presumably for fear that any glee on his part could stop the likely Labour leader from winning. "The risk for the Conservative party is to then be complacent about it," he says. "Whoever emerges from the Labour leadership contest is going to want to be prime minister. We're going to have to take their views seriously. I don't think of them as a joke; I take them very seriously."

Still, he hasn't failed to intervene in the race. It was his tactical decision to force a House of Commons vote on welfare cuts – on which interim Labour leader Harriet Harman chose to abstain rather than oppose – which severely damaged Andy Burnham's leadership bid and gave a massive boost to Corbyn.
Later, while out and about, he's clearly still thinking about the state of Labour infighting. "Amazing how you can undo 20 years of work…" he muses.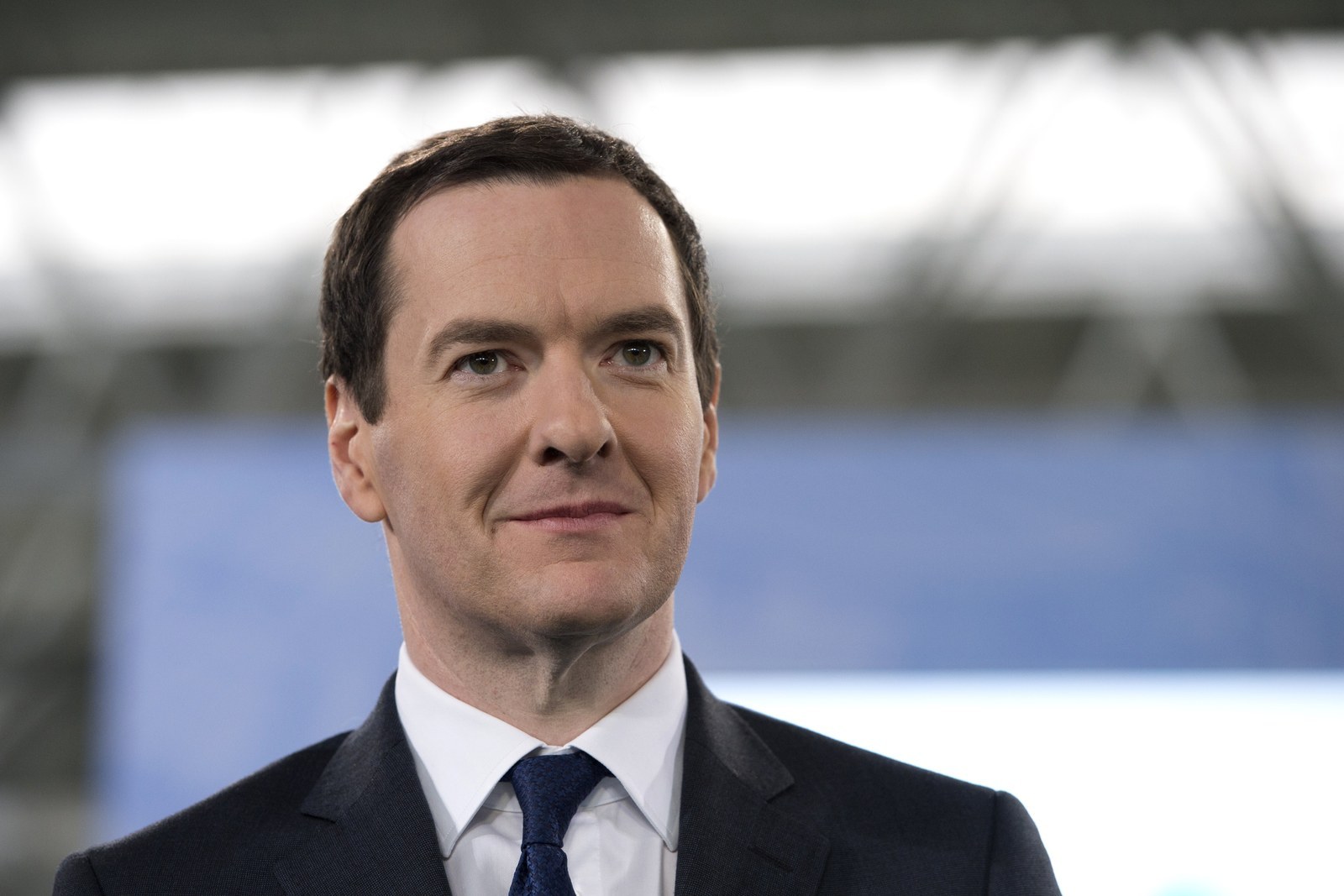 Osborne didn't necessarily expect to be here right now. He had a key role in the Conservative election campaign and wasn't at all certain his party would beat Ed Miliband, let alone gain a majority. If David Cameron had lost then it would almost certainly have prompted a Tory leadership election in which the chancellor would probably have stood. Even if the Lib Dems had fallen short of then forming another coalition with the Conservatives, they could have killed off the Tory promise of an EU referendum and these European flying visits.
"I started off the year quite optimistic," Osborne explains. "I thought we'd done enough and David Cameron was clearly a better prime minister than Ed Miliband. But I have to say I was looking at these opinion polls and they weren't changing. Although they didn't match with what I was hearing, to be honest I didn't think the opinion polls were wrong; I thought I wasn't getting a very accurate picture.
"Even on the day of the election I thought we were probably going to somehow get through and David Cameron would remain prime minister, but I didn't think we'd get an overall majority. Even the exit poll didn't show it. Like everyone else it was only in the early hours of the morning when we started winning those seats."
How was it when he realised that the party was going to win a majority? A big smile spreads across his face. "It was pretty good. One of the better nights of my life."
Is life easier without the Lib Dems? "Yeah."
Does he miss any of them? "The result on the election night I personally felt most sorry about was Danny Alexander. We'd worked really closely together, he's a really decent guy, and I looked at that result in Inverness and thought, Really, is that result going to be good for the people of Inverness?
"But what are the Lib Dems for? They're lurching to the left at the very point the Labour party's lurching to the left."
Later, I suggest Nick Clegg sometimes gave the impression that, unlike Osborne, he was only ever going to be in politics for a short period of time.
"And how right he was," Osborne shoots back.
This is the case the chancellor's critics make about him: he's the arch politician, working his way to power by any route through tactical cunning. How does he feel when he reads about the person who has been destroyed by welfare cuts imposed by his government – even if you think 100,000 people are helped, what about the one who suffers? "If I ever read about something which I feel has gone badly wrong, I want to chase it up and find why the system isn't working for that person. You've got to accept in this job you're not going to please everyone. The trick is you do this job and try to please everyone and please no one."
What about the student graduating from university with £50,000 of debt only to go into a series of unpaid internships? Why not just cut fees? "I completely reject the idea you'd help young people by starving the universities of money and creating a load of rules and regulations," he says.
The same indebted student probably thinks they have little chance of buying a place to live. Why not just build more houses? Policies so far have been criticised for just pumping up the cost of housing, rather than increasing supply. Here there's a case for Osborne, both moral and political, though he doesn't want to touch the green belt on the edge of town: "I want Generation Rent to move on and buy their own home. The decline in home ownership is a real tragedy... The Conservative party is at its strongest when we're building."
Osborne's clearly delighted with his unashamed lifting of Labour's proposed strategy of devolving powers to major cities such as Manchester. Under Ed Miliband the party procrastinated so long over adopting the plan that Osborne simply read up on it and decided it was a good idea on its own terms. "I don't think the Conservative party has a monopoly on wisdom in the British political system," the chancellor says, insisting he's permanently on the lookout for new policies to pursue, whether they're from "a Labour MP or whatever". And he's equally pleased with his decision to get ahead of Labour by cutting tax credits and introducing a minimum wage rebranded as the "living wage", another policy Miliband refused to pursue: "The thing about Labour is they never actually proposed the living wage – that was the irony of it all!"
What about immigration? He seems like the sort of person, a numbersmith who believes in rational decision-making, who can see the economic case for an influx of young workers. "You can ignore perfectly legitimate public concerns about this and sit in your ivory tower of the metropolitan elite who think all immigration is fine and the scenes on the TV in Calais are a price worth paying and by the way let's just have any number of people come here. If you do those things you'll lose all support for any migration."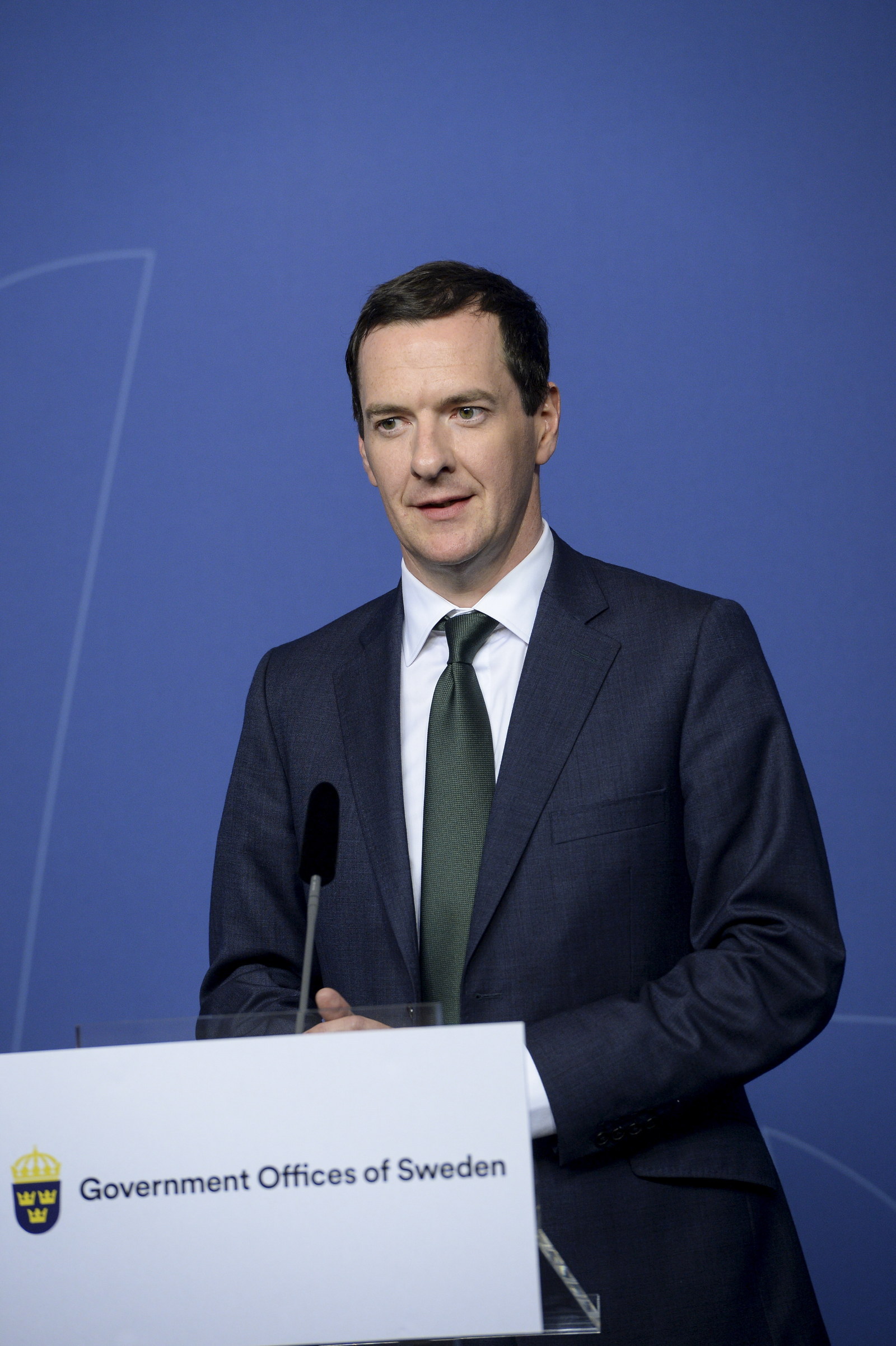 In Sweden we carve through the Stockholm suburbs in a convoy with motorcycle outriders as intrigued teenagers film us from the side of the road, unaware of who's inside the vehicles. After a meeting with the Swedish prime minister there's a joint press conference with the finance minister, who's a touch less enthusiastic about EU reform.

I ask the local reporters if Osborne's visit is news in Sweden.
"I don't think he's made waves," says one.
"If he had been bigger they'd have sent the political reporter," added a business journalist for Swedish TV, seemingly well aware of her place in the journalistic hierarchy.
As we started today's journey across Europe the Chinese stock market had plummeted. Every time we get off the plane and pick up mobile signal the news from global stock markets seems a little bit worse. But at the press conference Osborne's very relaxed, playing down the threat to Britain's financial markets to journalists for the third time that day and insisting that the odds of genuine contagion are minimal at this stage. Yes, he wants to stay in the EU. No, he doesn't want to do it any cost. Yes, he sees Sweden as a great ally in all of this. He speaks for the vast majority of the press conference, with the domestic politician sidelined.
Then it's back to the airport to catch a flight to Copenhagen.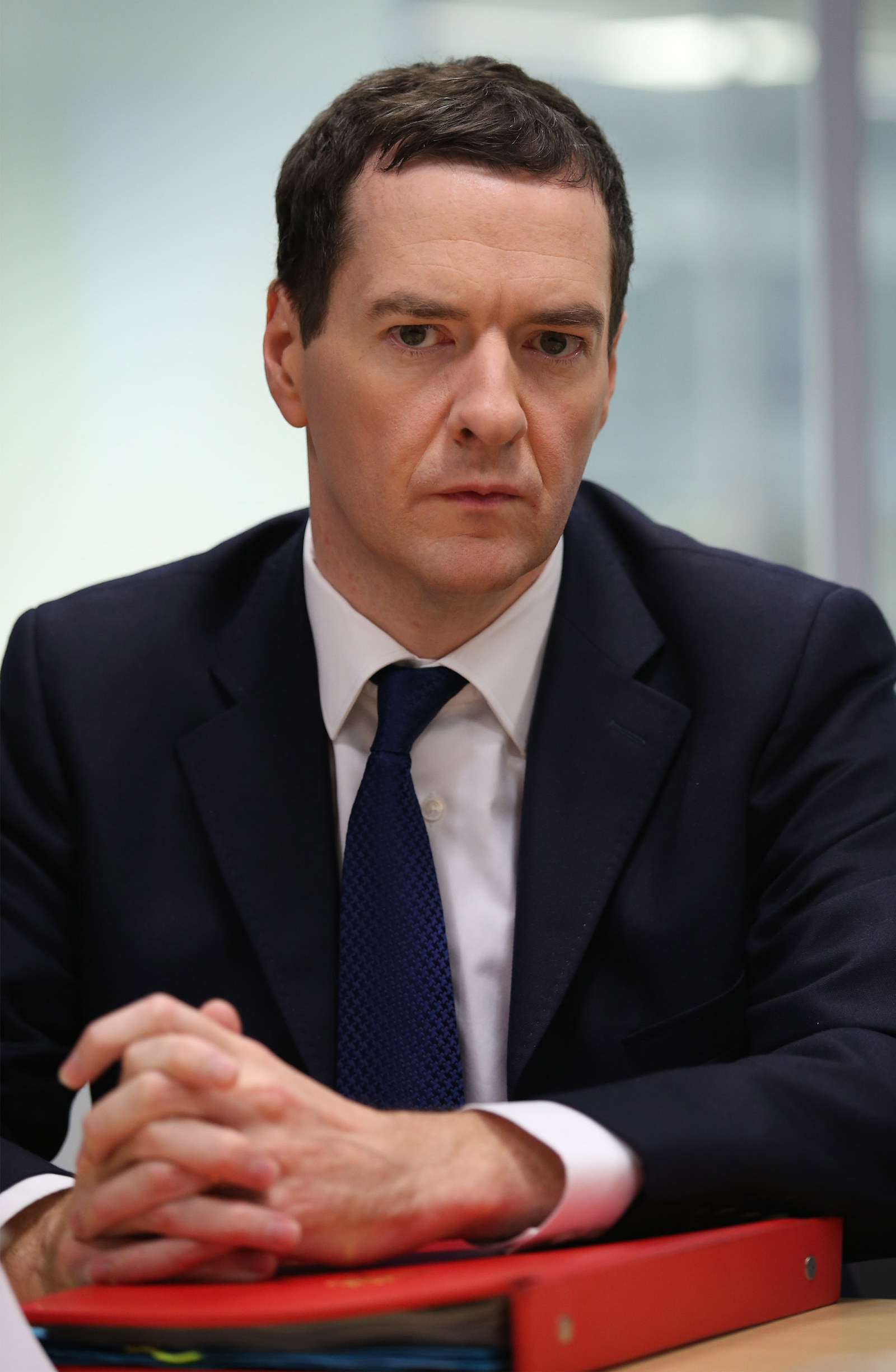 This is Osborne's political project: It's about identifying the next stage of market-centred social and economic liberalisation, getting there before anyone else does, then working to make the public and his political opponents accept this stance as The New Normal. First identify the target, then do something bold about it to get ahead of the curve, then make people feel it was always going to be this way.
"The best things are when you get your opponents to end up agreeing with you because then you've really won the argument," he says enthusiastically. "When you finally agree – that's when it's going to last, that's when you've won."
Right now his objective appears to be to establish a consensus on lower welfare bills that's so strong that no future government would consider reversing it. He references the attacks on his decision to raise the retirement age in the last parliament ("the most unpopular thing I'd announced") which opposition parties have long since stopped opposing.
"There is a myth about politics that [if] you look at the opinion poll, see what's supposed to be popular, chase it, then you're going to be popular," he says. "That doesn't work.
"It's about seeing where things are going. If we had not legislated for gay marriage – which was controversial at the time – then there would now be massive pressure on us to do it."
Other issues are already on the horizon, as he tries to get ahead of the curve. He spent the summer holiday in America where he noticed the national focus shifting to transgender rights: "I'd like to know more about what the issues are and if there are real problems that transgender people have in our society. It's one of those issues where I've noticed there's an issue out there and I need to know more about it."
Yes, he's noticed the photos of his opulent 21st birthday party, which was covered by society magazine Tatler, have resurfaced in recent weeks. Inexplicably one of the guests was noted sauce purveyor Loyd Grossman, who turns out to have been a teenage acquaintance: "Loyd was a really good friend of my parents and for years when I was growing up it was a case of 'What is Loyd going to do with his life?' and 'He needs to get a job.' And then he became this great star. I knew Loyd Grossman before he was famous. He was more interested in rock music at the time."
He's a tech obsessive who likes emerging businesses like Uber and Airbnb (they're "operating a great service and you can't protect the world exactly as it is"), is a lapsed computer game player (strategy games like Elite, Sim City, Age of Empires), and seems to get as excited by great technological leaps forward as he does by social reform. In Copenhagen there's time for another stop at an open-plan tech start-up hub; these small companies, with their fail-and-try-again mentalities, excite him. He repeatedly asks whether governments can help them by getting out of their lives, then lights up when one person presents their virtual reality helmet. He immediately asks if he can try it on, resulting in the sight of the chancellor sitting at a table with 20 other people while peering at the 3D images in front of his eyes. He's genuinely delighted.
A few weeks ago he read an article about computer scientist called Demis Hassabis who had set up a UK-based artificial intelligence company called Deep Mind, which has since sold out to Google. "I thought this guy is so smart and interesting that I phoned him up and said, 'Can I come, just me? I don't want to bring press, cameras, and photographers. I've got no agenda, no initiative I want to announce.' So I went along and it's just an amazing company. Trying to carve out hours to do this without a press release, without a document – if you're going to be a relevant politician you've got to do that."
He also insists he writes his own tweets, and even checks the replies: "Sometimes there's the odd piece of abuse on there. But I don't mind people if they're being funny – I laugh. They're clever people."
What about taking the top job and leading the government? It's now almost a decade since he masterminded David Cameron's election as Conservative party leader. He's spent over five years as chancellor – the second-longest-serving finance minister in the EU, he proudly says. When the European reform job is over, Osborne could be left as the obvious contender to replace Cameron. "I've seen people doing my job who become so obsessed with the next job, it undermines their ability to judge. It makes them sour. My view is that if you start thinking about what you do next then you're not going to do this job well."

Copenhagen visit over, pictures taken, more local media done, the trip's judged a success by his team – personal relationships have been improved with various ministers, there's some good local press, the Nordic nations seem relatively supportive. Now he's off to fly back to Manchester and go straight off on another tour, this time to Yorkshire. It's one thing to be treated like a future prime minister in Europe – it's quite another matter for the man who brought us austerity to persuade the British public to love him.