1.

Updated: 4:18 p.m. GMT
2.

French President François Hollande has threatened to sue a magazine following claims he is having an affair with the actress Julie Gayet.

Socialist President Hollande, 59, says the French glossy magazine Closer has infringed on his privacy by printing allegations of an affair over seven pages in its latest edition.

A spokesman for the French President did not outright deny the affair with the 41-year old actor but said Hollande was considering legal action because he "deeply deplores the attacks on the principle of respect for privacy, to which he, like every citizen, has a right".

Hollande is currently struggling to push through an agenda that includes higher taxes for the rich and more state spending. His approval ratings have plummeted as the country's economy shows few signs of reviving.
3.

The magazine alleges that Hollande arrived at an apartment late at night on the back of a scooter, wearing a motorcycle helmet.
J'espère que c'est la dernière fois que j'achète le magazine #closer ...

— bastien s (@bastienscordia)

bastien s
@bastienscordia
J'espère que c'est la dernière fois que j'achète le magazine #closer …
/ Via
Closer claims that Hollande is a regular visitor to the apartment and that its photos were taken "around New Year's Day".
The magazine also alleges that a man - who the magazine identifies as President's bodyguard - took a "bag of croissants" into the apartment the following morning.
"A helmeted head of state joined the actor at her apartment, where he is in the habit of spending the night," the magazine says on its website.
Closer made headlines outside France in 2012 when it published topless pictures of Kate Middleton, the Duchess of Cambridge.
5.

Hollande is officially in a long-term relationship with the journalist Valerie Trierweiler.

Pool / Reuters

Although the pair are unmarried she fulfils the duties of France's first lady, such as cutting this giant Epiphany cake earlier this week.
6.

Prior to this Hollande spent over 20 years in a relationship with Segolene Royale, the previous Socialist candidate for President of France.

Charles Platiau / Reuters

He had four children with Royale – who remains a senior figure in his party – before leaving her for Trierweiler.
7.

Julie Gayet has previously threatened legal action over reports linking her to the President.

Dominique Charriau / Getty Images

Gayet has not commented on today's allegations but Hollande's office said the President "is studying what action, including legal action, to take following this publication".

She is a well-known figure in her native France and a regular in the country's domestic film industry.
8.

Hollande is able to threaten legal action because France has very strict privacy laws, which offer protection to public figures.
Scoop #Closer : François Hollande va voir Julie Gayet déguisé en Daft Punk !

— Romain AMBRO (@RomainAMBRO)

Romain AMBRO
@RomainAMBRO
Scoop #Closer : François Hollande va voir Julie Gayet déguisé en Daft Punk !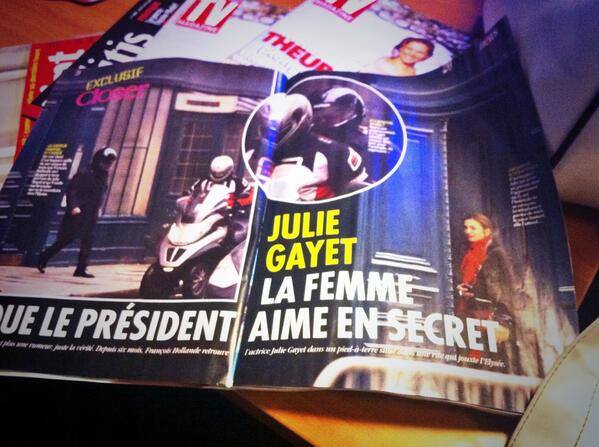 / Via
11.

But - as the Kate Middleton case showed - Closer editor Laurence Pieau probably reckons the risk of making the allegations public is worth taking.
12.

UPDATE: Closer seems to have decided that the risk is no longer worth taking and has taken the report off its website following a request from Gayet's lawyer.
Jim Waterson is a politics editor for BuzzFeed News and is based in London.