Fox News guest Steve Emerson claimed that non-Muslims are never allowed into Birmingham, during an interview regarding recent terror attacks in France.
So the internet created #FoxNewsFacts, to show how the channel would report on other matters.
Because in the world of #FoxNewsFacts, it's pretty clear Birmingham is now a Muslim-only city.
And the clues are there in Birmingham's buildings.
Even the city's football teams have been affected.
While some of the UK's favourite TV programmes have been hit.
The design of Spaghetti Junction was an obvious hint.
We simply need to check out who is from the surrounding region.
Not to mention the music Birmingham has produced.
Plus the names of nearby towns.
And the menus in local restaurants.
The secret heritage of famous Brummies has now been exposed.
Even rubbish collectors are affected.
Cricketer Moeen Ali, a native Brummie, has been drawn into the affair.
Others showed how Muslim-only towns had secretly existed across the UK for years.
Just look at Brighton.
It's even there in the road network.
In fact, it's everywhere.
Now someone's started a change.org petition asking Birmingham to let non-Muslims back into the city.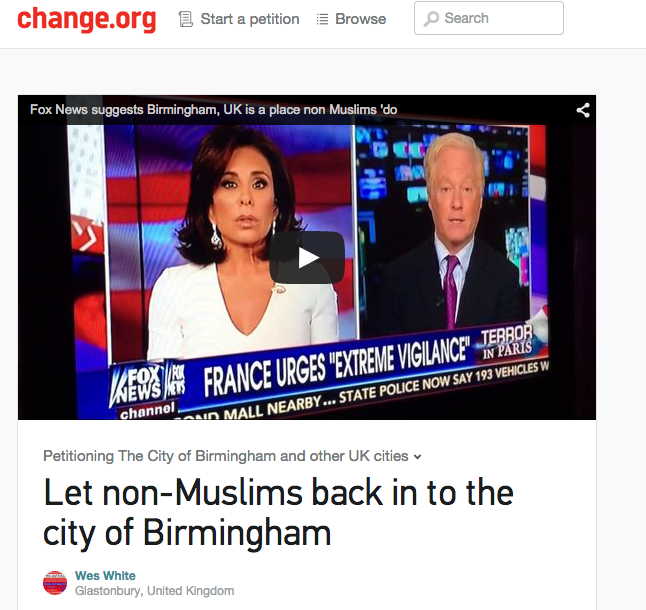 Because according to #FoxNewsFacts, Birmingham is basically the centre of the Islamic State right now.
Meanwhile, in a show of solidarity, this brave Muslim began offering assistance to non-Muslims who want to visit Birmingham.
UPDATE: After being contacted by journalists, Steve Emerson said his comments were "totally in error" and promised to make a donation to Birmingham Children's Hospital.